There is a vast variety of men's shoes available on the market today, but most men fall back on a few tried-and-true categories when selecting a new pair of shoes. For athletic activity, cross-trainers, tennis shoes, or sneakers are the usual choices. Though this shoe style goes by many names, it is usually very comfortable and informal in its design. The central feature of these shoes is the performance sole that supports the foot, keeping the wearer upright and secure in a variety of conditions.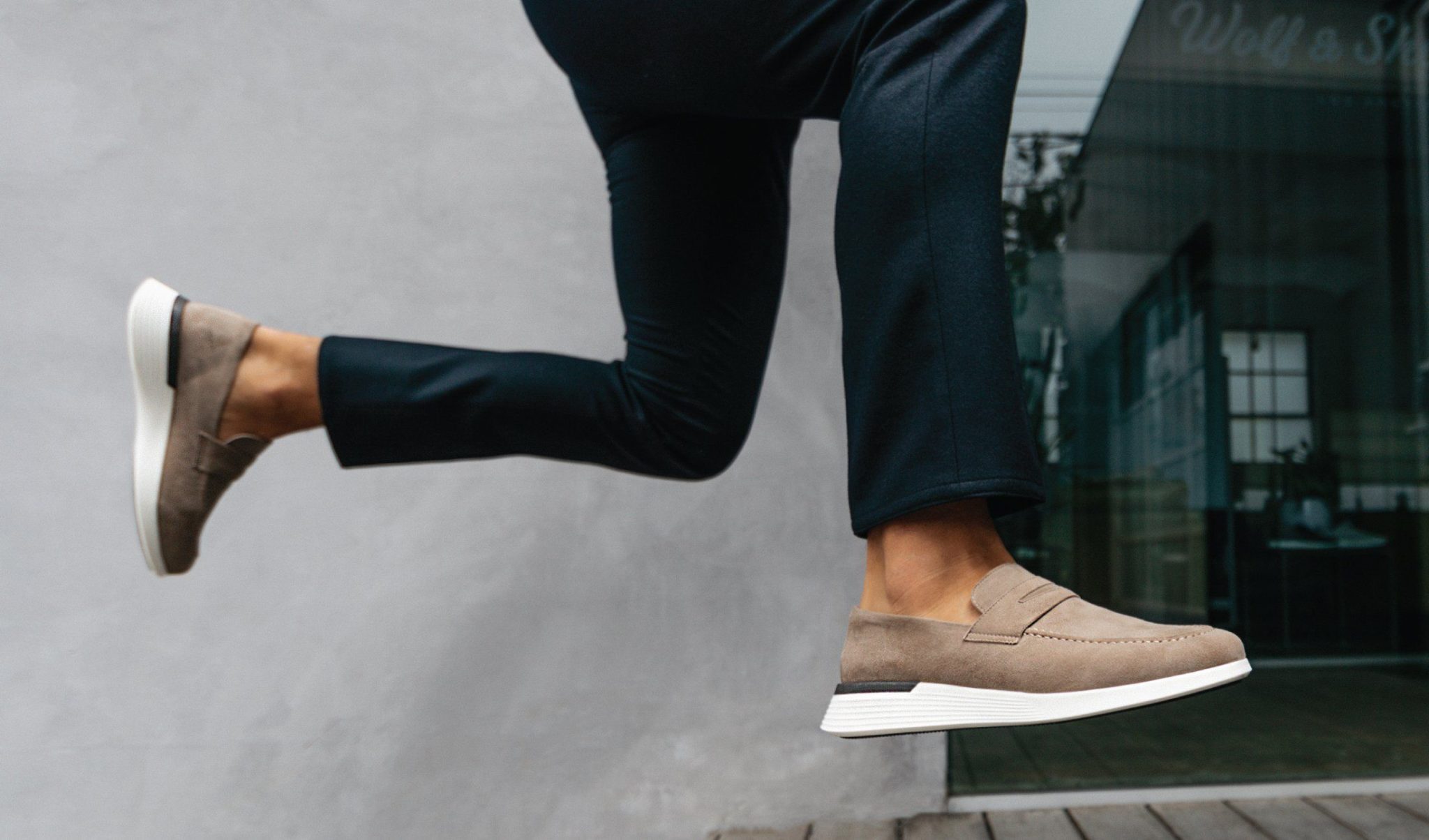 For more formal events, a man will usually turn to a traditional and refined design such as a cap toe leather shoe, wingtips, or perhaps a pair of ultra-refined oxfords. These shoes usually radiate a practical sophistication that is equally at home in the office or at a cocktail party. Though very nice looking and polished, formal shoes usually lack the comfort and performance essential for long commutes, business travel, or navigating an urban environment.
Though there are many shoe styles available, these two families of footwear exist mostly at the ends of a spectrum that runs from casual and athletic to formal. There is a wide variety of options and designs, and it would take a bold and innovative company with a modern, audacious vision to bring these two ends of the spectrum together.
Comfort or Style?
Wolf & Shepherd identified the need in the market for men's shoes that combined the traditional styling and premium materials of dress shoes with the unparalleled support and performance of athletic footwear. The market lacked a shoe designed with both exceptional, great-looking materials and durable comfort.
Justin and Hope Schneider, the founders of Wolf & Shepherd, are both former athletes who gained experience designing sports footwear with Adidas and New Balance. After mastering the design of performance sports shoes, the couple laid out a mission to bring the support and efficiency that they'd grown familiar with into the creation process of formal dress shoes for men.
Choose Both
This fusion has brought the spectrum of shoe design full circle. Wolf & Shepherd has paired beautiful dress shoe materials with the fit, support, and performance of an athletic sole. The combination is so effective that in 2016, a runner wearing a pair of Wolf & Shepherd's Closer Cap-Toe Italian leather dress shoes ran, and won, the Hotlanta half-marathon in Atlanta, Georgia.
Justin Schneider, founder of Wolf & Shepherd, even ran with the bulls in Pamplona, Spain wearing a pair of Gambit Double-Monk dress shoes!
Pairing materials such as full-grain calf-skin leather with a multi-layer memory foam sole creates a shoe that is exceptionally comfortable right out of the box and stays comfortable and agile even after hours, weeks, months, and even years of wear.
For the traditionally inclined man, Wolf & Shepherd's product line includes a range of time-honored dress shoe styles including wingtips, loafers, and Derbys. But for a man looking for a hybrid dress shoe that adds a fusion of modern and classic to his wardrobe, Wolf & Shepherd offers cutting-edge Crossover choices that look stunning and feel great. The Crossover line was designed in partnership with Steve Nash, former NBA point guard and current head coach of the Brooklyn Nets, and peak performance and comfort are at the heart of each pair of shoes in the lineup.
If you're curious as to whether a hybrid dress shoe may have a place in your wardrobe, here is an exploration of some of Wolf & Shepherd's most popular styles of Crossover dress shoes.
For a dress shoe that edges closer to the line of casual without being ostentatious, many men will turn to the loafer. Dress loafers offer an easy slip-on comfort that backs away from more formal styles, while premium materials keep loafers grounded and appropriate for almost any event. Loafers are a timeless go-anywhere, do-anything shoe, perfect for either home or work. Loafers also offer the advantage of looking smart and stylish with or without socks, a feature that brings additional versatility to this already popular style.
Wolf & Shepherd's Crossover Loafers take the concept of loafers and elevate them to something fresh and wonderful. Each pair features the company's trademarked "FloatForm" footbeds that incorporate two layers of ultra-comfortable memory foam. The footbed is then topped with luxurious sheepskin leather that leaves each foot feeling like a million dollars.
In addition to feeling exceptionally comfortable, every pair of Crossover Loafers also looks stunning. The shoes are available in either full-grain calfskin leather or water-proof suede in a variety of warm colors that will complement any outfit. Despite the initial incongruity of the rich leather upper and athletic sole, it's a combination that pairs so well that it could only come from Wolf & Shepherd.
The flexible outsole of the Crossover Loafer is made of a high-traction rubber that gives the wearer a superior grip on almost any surface.
When it comes to loafers or any shoe, fit is the primary concern. This is another area where Wolf & Shepherd's shoes stand far above the rest. Each pair of loafers gives an ultra-comfortable glove-like fit right out of the box. There's no need to break them in.
If you've been considering a versatile, great-looking pair of comfortable loafers for your style arsenal, you owe it to yourself to try out a pair of Wolf & Shepherd's Crossover Loafers. You certainly won't be disappointed.
The Derby style of dress shoes is one of the simplest and most straightforward designs around. The design of the Derby usually features little or no patterning, decorative stitching, or other frills.
A cousin of the slightly more formal Oxford shoe, the Derby's simplicity makes it a shoe that looks equally smart dressed down with a pair of casual jeans or worn with a suit for a formal night out. Not only are Derbys a little less formal than Oxfords, but they are also more comfortable. It's thought that Derby's may have originally been designed for soldiers who found their boots uncomfortable and difficult to remove after a day's marching.
This desire for a comfortable, yet versatile shoe is a tradition that is proudly picked up and carried on by Wolf & Shepherd. As with every other shoe that the Brand makes, the SwiftKnit Derby boasts a combination of finely crafted materials combined with a fit that will leave feet feeling wonderfully comfortable, even after hours of wear.
The SwiftKnit Derby is a little different from the usual Derby shoes that are common on the market. Derbys, like Oxfords, are usually crafted with a leather upper, and a leather or rubber sole, sometimes a combination of the two for added traction. The SwiftKnit, true to its name, features a knit upper made of recycled polyester. This choice of material gives the SwiftKnit much greater breathability, stretch, and flexibility than its leather cousins.
Though unapologetically less formal than other Derbys available on the market, the SwiftKnit still maintains a simple elegant appearance capable of elevating a casual outfit or adding a dash of casual flair to more formal attire.
Undergirding this exceptional upper is the Wolf & Shepherd FloatForm footbed. As with Crossover Loafers, the memory foam inserts make each step feel amazing.
If you're looking for a versatile shoe that leans towards the casual end of the spectrum but still features a clean, elegant line, then you'll want to check out the SwiftKnit Derby.
The wingtip shoe (also sometimes referred to as Brogues) has been a classically stylish staple of men's wardrobes for well over 100 years. Longwing shoes differ from wingtips in that the "wings" start near the laces and wrap around to connect at the back of the heel, rather than angling downward to terminate at the sole.
Often, wingtips, and longwings as well, will feature decorative piercing and stitching patterns that give the shoes a distinctive, ornamented appearance. The Crossover Longwing, however, opts for a sleek unbroken geometry that looks spectacular. A smooth full-grain Italian leather upper wraps the foot, and a luxurious sheepskin lining on the inside keeps feet comfortable throughout the day.
As a hybrid dress shoe, the Crossover Longwing performs beautifully. It nails every feature to live up to its luxury appearance while manifesting the trademark Wolf & Shepherd comfort. The shoes also execute perfectly and live up to the athletic side of their hybrid nature. True to the Crossover line, the sole of the shoe is a white athletic TPU rubber that's adaptable, agile, and ready for anything.
Hybrid dress shoes are setting a new standard for both style and comfort in the workplace or on the street. If you're in the market for a pair of shoes that is impeccably elegant yet firmly grounded, then be sure to check out Wolf & Shepherd's Crossover Longwings.
The Crossover Wingtip combines the traditional appearance of a solid pair of Brogues or wingtips with the comfort, versatility, and panache of Wolf & Shepherd's line of Crossovers.
The patterning and holes that are a common decoration on Brogues and wingtip styles today may have their origin in boots designed hundreds of years ago to help the wearer navigate marshy or wet ground. Holes were added to the boot's upper to let water drain out when traversing wet areas. The Gaelic word for shoe was "bróg" and that term has endured, describing the style of shoe that is also known as wingtips today.
Wolf & Shepherd's Crossover Wingtips differ from their Longwing style of shoe in that the ends of the "wings" begin near the laces but then sweep down and to the sides, terminating at the sole near the ball or middle of the foot. The decorative perforations are kept to a minimum in Wolf & Shepherd's design. In some shoes, holes are used to create decorative swirling patterns on the vamp of the shoe. The holes in the Crossover Wingtips are limited to the area of visible stitching that defines the wings and sections of the shoe. This creates a poised but understated decorative flair in this pair of luxury crossover dress shoes.
Like Wolf & Shepherd's other Crossover dress shoes, the wingtips boast a premium Italian leather upper, and the shoe is lined with neoprene which wicks moisture away from the feet while ensuring an exceptionally comfortable fit. Wingtips are available in a variety of colorways, and the style is perfect for bridging the gap between work and play.
As with every Crossover from Wolf & Shepherd, the shoes also feature the trademarked FloatForm double layered memory foam insert for maximum comfort.
If you appreciate subtle detailing, modern flair, and a nod to tradition, then the Crossover Wingtips will be a shoe that you'll want to take a look at. They're the perfect shoe for navigating the transitions between business and casual, between formal and cool.
Chukka boots are a classic military-inspired boot style that has stood the test of time. Originally popularized by British soldiers in World War II desert campaigns, the style has spread and grown even more popular over the years. Chukka boots feature a lace-up ankle design that is simple, practical, and surprisingly elegant.
Often, chukka boots are made from just two pieces of leather, one containing the heel, ankle, and laces and the other piece forming the upper, vamp, and tongue. Wolf & Shepherd's Crossover Chukka follows this tradition. It's a surprisingly uncomplicated way to make a shoe, and for that reason, chukka boots exude an understated assurance of style.
Where Wolf & Shepherd's boots begin to differentiate themselves from other chukkas is in the material choices. The company's lead developer grew up in Italy learning from world-class leather tanneries, and this expertise and experience is evident in each shoe. The chukka uppers are constructed of the finest Italian calfskin leather, and each boot is lined with exceptionally soft sheepskin for maximum comfort.
The higher ankle of the chukka boot and its simple lines make it an ideal and versatile choice for nearly any outfit. As with each Wolf & Shepherd crossover style, the boots are built on an athletic sole that offers superior support, comfort, and traction under a variety of conditions.
Whether you're traveling across a rocky desert, navigating the streets near home or work, or presenting the board with your proposal for Q4, the Crossover Chukkas from Wolf & Shepherd is an ideal shoe to get you where you're going in style and comfort.
Boots need no introduction. For as long as humans have been protecting their feet from sharp stones or icy conditions, boots have existed.
A good pair of boots is almost essential for anyone to have on hand regardless of the weather or occupation. Boots look great and are a great option for navigating a variety of conditions, whether icy sidewalks or forest trails. Boots protect the ankles, and the robust construction offers slip-free stability mile after mile.
Though boots often tend to appear toward the casual end of the style spectrum, Wolf & Shepherd brings their impeccable standards of craftsmanship to bear for a result that looks as good as it feels. As with many of their Crossover dress shoe styles, the City Hiker boots feature an upper fashioned from Italian pull leather. Pull leather gives the boots a deeper character ensuring that as you wear them, they will become a part of your story.
The boots are lined with soft sheepskin to keep the feet comfortable and blister-free even on the most challenging terrain. Even the laces bring added functionality to these boots. The laces are made of versatile and endlessly useful paracord for use in a pinch.
With all of this attention to detail, Wolf & Shepherd has not neglected its trademark commitment to athletic style, support, and performance. As with every Crossover shoe, City Hiker boots are built with the FloatForm memory foam lining and performance athletic rubber soles. Boots are notorious for taking a while to break in and become comfortable. Not the Wolf & Shepherd Crossover City Hikers. Out of the box these boots feel as supple and comfortable as your favorite sneakers while looking smart and stately. City hikers look amazing with jeans, though the high-quality leather finish makes them equally at home in the workplace.
Whether you're looking for a new pair of boots to tackle a mountain trail or to comfortably support your feet while going up and down subway stairs and traveling the city sidewalks, Wolf & Shepherd's Crossover City Hikers are the ideal choice.
A New Shoe
Crossover hybrid shoes are new. They are unique. They take two distinct styles that seem to be far apart and fuse them into something beautiful and exceptional. They're part business, and part casual, but they're 100% stylish and 100% agile.
It's clear in reviewing the full lineup of Wolf & Shepherd's Crossover shoes that the emphasis falls in two areas; materials and comfort. The surprise is that this is an unusual combination. Until now, there's been a sense that one must choose one or the other. Ugly shoes were comfortable, nice-looking shoes were not.
Wolf & Shepherd has done away with that disparity. With the collaborative help of Steve Nash, coach of the Brooklyn Nets NBA team, a new family of shoes has been created. You owe it to yourself to check out Wolf & Shepherd. You may just discover your new favorite pair of shoes.