We have several weeks left before the world warms up. If you live in a place with extended snowfall, you have to wait a few more months. While winter is here, it's always practical to go outside prepared for its icy grip.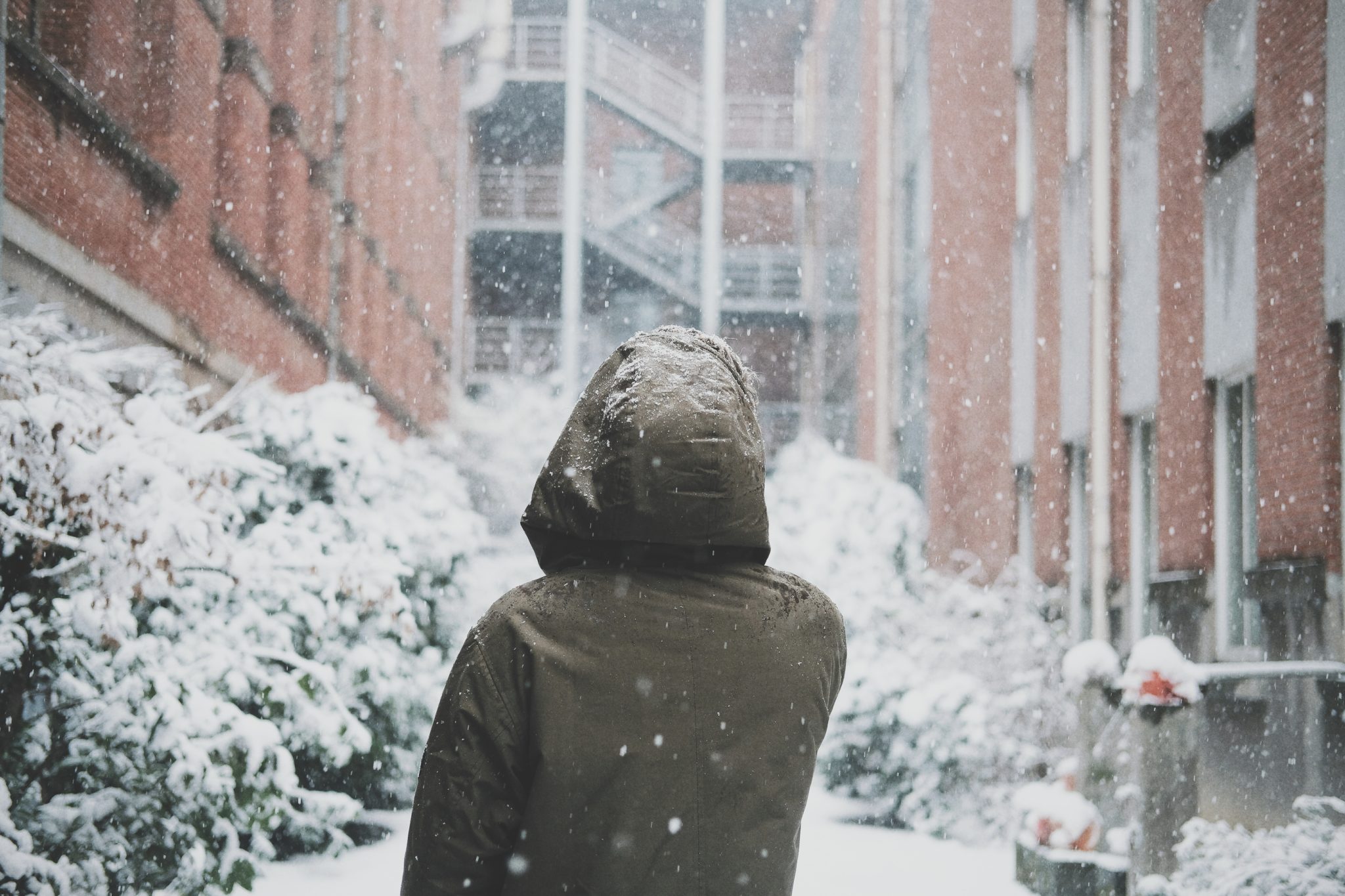 Proper insulation starts with a good base layer. Putting on a puffer jacket – and possibly another layer – comes naturally with these temperature drops. A pair of weather-resistant boots complete the ensemble, making the walk between destinations quite tolerable.
You probably have all the pieces. But some are showing signs of wear. That doesn't sound good if you want to bundle up for any situation, from the expected to the downright extreme cold snap.
If you don't want to end up underdressed and shaking like a chicken, you might want to update your wardrobe stat. And right on cue, we are rounding up the best items for every social event you may attend, whether it's set in the street or the boardroom.
These winter fashion, er, survival staples aren't just stylish. They can also be rotated for the right occasion.
Coats/Jackets
Overall Parka
Parkas are dependable pieces of outerwear in the dead of winter. They're big in insulation, thanks to materials like fleece, goose down, and wool. The thigh-length cut covers up a good portion of your body, which is particularly comfortable when it's bone-deep chilling outside.
Older styles favor use in harsh temps, but more recent ones aim to be flexible. Thin-lined parkas exist for cold but not freezing climates. Waterproof ones provide warmth for when it's wet and snowy.
Striking a balance of these elements is the Topley Jacket from Patagonia. It's also unabashedly made with 100% recycled down filling and two-layer polyester shell. The hip-length design fits casual and formal meet-ups; the latter pulled off by removing the hood.
Occasion: Casual and formal events
Check Overcoat
Check print never goes out of style. Gracing the double-breasted tweed overcoats that have made Prince Charles a fashion icon and the wool overcoats of urban cosmopolites, this detail brings about a subtle yet dignified look on the wearer.
It complements the overcoat, which keeps heat under wraps. This dressier cousin of the parka, of course, is enough to impress in itself. It doesn't falter in functionality. Walk into a business meeting, a luxury date, or a busy city sidewalk in this trusty, weatherproof companion.
Try something edgy with this unique check number from DAKS, which is celebrating its 125th year as a fashion house. The side pockets and thigh/above-knee length are classic overcoat parts. The materials used are wool, linen, polyamide, and polyester.
Occasion: Business, fine dining, commute
Shearling Jacket
Menswear that straddles the line between practical and aesthetically pleasing is perfect for coat season. It's the grab-and-go solution for practical guys. If you also don't want to leave the cave looking shabby, might as well be caught wearing a shearling jacket.
Take it for a spin in severe weather if you opted for a thick and textured design. Some versions are versatile, not getting toasty when worn in fall. Synthetic or real, the fabric used has a uniform trim that can make you feel warm and cozy up to winter.
For an investment piece, consider this Ian Shearling aviator jacket from Acne Studios. It has a vintage vibe that reminds you of the durability of this fuzzy textile. With proper and regular care, it's a garment that can last and be passed on to the next generation.
Occasion: Casual and formal events
Cashmere Blend Peacoat
Elevate your entire outfit with a timeless item like the peacoat. For the fabric, ditch the traditional wool for the more luxurious cashmere blend. It doesn't widen the price gap too much, unlike 100% cashmere. But make sure to shop models that are manufactured with high-quality yarns.
In general, peacoats can be less protective than parkas. Compared with other overcoats, its performance depends on the cloth with which it is constructed. Cashmere is warmer than wool, but down is warmer than cashmere. So a cashmere blend peacoat is usually a moderate choice, a chance to dress up when it gets a little sunny.
Splurge on this BROOM edition by Mackintosh, which is on sale at the time of writing.
Occasion: Formal party, conference, business
Boots/Shoes
Snow Boots
Snowflakes falling from the sky paints a romantic picture. But snow on the ground is a different story. It can melt and then soak your feet, which means the water has already gone through your socks, too. This won't happen if you're wearing a pair of good snow boots.
Categorized under specialist footwear, this boot is not to be mistaken with the normal winter ones. The latter concentrates on insulation. But this one is built to keep snow and slush out. Of course, it also provides warmth as a result.
For a tried-and-tested option, go for Baffin Snow Monster. Its bottom sports high-quality rubber for waterproofing. Its liner contains multiple layers, which you can remove when adapting the boots to milder temperatures.
Occasion: Outdoors, winter sports
Lined Boots
All-around, lifestyle boots are made for thriving in the winter. They are usually lined with fleece, fur, or felt, among others. These are trusted insulators for coats, so why won't they create the same effect for your shoes, right?
If you're not often outside dealing with the frigid temps, a fleece-lined pair can do you a solid. Fleece is thermal and lightweight. Synthetics have also been upping the boot game, with the likes of neoprene at the lead.
Complete your winter essentials with the Merrell Moab Adventure Chelsea Waterproof Boot. It's an all-day boot that features a fleece lining and 100 grams of insulation. It keeps your toes dry for as long as you don't spend a good part of your day wading in deep snow. Its outsole has a firm grip for walking on slippery paths.
Occasion: Work, school, home, commute
Sneaker-Boot Hybrid
Also called sneaker boots, this hybrid has been making the rounds each winter. It combines the comfort and style of sneakers with the cold-weather functionality of boots. Between the two, sneakers are the more adaptable footwear. And it's nice to see how brands are crafting their versions of this new kid on the block.
Cool, quality kicks give you ankle coverage. Details like gore-tex lining and extra-grip soles are added for withstanding the frosty weather. Still, you probably shouldn't wear it when there's a storm in the forecast. But really, who goes out in the middle of a winter storm?
Does the name Timberland ring a bell? When it comes to performance, this brand is one of your bets. Their Brooklyn 6-Inch Waterproof Sneakerboots doesn't just have everything we like about hybrids. It also uses recycled materials for some of its parts. Eco-warriors: say hello to your new favorite shoes.
Best Sneakerboots
Occasion: Work, school, home, commute
Underwear
Thermal Top
Base layers act as a second skin. They should be thick enough to produce excellent insulation, a process that prevents the cold from reaching your body. At the same time, they should work inward to wick the sweat away from your skin.
It is common sense to pick up your size when it comes to thermals. You'll need and later appreciate that tight yet comfortable fit when the weather turns nasty. To avoid discomfort, get one that is made of fast-drying material.
Uniqlo's Heattech tops are unbeatable in this department. They come in regular, extra-warm, and ultra-warm to counter any wintry day's effects. You can also check out the other products in the Heattech lineup. They're all reasonably priced, so watch your impulse to bulk-buy.
Best Thermal Tops
Occasion: Any
Thermal Bottoms
If you still want to feel your lower limbs after walking outside, find yourself a reliable pair of thermal bottoms. Primarily, your long johns should keep the cold out and draw the moisture away from your skin.
A few things to add are breathability, mobility, and comfort. Freedom of movement is a top priority if you're skiing, snowboarding, or hiking, among others. Materials also differ in impact, but cotton, silk, wool, and synthetic types like polyester are common preferences.
Icebreaker's Bodyzone 260 Zone Leggings yields enough stretch for unrestricted movement. It regulates internal temperature to help you adapt to external fluctuations. To cap off, expect consistent ventilation from its merino mesh paneling.
Best Thermal Bottoms
Event: Any
Accessories
Beanie
Gearing up for sub-zero temperatures won't be complete without a beanie. This headwear has a broad appeal, ranging from formal to casual. It is for days when you want to hide your messy hair while trying not to get a brain freeze.
While the design of this dome-toaster seems simple, it has more variations than you expect. For instance: cuffed and cuffless. Do you know the difference between a slouchy beanie and a hipster hat? And are you aware of what to avoid (an animal beanie) and what can turn your outfit from boring to très chic in an instant (a diplomat toque!)?
Balancing form and function is this Milton Waffle Beanie from DC Shoes. Its knitted fabric, traditional longshoreman style, and standard military colors (aside from black) look anything but dull.
Occasion: Work, school, commute
Earmuffs
Some may point to a man donning earmuffs and slowly say, "fashion faux pas." We beg to disagree. Ears become sensitive in cold environments, so don't do away with this accessory just yet. Protecting a body part during the winter solstice is no small feat. You need all the help you can get.
For a workaround, you can head out with a classy and stylish set. Stick with a sleek design. Leave anything that resembles an animal in the house. In short, don't be the guy people use as an example when they tell fashion disaster anecdotes.
Maybe this 180s Bluetooth HD IV Ear Warmer can help. Its soft, fleece-lined body provides adequate insulation. In a way, you can call it minimalist, only because it isn't as thick and heavy as older models. The best part is that it lets you call, text, and listen to music hands-free on the road.
Occasion: Commute
Scarf
Your bare skin can be prone to the chilly breeze outside. When your scruff is exposed, an upturned collar won't make up for your unpreparedness. Hurry and wrap a scarf around your neck or risk numbness.
Next, you need to learn how to drape, loop, and tuck at the least. Scarves aren't just items you slip into. They have to be worn and carried like any fashion statement. Also, never underestimate the tying techniques. Those knots aren't just for aesthetics but also for adjusting the coverage according to your tolerance of the cold.
Work on the twice around or four in hand to achieve complete neck coverage. Better yet, practice on the Tommy Hilfiger Solid Cashmere Scarf. Spun using pure cashmere, this product is soft and airy. Its fabric breathes and offers superior insulation.
Occasion: Casual and formal events
Gloves
Guarding your hands against the elements, gloves are a lowkey yet hardworking winter fashion piece. Your fingers can freeze while you are walking outside. If you can barely move your hands, how can you perform other tasks?
Gents, get your hands on a pair with adequate insulation and waterproof properties. Usually, it's a toss-up between fleece and leather. Some people belong to team mittens and others to team finger gloves. Pro-tip: Pick a style that lets you touch devices smoothly. Another pro-tip: Match its color with that of your shoes, not your coat.
This Burnished Leather Gloves from Barbour is lined with fleece, so you have the best of both worlds. It's in classic black, easy to pull off with any casual or formal outfit.
Occasion: Casual and formal events
Socks
Just as important as the shoes you put on are the socks you wear underneath. Feeling good from the inside can make a world of difference, especially when you're out hiking or walking in snow for hours. Good ones relieve your pressure points.
Insulation and materials are among the top factors to consider. You want a nice stretch to accompany that toasty feeling in your heels and toes. You can collect as many pieces as you like, but invest in a heavy-duty yet multi-season one for your essential trips.
Darn Tough's Hiker Micro Crew Cushion fits the bill with its mid-level cushion, breathability, and moisture-wicking features. Look at that affordable price, too. It's so tempting to collect all seven colors.
Occasion: Any
Tips on Layering
Managing to look put together is the end goal for all this planning and preparation. Winter can be hard enough for everyone. You might as well enjoy it, dressing up and staying sharp throughout the season.
Here are some handy tips:
You can wear an old undershirt whenever you like because no one will see it. But veer away from that thought when it comes to visible layers. Instead, choose a presentable yet comfortable item for each.
Speaking of visible layers, make sure you can remove one when you get hot and still feel warm enough (and stylish at that).
When you want the whole outfit to pop, stick with one or two bright colors. You don't want to strain the eyes of onlookers with more than that. Also, pairing vivid hues with muted tones can make the look come together, instead of having the visual appeal of abstract artwork.
Know the function of each layer. Typically, four layers work when you're doing a combination of outdoor and indoor activities. Your undergarment stays under and sticks close to your skin. Next, the shirt can be plain but light and breathable. Cardigans, sports jackets, and vests make up your middle layer. This will determine your main look when you're indoors. Lastly, your outer coat serves as your protection against the elements outdoors. It should be as functional as it is fashionable.
Be wary about textures and patterns. Let the layers follow a direction: strong to none for patterns or light to heavy for textures. Or the reverse. For example, gradually work your way from a plain, smooth dress shirt to a check wool overcoat. You can also start with a plaid shirt and cap it off with a satiny blazer.
Final Thoughts
It's never too late or too early to edit your winter essentials. These days, temperatures still drop to sub-zero in many places.
But since spring is almost here, some shops and brands are offering discounts on garments and gear. Your future signature overcoat or accessory may be on sale right now!
Throughout the year, you can keep building your wardrobe until you complete the basics. You don't have to wait for frosty weather to set in and buy items in panic. You want to be ready when the first snowfall arrives again. That's being fashionably on time.