A t-shirt is the cornerstone of everybody's wardrobe. The rock a man will build his church on. The basic layer to end basic layers. Over it, they can ensemble an outfit for working out, for church, for a casual business meeting, for a family affair, or to club all night. Over the last few years, there has been a silent revolution in the t-shirt arena. New fabrics, new technology, new cuts, new attitudes towards what's arguably the main piece of clothing a modern man has in its arsenal.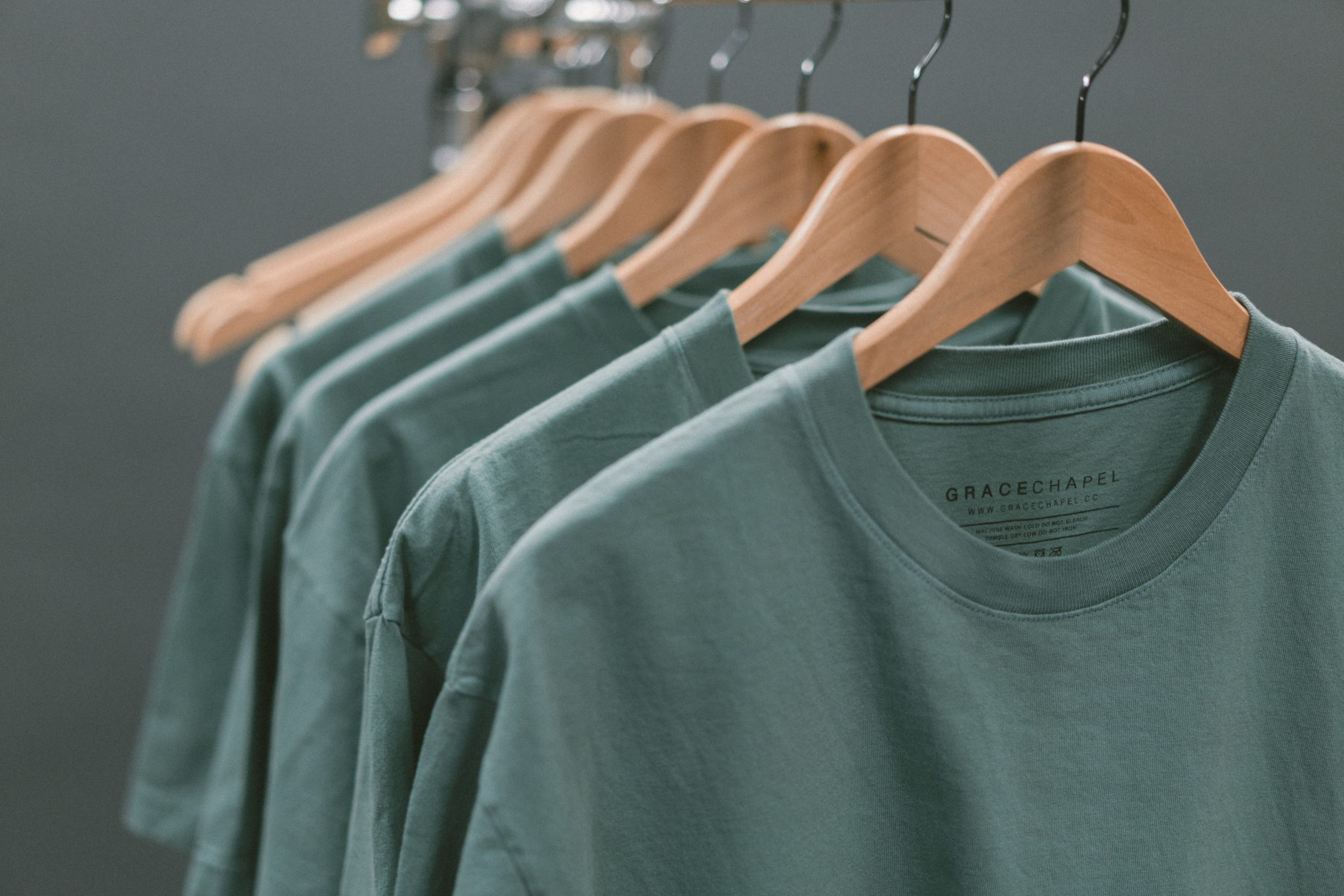 Since not every man is looking for the same thing, we made this list non-hierarchical and focused on t-shirts that sever specific purposes or tastes. But make no mistake, our selection is exquisite. These are the most amazing pieces the Internet has to offer.
Supima Scallop Crew by Goodlife ($60)
This is the coolest looking t-shirt of the bunch. The curved bottom makes it so, but don't underestimate the cut and the fabric. They're thick but light, soft but durable, they offer it all. The Supima Scallop Crew will fit like a glove and that's a guarantee.
The manufacturer says: "American grown pima cotton is blended with modal to help the garment keep its shape. Incredibly soft, a flattering drape and deep color makes this fabric versatile and sophisticated."
It's like Kanye West said: "The good life, let's go on a living spree"
Striped Eco-Jersey Crew T-Shirt by Alternative Apparel ($38)
https://www.alternativeapparel.com/striped-eco-jersey-crew-t-shirt-01973ej
For the man who looks for comfort and versatility. This t-shirt could work for an afternoon in the park or the gym AND, with a jacket on, for a night in a restaurant or club. This product contains organic and recycled materials, so it's the ideal one for the man who strives to save the planet. While looking amazing.
The manufacturer says: "We took our super-soft, Eco-Jersey crew and added yarn-dyed stripes. A difference you can feel – our stripes are created during the knitting process, so they don't sacrifice hand-feel."
Formula: 50% Polyester, 38% Cotton, 12% Rayon.
Tipped Pique Crew Neck Tee – White Combo by Anthony Thomas Melillo (ATM) ($38, final offer. Normally $95)
For the man who wants to appear fancy and classic at the same time. This monster of a t-shirt will steal all the compliments from any room the wearer walks in. Details in neck and sleeves aside, in general, this thing commands an otherworldly class that's hard to match.
The manufacturer says: "Features a classic silhouette with a refined contrast ringer collar and sleeve trims. The cotton yarn used in this particular pique weave is distinctively soft and lightweight with an easy drape."
Bad joke: "The brand is called ATM? No wonder this T-shirt is like money in the bank."
Fox Head Patch Classic Tee-Shirt by Maison Kitsuné ($90)
https://maisonkitsune.com/us/fox-head-patch-classic-tee-shirt-black-5ef3f0fb4e499.html
Since we're on the fancy and expensive side of the fence, this Maison Kitsuné number is for the man who wants to stand out while appearing to be a down to earth person. Believe us, people will notice that fox. A man wouldn't look out of place using this one while running, sweating in the open air, or on the dancefloor, sweating in the smelliest basement.
The manufacturer says this: "… cotton T-shirt features a round neckline and short sleeves. A fox's head, emblem of the fashion house, is embroidered on the chest. A straight-cut piece to pair with jeans, straight trousers, or canvas shorts."
Note: The company, Kitsuné, is also en electronic music label that has edited music from acts like Boys Noize, Hot Chip, La Roux, Guns 'n' Bombs, and Digitalism among many others.
Pima Curved Hem Tee by Buck Mason ($35)
For the man who's looking for a designer look on a budget, this one right here is the fit of the century. It almost feels like you were born in it, and it's so soft to the touch. It also features a curved bottom, which is the coolest trend in t-shirts right now if you ask us. The Buck Mason brand is relatively new, so they're still affordable for the amazing quality you'll get.
The manufacturer says: "The Venice Collection takes the world's softest tees and makes them even softer using state-of-the-art washes in colors inspired by days and nights in Venice beach."
It's like Buck 65 said: "The Centaur; I'm famous. I walk around with no shirt on/The easiest way would be for you to lie face down/ I'm a man. But I'm built like a horse from the waist down"
72-Hour Merino Tee by Proof apparel ($72)
https://huckberry.com/store/proof/category/p/54312-72-hour-merino-tee
The adventurer only has one option. This T-shirt right here is specially made to withstand 72 hours without showing fatigue or, more importantly, without emitting any odor whatsoever. This is what technology was invented for. This thing breaths, regulates temperature, protects you. And it seems to be cut out just for the man who wears it. An absolute winner for those with an active lifestyle.
The manufacturer says: "It's built from the softest and strongest merino wool on the planet, and we proved its abilities by taking it on all our adventures around the globe. Closer to home, the 72-Hour Tee is just as well equipped for our daily demands."
TIP: A polo version of this t-shirt exists, if you're into that.
https://huckberry.com/store/proof/category/p/56566-72-hour-merino-polo
Recycled Cotton Classic Trash Tee by Everybody.world ($39)
This is the one for the environmentally conscious man. Just wearing this baby will make any man's carbon footprint go down exponentially. And they won't have to sacrifice anything on the style side, this t-shirt looks great on any body. Obviously it's not as luxurious as some of the already mentioned options, but that's the whole point. The wearers' conscience will thank them.
The manufacturer says: "Made from 100% Recycled Cotton (the first of its kind!), this t-shirt has a classic cut that errs on the side of easy when it comes to fit, and can be worn by all."

The "Recycled Cotton" claim requires this explanation, also from the manufacturer: "We teamed up with one of the largest yarn manufacturers in the world to make entirely new fabrics— from trash."
Hemp Tee by Wellen ($36)
https://huckberry.com/store/wellen/category/p/56632-hemp-tee
This one is for another kind of hippie. Or maybe for the environmentally conscious man who isn't comfortable wearing something made out of trash, and wants to help the planet in other ways. The whole Wellen collection is surf-inspired, and the vintage style cut makes this one stand out from all the others on this list. It's pretty comfortable, also.
The manufacturer/ e-store says: "Wellen's hemp blend fabric is hands down the best we've ever pulled on. The ace up their sleeve? Sourcing the highest quality hemp and blending it with just the right amount of organic cotton to create a soft and durable fabric that's better for the environment so you can feel good about wearing it."
Note: "Hemp is often considered an environmental "super fibre". Hemp fabric is made from the fibers in the herbaceous plant of the species Cannabis Sativa. It's a high-yield crop that produces significantly more fiber per acre than either cotton or flax." – SimplifiFabric.com
Men Airism Crew Neck Short Sleeve T-Shirt by Uniqlo ($9.90 offer, normally 14.90)
The man who wants value for his Dollar needs to look no further. Men on a budget found the answer to their prayers. This one right here is perfect for the hot weather or to work out in, the wearer won't even feel it's there. The only drawback is that it's a bit see-through, so it might not be the one to use as a stand-alone piece. Unless the wearers WANT to show their bodies, in which case this is their best option hands down.
The manufacturer says: "Smooth and dry against the skin. Makes you feel cool and comfortable when worn. With QUICK DRY, COOL TOUCH, anti-microbial, odor-controlling, and odor-eliminating technologies."
Formula: 89% Polyester, 11% Spandex.
Short Sleeve Tee by General Issue ($85.00)
This is for the man who is looking for a luxurious fit accompanied by a luxurious feel. The cashmere in this t-shirt's fabric makes all the difference in the world. That's not all, though. This one's cut may be the best one of the whole list, the wearer won't believe the difference it makes. The men who buy this General Issue t-shirt will be able to use it as a main piece of clothing both during the day's and the night's activities.
The manufacturer says: "… our neckline is a little thinner, refined, and looks great underneath a blazer. Once you try it on, you'll see that the higher cut armhole makes it fit just right, and doesn't look bulky when worn with a sweater or jacket."
Formula: 85% cotton,15% cashmere.
Perfect but… what if they are into graphic tees?
Some men are not into minimalism. Some men don't consider t-shirts a basic layer but their outfit's main course. Some men want to say something with their chests. Even though this article is about plain t-shits and their evolution, we felt a responsibility to cater to them as well. And we did:
Reclaim and remember a better time
https://www.oldschooltees.com/
For the nostalgic individual, this site offers it all, from bands to TV shows, to old video games, cartoons, and brands. These vintage style t-shirts with washed-out logos will have people questioning their origin, and how did they survive 30 years of washing machines. The best part is they're fully licensed, so you won't be committing a crime.
The manufacturer says: "Our mission goes beyond retail t-shirt domination. Our mission is to be an exemplary member of the online retail community by finding new ways to be socially responsible and eco-friendly. We will do this through product choices, internal policies and practices, and programs of giving back that support eco-friendly and socially responsible goals."
UT: Uniqlo Graphic T-Shirt collection
https://www.uniqlo.com/us/en/ut-graphic-tees
For more contemporary minded men, Uniqlo partnered with the biggest name in entertainment to bring them fully licensed and affordable t-shirts. They have BMW and Alfa Romeo. They have Fender and Roland. They have Disney, Marvel, and Pixar. They have old school anime and Ultraman. They have it all.
A crazier approach
For the person who wants to be a one-man riot, this brand will definitely make them stand out in a crowd. Out there designs that actually mean something for those in the know, these are the t-shirts they're going to want to preserve for future generations. But, they won't be able to, because they'll be compelled to use them and use them until they're completely destroyed.
There are hundreds of designs available, and they add more every month.
The manufacturers say: "Brain Dead is a creative collective of artists and designers from around the world. With its disruptive, graphic-led approach, the brand takes its cues from post-punk, underground comics, skateboarding, and the spirit of subculture as a whole."
Graphic designer and illustrators
For the man who wants to go one step beyond and cut out the middle man, there's the self-proclaimed "world's largest marketplace for independent creators to sell their work on the highest-quality merchandise." In there you'll almost literally find it all. Artists from all over the world are constantly adding new designs, to a point in which we almost could say the options are infinite.
Don't worry, though. The site has "Featured Designers", "Newest Designers" and "New Tees on Sale" sections to guide their intrepid clients.
Illustrators and graphic designers
For the man who wants another option, Red Bubble offers the same service but features a brand new avalanche of creators The site claims: "The dream was simple. Give independent artists a meaningful new way to sell their creations. Today, we connect over 700,000 artists and designers across the planet with millions of passionate fans." So, every purchase feeds an artist and the products are responsibly made. Win-win situation: the planet is a better place and a cool object gets to every client's door.
The only drawback this site has is that they don't offer guides or feature creators. The clients are on their own on this one, but that may be a good thing!