If there's an era to define the summer by, it's the 1950s. This year's men are wearing suave Frank Sinatra-esque Panama hats with polished short-sleeved polo shirts. Not all summer fashion is that straight-laced, though. If you prefer a quirkier look, New York and Milan fashion weeks brought the world graphic asymmetrical prints and rolled-up jumpsuits. With so much wild variety on the catwalks, you'll have a hard time finding a conservative approach, but that's okay. Individuality is the biggest trend of them all.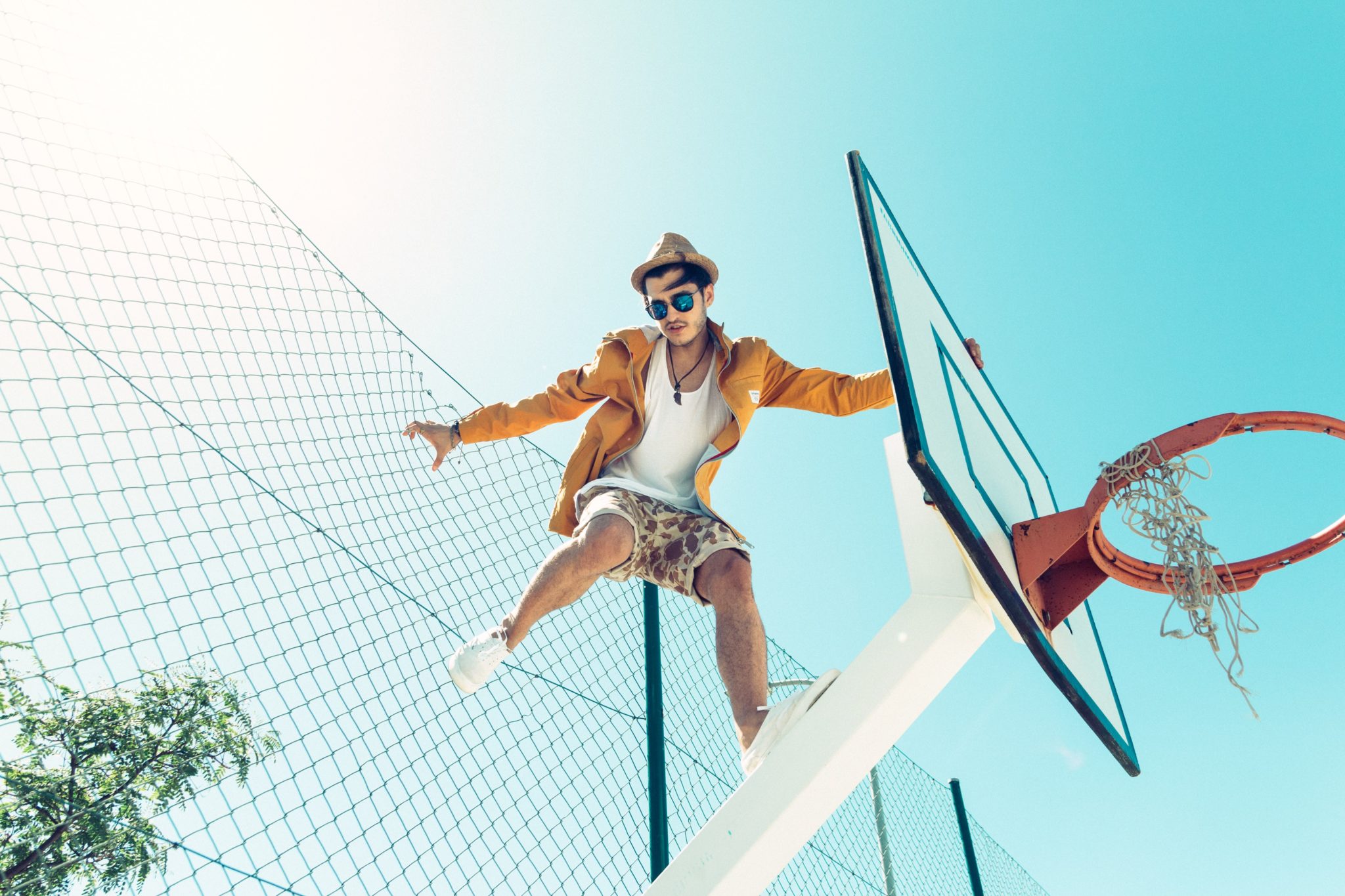 There are a few summer essentials that all men should own, though. Most of them are investment items with timeless aesthetics, so feel free to splurge. You'll be wearing these items for many years to come.
Throw your T-shirts away because polo shirts have performed a cotton coup de tat. This retro look is gorgeously finished by trendy flat-front chinos. It isn't hip unless it's overdyed, though, so choose a made-to-fade garment. Overdyes will give your cotton a casual, worn aesthetic that feels as though it's been thrown together in a mad rush, and that's the entire point.
The ideal polo should skim your body, not cling to it. That's how James Dean wore it, and so should you. The hem is one of its important design features. Don't choose a shirt that's too long or that gorgeous twill suit will transform from stylish to embarrassing. The perfect polo ends at the widest point of the hip, with a fitted sleeve that ends at the bottom of the bicep. The shoulder seams should sit right on the edge of the shoulder, not dropped like a T-shirt. You can tuck your polo in, but never wear it with a blazer.
In terms of fabric, cotton gives your shirt a laid-back, opulent texture. Try to stay away from polyester blends, which look cheap and make you overheat on sweaty days. Silk is light with a genteel sheen, while linen knits add Fifties flair to your outfit. Most Lacoste shirts are made with a mesh-like pique knit or a slouchier jersey knit. The latter is cool and classy, so look no further for your summer-style essentials. The silhouette of today relies on a few structured details, and the collar is one of them. It needs the stability of interlining. 
2) Chinos Are Back!
Chinos are everywhere this season, but you won't get away with pulling out the old pair you used to wear in the 1990s. The new classic chinos must be flat-fronted with a slim fit and a hem that ends right at the ankle. They're traditionally constructed with pure cotton twill, a rough-and-tumble weave that maintains its structure. Elastane has added a touch of comfort to modern designs, so don't be afraid of those stretch chinos you're finding on boutique shelves. Their elastane content improves the drape and achieves a straighter, more elegant line. You can also hunt down cotton blends with 2% lycra, which will fit beautifully around the hip. Go ahead. It's time to show yourself off. Stretchy fabrics don't crease easily, so you'll have them ironed in a jiff. Full-length chinos can be hemmed midway between the ankle and shoe sole, but shorter cuts are trendier. They remove the classic break above the shoe and establish a crease-free line.
3) The Long and (Twill) Shorts of It
Chino shorts should be as slim as their longer ancestors, with a hemline that's four fingers above the knee. There are several waistlines in circulation this season, from the traditional low rise all the way up to high-waisted garments that are cut at the navel. If you plan on wearing your shorts formally, a raised beltline will help you to carry the style off. Stay away from pleats, though. They belong in a different decade. Shorts need to be selected according to the way they'll be worn. This season, they should be paired with a preppy blazer, shirt, and tie. That demands a formal cut, so run away if you see boxy shapes. The perfect shorts taper towards the knee so that they don't threaten to swallow your entire leg. Chino shorts are for riverside picnics and barbecues, so wear them with your favorite loafers. As for color, choose stone, brown, washed-out navy, or olive green.
4) Sneaker Stars
It's time to hunt down the perfect summer sneakers in men's fashion this season. You don't have much room for individuality when it comes to the color palette. This year's sneakers are white, white, or white, but their leather gum soles do provide a little color variation. Royale Reverse has a monopoly this summer. They're the perfect sneaker design, and why would you want to mess with perfection? 
There are a few other designers releasing Reverse-style sneakers if you absolutely have to choose a different make. Givenchy has released a slick, branded option with white soles, while Nike has created a bespoke reversed cork design for men who don't feel the need to hide their preppy awesomeness. Lunar Force sneakers are just begging to be paired with a Panama hat, and that's where we're going next.
5) Panama Pretty
Panama hats are like chronographs. They need to be selected with the utmost care. They're the shining heroes of your wardrobe, so only the best will do. One does not simply walk into a shop and buy a Panama, even if one reads Men's Health instead of GQ. A piece this suave and stylish requires a snobbish approach because it's one of the purchases that makes you a man.
Traditional Panama hats are shaped like fedoras, with a dent in the crown and a pinch at the front. Their brims vary enormously, and so do their fabrics. Hats can make or break your face, so you might need a hatter to choose the right style for your features. Trilby-style Panamas have a gently-curved, slim brim that flatters a huge range of facial features. If you have bold features, you're better off with a wider design. The height of your Panama hat should balance your own stature. The larger the brim, the less forgiving it is on delicate faces.
The color of your Panama should set off your complexion just right. Traditional stone might be suave, but if you're pale it can make you look ghostly. A darker navy may be much better. If you have olive skin with a yellow undertone, you'll make an impression in black.
Panama hats aren't all made alike. Quality counts. Better products have a tighter, narrower weave and a more flexible fit. These features aren't cheap, but that's okay because neither are you. If you work with a genuine hatter, they'll play with the traditional design to arrive at just the right hue and look for your sexy self. Remember when your dad first taught you how to shave? Well, a visit to a hatter is your next step into manhood. Congrats!
6) Suave Shirts
If you've ever wished you could look like your dad, this summer is your opportunity. Hawaiian shirts are hot right now, and the more tasteless they are, the better. Some trends need to be approached with a sense of humor, and this is one of them. Madiba prints have made it onto several runways this year, from Dolce and Gabbana to Dsquared2. The more Seventies your shirt is, the better, so you'll have to develop a stomach for orange and chocolate hues. Yes, we mean at the same time. Green and red are equally trendy, but those palettes will shatter if the rest of your outfit doesn't sing. Emphasize your main hue with the right shades, shoes, and hats. The trendiest bowling shirts are oversized and tucked in. Yes. Tucked. Sorry, boys.
This isn't an investment piece, which is just as well because you won't get away with wearing such a bold design more than twice. Go crazy, but stick to a small budget.
7) Sheer Shirts
Post-Noughties men are more confident in their manhood than ever before. That's allowed some feminine aesthetics to leak into the men's wear department, and this year is no different. The runways have seen chiffon shirts, ultra-thin linens, and almost-opaque coats. Every look is hotter than the one before, so don't forget to play with textures. Whether you choose an eccentric organza bomber jacket or stick to a safer linen shirt, going sheer is the fastest way to upgrade your look. Most haute couture sheers have allowed textural interplay to shine by limiting themselves to monochromatic textures, and so should you. If you turn up at this weekend's party in black on black sheer, you will instantly become unforgettable.
Sheer shirts need a different approach to cut. They should skim the silhouette, but never cling. If you prefer a wider drape, sheer linen will give you a look you'll feel comfortable wearing during the day. This is the perfect opportunity to exercise your androgyny through the addition of lace and feminine weaves. For a slightly more masculine look, pare down your sheer shirt with an opaque vest. Alternatively, take the leather route with black napper trousers and studded boots.
8) Coordinated Suits
If we had to choose one outfit to represent 2020's summer trends, it would be the coordinated suit. Unless you're attending a formal event, it's time to move away from wool. Cotton, single-breasted twill suits are the hottest fashions in the streets of New York and Paris. Admit it. You were bored with wool anyway.
The suit of 2020 is pink, blue, orange, or anything in-between. It has tapered hemlines high enough to wear with loafers. If it's pinstriped, it's oversized. If it's solid, it can be fitted or loose, so have fun with cuts. Your suit doesn't need to comply with GQ's mandate because this summer's suit doesn't quite fit. It's not an easy look to pull off, so do not try this at home unless you're confident in your fashion-forwardness. Shyer boys can choose a safer, better-fitting twill suit, provided it isn't black. This is a colorful season, so take advantage while you can.
9) Cargo Pant Madness
Pockets are hot right now, wherever you wear them, but cargo pants are even hotter. They're a timeless classic, so if they ever go out of fashion, they'll be trendy again five minutes later. In other words, feel free to invest in a quality pair. You'll need to find a tapered, slim-cut constructed from a natural weave. If you absolutely must wear them loose, they'll need a pin-roll a-la 1985's Rick Astley. That means the hem must be cut halfway down the heel so that your French roll isn't too bulky. Ideally, you'll have no more than two folds. That number matters, so keep it slim and symmetrical.
Pocket size is the key to a sexy pair of cargos. Tall, bulky men can get away with several large pockets, but if you have a smaller physique, choose a neater, tailored pocket that lies flat against your trousers. A pair of low-key canvas or cotton cargos can become the other half of your summer suit. There's no limit to the amount of military chic you can add to your outfit, so go ahead. Wear khaki from top to bottom. God knows you'll never get to do that again.
If you're an eccentric, it's time to start hunting for glitter cargos. Yes, that's really a thing. No, it won't come cheap. Yes, you should definitely wear them with your sheer, glittery shirt.
10) Cross Body Bagging
This summer, you don't have to worry about car key storage because man bags are back! Functional weekender bags are trendy, but cross-body ones are even more fashionable. Just don't tell anyone you wore one when we get to 2022 because we're still mocking the men who wore them back in 2015.
This year's design fits your cargo aesthetic beautifully, and you need to choose your aesthetic according to the same principles. A large bag is for large bodies. A small bag is for slim ones. Width is for broad frames, and genuine leather is for all frames. Faux leather will chafe within its first few months, and cheap zippers will break quickly. In other words, this is yet another investment piece, and it will serve you many years into the future. It's the perfect travel companion, so don't be scared to spend good money on a great product.
11) Messenger Magic
You can finally carry your laptop stylishly because messenger bags are on-trend. Structured offerings and clean leathers are best left in the past, though. Rather choose an unstructured style constructed from soft leather. That way, the more it wears, the trendier it becomes. Your messenger bag should be black or brown so that it survives several seasons. Whatever you do, stay away from loud patterns and colors. They'll date before you reach the next traffic light. A two-pocket messenger bag is probably tempting given this summer's pocket trends, but the more detailed your product, the more readily fashion will throw it away. If you want a messenger bag that you'll be using all decade, minimalism is your friend. Messengers are intensely practical, so their form should follow their function. A rugged khaki military bag will act as a finishing touch for all the cotton you'll be wearing this season, but a vertical one will suit frequent travelers.
12) Acetate Inlay Sunnies
Grab your dad-shirt because it's time to rock your acetate-inlay sunglasses. Bold frames are best contrasted against a blue or chocolate lens. Aviators appeared at a few Fashion Weeks, but no glasses achieve Twenties iconography better than round plastic frames. Unfortunately, you'll need to swing towards a slimmer frame unless you have a square or diamond-shaped face. Thicker styles demand a strong jaw, so if you have an oval face, teardrop lenses will suit you better. Heart-shaped faces might have to swear off plastic lenses entirely. You'll need a lighter frame that balances the width of your forehead. If your face is circular or square, rectangular frames will bring out your best self.
13) Trail Pants
You, too, can get away with wearing elasticated trousers. With Nike at your side, you can even wear the look stylishly. The sneaker brand has produced the perfect trail pants for the season, and you don't even need to hike to wear them. Any city street will do. There's plenty of variation to play with here. If you're on the short side, you can do away with the elasticated hems and veer towards a slimmer leg. If you're still carrying last year's burgers on your hips, a flat-front style will remove those extra kilograms. Tall, slender frames will need a little more width. The key is to achieve balance. This year, couturiers paired trail pants with monochromatic shirts. That elevates the entire look, transforming a style of utility into one of searing class.
You don't have to worry about where all your missing socks go because you won't be wearing any this summer. Loafers are footwear's biggest contribution to the season, and if you don't own a pair already, say three Hail Guccis to the fashion gods. Penny loafers are one of the key components of a classic wardrobe. They rarely leak into casual wear, though, so you'll need a slimmer heel. You're looking at two materials: leather or suede. This year it's leather all the way, but there's no mistaking the sublime effect suede has against a sheer shirt.  
You can wear loafers with just about anything. Lightweight shoes with textured leather will elevate a casual day at the park, while a night of clubbing requires colorful loafers in anything from cerise to orange. Glossy napper will add a slick dimension to your office wear. When the sun goes down, haul out your bolder hues, but whatever you do, never wear two different tones of leather. If your cross-body bag or belt is camel, your shoes need to follow suit. If you must wear socks, they should match your trousers and not your shoes. It's the rules, and it makes for a far more sophisticated silhouette.
15) The New Peak
You probably relegate your peak cap to Saturdays spent at home, but this summer's peak has had a makeover worthy of Netflix. Remove the baseball team logo and tri-tone design, and you have a preppy addition to your bright cotton outfits. It's true—baseball caps can be trendy and have no connection to baseball. Look for a rough cotton weave in neutral hues.
Fashion is enjoying a bold season, and you can be forgiven for feeling a little overwhelmed. Donning this year's trends certainly demands a courageous spirit and a fun-loving soul. Few seasons bring this much playfulness to the fashion shelves, and that's no accident. Fashion always balances the challenges of daily life, and 2020 hasn't brought the world much joyfulness. Designers have brought the world something to celebrate, and it needs to be approached with a what-the-hell attitude and an impish grin. Go on. You can do it.