The timeless and classic style of a wristwatch is often overlooked. Considering that people carry mini-computers in their pockets, it's no wonder that some people have stopped wearing watches. However, watches still have a lot to offer. Ask someone who wears a watch how many times someone stops them during the day to find out the time, and you'll have an inkling why they are so beneficial. Cellphones get forgotten at home. They can shut off because someone forgot to charge it. A wristwatch is always there, and often, has more information available beyond just telling the time thanks to the unique features they offer.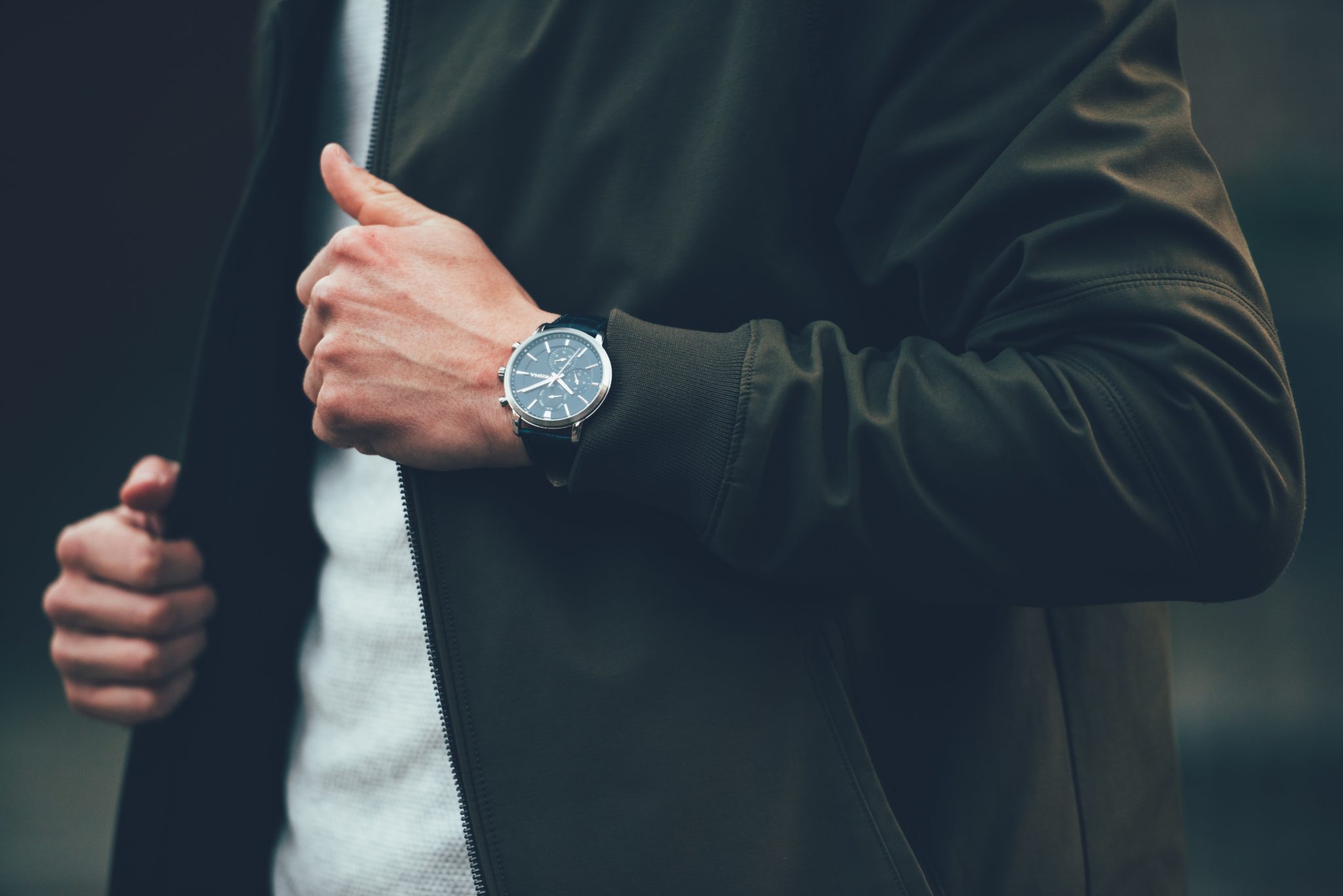 Why Have More Than One Watch?
A beautiful wristwatch is a fashion statement, but it can be more than that because of the features and functions they offer. It can be beneficial to have watches that fit your different needs. You don't want to wear a fancy Rolex to your next camping trip, but a watch that offers a GPS or compass may be precisely what the situation calls for at that moment. Some watches are great for all occasions, while others may be best suited to specific events.
Consider having a cheaper everyday watch for wearing to work and other regular activities. Cheaper doesn't necessarily mean that it looks cheap either. Some fantastic watches work well for the regular workday rather nicely and then can continue to be worn for a night out on the town. You'll also want to consider adding a specialty watch or watches for your favorite activities, like a dive watch for your next scuba trip. Finally, you can consider having a more expensive option that comes out for special events and occasions that catches the eye and makes a statement.
Watch Features & Functions
Watches have come a long way in the technology they offer, and you may be surprised at the things they do beyond telling the correct time. Some watches are more basic, where they are only useful for determining time, whereas other wristwatches are more like a swiss-army knife with multiple uses and functions.
Here are some of the features and functions that you should look for when adding to your watch collection.
GPS: Just like in your phone or car, your watch can have access to the global positioning system to help determine where you are at no matter where you happen to be. The perfect feature to assist you from getting lost.
Compass: A compass is excellent for helping you to get your bearings and figure out what direction you're heading.
Lap timer: A lap timer is perfect for swimmers and runners who are looking for an easy way to keep track of their laps while keeping their hands free.
Perpetual calendar: A perpetual calendar keeps track of your days to help you know what day it happens to be, which can come in handy when you're out of the office or traveling.
Heart rate monitor: Not only fitness enthusiasts can take advantage of a wristwatch with a heart rate monitor. It's a good idea for everyone to track their heart rate to stay as healthy as possible.
Calorie counter: Calorie counters are another feature that's great for everyone to have on their phones. It offers a way to keep track of your diet to make any necessary adjustments.
Chronograph: A chronograph is the same as a stopwatch and works to help keep time. There is a second hand that moves with a flyback function that goes back to zero.
Barometer: A barometer function on a watch is excellent for anyone that spends time outside as it measures the changes in the pressure in the atmosphere, which signals weather changes.
Altimeter: An altimeter measure the altitude of the watch. It can be useful for those that are pilots, climbing, skiing, and other activities that move upwards.
Tachymeter: A tachymeter measures speeds, so it's useful for those that do activities that need to know their rate of speed, such as cycling or sailing.
Waterproof vs Water-Resistant Watches
One feature that can often be confusing is the designations of waterproof versus water-resistant. Some may think that these terms are interchangeable, but they are not, and thinking that they are could result in a rude awakening when your investment in a timepiece is damaged because of this confusion. It's essential to understand exactly what your watch is capable of withstanding. Watch manufacturers design their product a certain way, and then test it to ensure that it's water-resistant or waterproof to the specifications that they list in the watch product description.
Water-resistant watches are made to withstand contact with water under certain conditions. For instance, some water-resistant watches are made only to withstand an accidental splash of water that's wiped up relatively quickly. In contrast, others are made to be water-resistant for a certain amount of time when submerged to a particular depth.
Waterproof watches are termed to be those that water can't get into the case. In most cases, watches that are waterproof are meant for diving and other water-based activities. Keep in mind that even diving watches can, over time, have their waterproof nature be defeated by the care it receives, the natural aging process, amount of use, and any extreme conditions. For instance, the seals are typically a plastic or rubber gasket which can weaken or be damaged over time from extreme temperatures or usage.
No matter if you invest in a water-resistant or waterproof watch, it can be beneficial to have your watch serviced every couple of years to ensure that the seals and inner workings remain in good condition. Wristwatches are legacy pieces, especially those that are considered luxury watches, and to be able to pass them down requires them to stay in tip-top working condition. A reputable watchmaker will dry pressure test your water-resistant and waterproof watch to ensure that the seals are in good working order.
10 Best Watches to Add to Your Wardrobe
Here are the ten best watches to add to your wardrobe. You should examine which watches best fit your lifestyle and needs to determine which ones will work for you and your wallet.
1. The Rolex Oyster Perpetual Explorer
No top ten list of watches can be without the iconic Rolex. Few watches have the same name recognition as Rolex. Topping our list is the Rolex Oyster Perpetual Explorer. As one of the most expensive watches on this list, it's a stylish statement piece that will pair well with designer suits and formal wear. The classic black watch face makes this waterproof watch perfect for your next black-tie affair or outing on your boat.
2. Casio Vintage Electro Luminescence Watch
Vintage watches that are as memorable as the Casio Vintage Electro Luminescence Watch. Popular from the 1980s, these watches tend to have a cult following that is on the lookout for both the retro used versions that still work and the updated modern watch available today that offers the benefits of updated technology. The contemporary version of this watch features a seven-year battery life, calendar, stopwatch, alarm clock, and of course, the luminescent backlight that lets you see the correct time at any time.
3. TAG Heuer Men's Kirium F1
Swiss watchmakers are known for their perfection and attention to detail. The TAG Heuer Men's Kirium F1 upholds that tradition. Like the Rolex, this luxury watch is more than just a pretty face. The housing is stainless steel and a soft leather band that hugs it tight to the wrist to keep it secure. The design of the silver analog dial with the sapphire crystal cover helps to eliminate reflected light making it perfect for being out on the water. In addition, it's scratch-resistant, offering the adventurous soul some peace of mind.
4. Montblanc Summit 2 Titanium Smartwatch Sports Edition
Looking for a way to disconnect from your smartphone without giving up on some of the fantastic features it offers? The Montblanc Summit 2 Titanium Smartwatch Sports Edition may be precisely what you need. It provides an activity tracker that helps you to keep track of your level of fitness without needing another device like a Fitbit. Water-resistant up to 50 meters, it can be your go-to watch for a variety of activities on land and in the water. Plus, the magnetic charging base means you'll easily be able to charge it up for the next day's events.
5. Ulysse Nardin Maxi Marine Diver Chronometer
Another luxury wristwatch to make the list is the Ulysse Nardin Maxi Marine Diver Chronometer. This watch comes from an old-school brand established in 1846. Another Swiss company that makes a watch looks like an art piece. It features a stainless steel case with a rubber and titanium strap perfect for diving and everyday wear. As a diving watch, it's water-resistant up to 300 meters and is covered by a sapphire crystal glass cover to protect from scratches.
6. Stührling Original Men's Dive Watch
Looking for a statement piece that looks like a million bucks, but doesn't make you cry on the way to the bank? The Stührling Original Men's Dive Watch is precisely the wristwatch you need to add to your collection. It can be a signature piece, thanks to the blue face mimicking the water. It offers 100-meter water resistance. The thick, glowing hands shaped like batons help to make it easy to read no matter your activity level.
7. Montblanc 1858 Geosphere
A luxury timepiece should hold attention, and the Montblanc 1858 Geosphere is no exception to this rule. The fascinating geospheres on the face of the watch allow the wearer to tell what time it is elsewhere in the world. An excellent travel watch for those that prefer to globetrot, you'll have no problem wearing it on your next business trip trying to make it to your flight or on the town for a boy's night out. Impress your friends and strangers alike with this uniquely styled watch.
8. Hamilton Men's Khaki Field Watch
Hamilton Men's Khaki Field Watch is another excellent entry to the cheaper side of watches that offer the right mix of style and adventure. The watch face features large markers making it easy to tell the time no matter the activity. Featuring many of the same functions of higher-end watches, it comes at a lower price point. The sapphire dial window helps with reflection and provides scratch-resistant capabilities. It's also water-resistant to 100 meters.
9. Casio G-SHOCK Activity Tracker GBD800UC-3
Need a watch that can keep up with you on your next geocaching session or fun run, but still looks impressive for other activities. The Casio G-SHOCK Activity Tracker GBD800UC-3 has you covered. You can easily keep track of the time and all of your exercises with this fantastic watch. It features a Bluetooth connection that allows you to connect with your smartphone to get an in-depth view of your level of fitness through detailed graphs that help you to visualize your activity levels.
10. Timex Men's Weekender Watch
Don't think that a cheaper watch that's not considered a top luxury brand has to look cheap. The Timex Men's Weekender Watch is perfect for work before hitting the town. One feature that makes this a must for every man's wardrobe is that the strap for this watch can easily be changed out to update the look to match any occasion or outfit completely. Don't forget Timex's signature feature, Indiglo, the technology that makes it possible to see what time it is in the dark. You won't have to worry about pulling out your phone to know when the movie is going to be over.
These watches are some of the best watches you can take advantage of by adding them to your closet. A great timepiece is always quite the fashion statement. A cheap watch can be perfect for when you're on the go and need to be able to tell time while a more delightful watch pairs well with a suit. There are watches for hikers that can make your trip easier and watches for boaters with all kinds of activities in-between. Having several watches can be the perfect way to round out the accessories in your wardrobe.