Ask a man the only three essentials he would take with him while dashing out the door, and nine times out of 10, his answer will be a cell phone, car keys, and a wallet.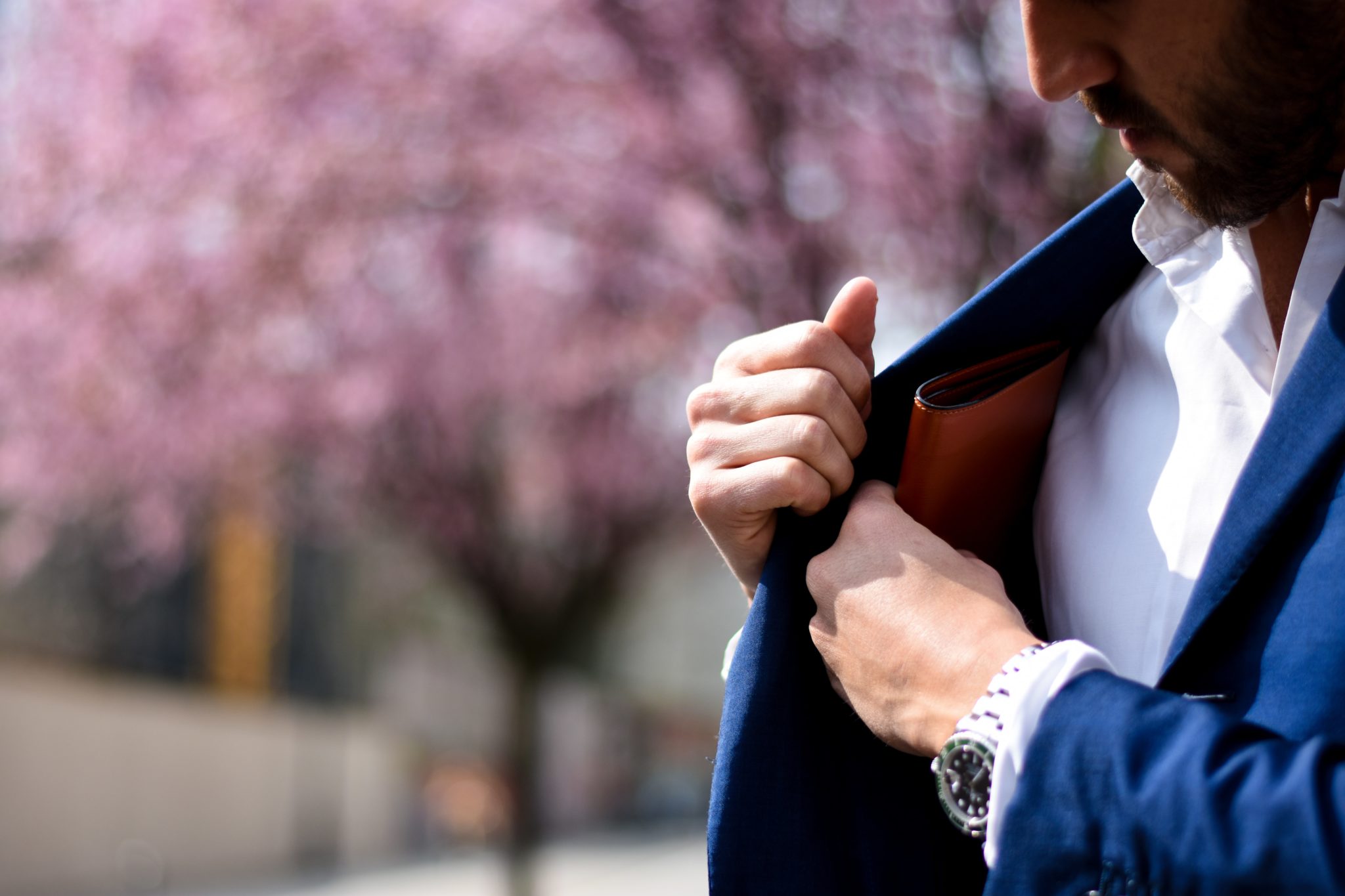 Thanks to digital technology, you can always choose to make payments online, but that doesn't mean wallets are outdated, at least not yet. Many places still require either a credit card or cash. A wallet may not be the most prominently displayed accessory, but carrying a functional and good-looking wallet can still be a style statement.
Now, wallets aren't one-size-fits-all. Your requirements and your personality play an important role in choosing the best one for you. Our list of the top 10 best wallets for men has multiple choices in different styles so you can find one that works best for you.
First, let's take a look at the most popular styles of wallets for men.
1. Bifold Wallet
A timeless and classic choice for any gentleman, bifold wallets fold in half and usually come with one open pocket for your bills and a few slots for your credit cards and ID. Although some even feature coin purses, they can add to the bulk of the wallet.
2. Trifold Wallet
Trifold wallets fold over twice, making them heavier and bulkier than regular bifold wallets. Because of the size, they provide more storage space for cash and cards. This popular design usually comes with several compartments to make organization easy.
3. Money Clip Wallet
Money clip wallets are usually bifold wallets with a metal money clip placed either on the center or the back of the wallet. They don't have a bill pocket but have several slots to put your credit cards in.
4. Travel Wallet
A travel wallet is designed specifically for frequent travelers who need easy access to their passports and ID. These wallets are bigger than your average bifold wallet. They can store your travel documents, tickets, ID, and passport, allowing you quick access to these important documents.
5. Credit Card Holder
Credit cardholders are designed to give you easy access to a few credit cards and your ID. These cardholders are usually thin and fit in your front pocket easily. Some holders have a small pouch that can store cash too.
6. Coat Wallet
A coat wallet is tall and fits perfectly in the inner pocket of a suit jacket. The long design allows for an added benefit of keeping cash flat and crisp without any folds. Most coat wallets have plenty of slots for credit cards.
7. Money Clip
A money clip is an alternative option for people who do not prefer to carry a wallet. The clip secures your money and cards and prevents your belongings from spilling out. Money clips are small and can easily fit in your front pocket, preventing it from bulging.
The 10 Best Wallets for Men
Best Overall Wallets
1. Bellroy Hide & Seek, slim leather wallet
The Australian-based company, Bellroy, makes some of the best minimalist design wallets, of which the Hide & Seek slim leather wallet is, by far, the superior choice. The Hide & Seek slim wallet incorporates a classic design with a slim silhouette that can carry all the essentials a man needs. It comes with a hidden pocket where you could store and conceal your large bills without adding to the bulk. You also have the option to store coins in the hidden compartment. The card slots are evenly distributed and are technically designed to hold four cards but can hold up to 12.
Colors Available: Black, Java, Charcoal, Caramel, Racing Green
Material: Environmentally certified top-grain leather
Size: 3.3 inches x 4.5 inches
Interior Details: Four credit card slots, two slide pockets
Buy it here: https://www.amazon.com/Bellroy-leather-wallet-editions-available/dp/B07BLZLYLZ
Most Functional Wallets
2. Holden Card Wallet by Everyman
This incredibly slim and lightweight wallet by Everyman can fit in your front or back, making it a versatile addition to your wardrobe. If all you need with you is a couple of credit cards, this is the most suitable choice. The 2mm full-grain leather body is finely crafted and keeps the shape slim and lightweight. The carefully thought-out 6-pocket credit card slots ensure that your cards stay organized. Although the wallet is small and won't spill out of your pockets, it can still easily carry your everyday essentials.
Colors Available: Black, Tan
Material: Full-grain leather
Size: 2.75 inches x 4.25 inches
Interior Details: Six credit card slots, one slide pocket
Buy it here: https://www.amazon.com/Holden-Wallet-Everyman-Limited-Leather/dp/B07Q15ZS5V
Best Trifold Wallets
3. Fossil Men's Ingram Leather Trifold Wallet
If you are a guy who needs to carry many cards, cash, and receipts, or you like holding on to coupons just-because, this may be the one for you. The Fossil Leather Trifold Wallet gives you a generous amount of storage space without being overly bulky, a problem that most trifold designs have. This soft leather wallet doesn't have a bill divider, but the cash pocket is big enough to carry cash or important papers.
Colors Available: Brown, Black
Material: 100% cowhide leather
Size: 4.25 inches x 3.25 inches
Interior Details: One ID window, four slide pockets, eight credit card slots
Buy it here: https://www.amazon.com/dp/B00B4Z5CK8
Best Leather Wallet
4. Tumi Monaco Double Billfold Leather Wallet
The Tumi Monaco Double Billfold wallet crafted from textured, full-grain leather is a part of Tumi's reputed Monaco collection. This is a high-end leather option that features a calfskin-leather lining and a turned-edge construction with an embossed finish making it perfect for every occasion. You have the option to choose from black or a popping navy that is eye-catching but not flashy. If you wish to break out of the boring black and brown wallets, this may be just what you're looking for. Even if you opt for the black, know that you're getting a luxurious and functional wallet.
Colors Available: Black, Navy
Material: Leather
Size: 4.5 inches x 3.5 inches
Interior Details: One cash slot, six card slots
Buy it here: https://www.saksfifthavenue.com/tumi-monaco-double-billfold-leather-wallet/product/0400010437663
Best Wallet for Travel
5. Andar The Atlas- Passport Wallet
The Atlas-Passport wallet is a must-have for men who travel frequently and need to keep their passports and documents organized. Most travel wallets are big and bulky, but not this one. The streamlined design ensures that the silhouette remains slim and doesn't cause discomfort when carrying it in your back pockets. The slots are tight to protect your documents from falling out, and the best part is the pull-tab that allows for easy access to your documents. The Atlas is equipped with RFID protection that keeps your digital data from being stolen.
Colors Available: Black, Dark Brown 
Material: Full-grain leather
Size: 5.5 inches x 4 inches
Interior Details: Two card slots, one main pocket for passport
Buy it here: https://huckberry.com/store/andar/category/p/62039-the-atlas-passport-wallet
Best Leather Card Holder
6. MCM Logo Leather Card Case
MCM makes a slim and stylish leather card case that can provide a fancy home for your cards. The card case logo design screams luxury and could help you make an impression on your business associates if that's what you're aiming for. The card case is slim enough for it to fit in your suit jacket pocket without creating an unattractive bulge. The monogram logo matches other MCM products, like belts or handbags, so you could carry it as a set.
Colors Available: Black, Cognac
Material: Coated Canvas/ Leather
Size: 4 inches x 2 ¾ inches
Interior Details: Four card slots
Buy it here: https://shop.nordstrom.com/s/mcm-logo-leather-card-case/4712999?
Best Lightweight Wallet
7. M-Clip Aluminum Money Clip
If you aren't big on carrying wallets, then chances are you'll love this. All M-Clip money clips have a lifetime guarantee, which means once you've secured the clip, it won't stretch open, keeping your money and cards secure, unless it's stolen. It has been designed to organize your cash and cards like a normal wallet but without the weight and bulk. The M-Clip money clip is perfect for you if your style is casual, and you want your money and cards organized in your front pocket.
Colors Available: Black, Blue, Natural, Orange, Red
Material: Aluminum
Size: 2.3 inches X 0.8 inches
Interior Details: Carries up to 8 credit cards and ten bills
Buy it here: https://www.amazon.com/dp/B008QNI9BU
Best Luxury Splurge
8. Montblanc Meisterstück Wallet 6cc
Montblanc is reputed for its quality and traditional craftsmanship, with no exception to this wallet. This Italian-made beauty is crafted from black European full-grain cowhide and a jacquard lining with the brand name. It features a palladium-coated Montblanc emblem that luxuriously stands out in the otherwise simple design. With its simple and minimalistic design, this wallet can go with you on fancy dinner dates or a casual evening at the bar.
Colors Available: Black
Material: Full-grain cowhide
Size: 4.5 inches x 3.3/4 inches
Interior Details: Six card slots, two slip pockets, one bill compartment 
Buy it here: https://www.saksfifthavenue.com/montblanc-meisterstuck-wallet-6cc/product/0455227789908?
Best for Adventures
9. Filson Tin Cloth Smokejumper Wallet
If you're an outdoorsy man, chances are you want a wallet that will survive the wilderness with you. The Tin Cloth Smokejumper wallet was specially made for firefighters, so you know this baby can handle anything you throw its way, even an apocalypse if there's ever one. It is made of highly water-resistant tin cloth and has a nylon binding for added durability, so no matter where your adventure takes you, your essentials are coming with you.
Colors Available: Dark Tan, Otter Green
Material: Oil-finish Tin Cloth and Nylon Webbing
Size: 3-7/8 inches x 5 inches
Interior Details: Four card slots, one cash slot
Buy it here: https://www.filson.com/tin-cloth-smoke-jumper-wallet.html?avad=55097_e1bb76d79&utm_
Most Stylish
10. Travando Money Clip Wallet
The Travando money clip wallet is a practical way to add some color to your monotones. You can choose a unicolor option, or you can opt for a multicolor wallet with some vibrant hues. It comes with a money clip placed in the center to secure your bills and has seven credit card slots. The outside slot is specifically designed for your most-used credit card and comes with a notch that easily pushes your card so you can make payments without having to dig the card out of a tight slot. It is small and slim, meaning it fits comfortably in your front pocket.
Colors Available: Black/White, Black/Blue, Black/Orange, Black, Chocolate, Cognac, Grey, Vintage Brown
Material: Leather
Size: 4.7 inches x 3.0 inches
Interior Details: Seven card slots, one metal clip
Buy it here: https://www.amazon.com/dp/B076D4N8GL
How to Care for Your Wallet
From organizing your cash and cards to storing the number of that pretty girl you met at the bar, your wallet is a prized possession. If you show some love and take care of your wallet, it can last you for years, or even decades. Here are some tips on how you can keep it looking good for years to come.
1. Never stuff your wallet
You can do irreparable damage to your sleek wallet by stuffing it with cash and cards beyond its storage capacity. By limiting yourself to a few important business or credit cards and a few bills, you can enjoy a minimalist approach to living and increase your wallet's longevity. Take some time every week to clean out your wallet and throw out old receipts, irrelevant business cards, and expired coupons.
2. Carry your wallet in the front pocket
Sitting on your wallet is one of the worst things you can do for the wallet and your health. You could distort your pelvis and hips, while applying several hundred pounds of weight to your wallet, causing it to strain and deform. Do yourself and your wallet a favor by carrying it in your front pocket. Opt for a slim wallet to prevent an unsightly bulge.
3. Clean your wallet
Whenever you notice a stain or dirt, use a damp cloth to remove it. Never use soap or detergent to clean your wallet. We recommend the use of products that are meant specifically for cleaning leather goods. Just like skin, leather tends to get dry and needs moisture to keep it looking smooth. You can opt for an all-natural leather cream that can provide moisture to your wallet.