What's more quintessential to your wardrobe than a quality pair of jeans, fashionable sneakers, or a daily basic T-shirt? A pair of great underwear. Support, comfort, and an attractive style that heightens your confidence are essential when getting that perfect pair of underwear for daily wear. To permanently end the epic hunt for the best underpants that fits both your lifestyle and budget, here's what to consider before purchasing that brand-new pair.
The underpants business these days has leveled up, far ahead of something solely meant for function. From boxer briefs to trunks, underwear now is light, soft and has pouches that limit sticking and sliding. Simply put: An exceptional pair of underwear will transform your whole day.
When you're searching for a new pair of men's underwear, it can be difficult to see how it's going to fit when all pairs start to look the same. Then you glance at the fabric descriptions, and it only confuses things more. Cotton, nylon, rayon, modal —what's the best fabric?
Just to be clear, if you've exclusively bought cotton, it's time to drop the pure-fiber fabrics and add in a synthetic. Synthetics will add a moisture-wicking component that cotton can't compete with. However, if you want the best, steer your focus to synthetics and cotton alternatives, which perform better than that stale standard.
While cotton is breathable and comfortable, a pair that's only cotton will tend to lose shape over time. Cotton can also give you that swamp ass feeling in summer months. But if you're looking for underwear slightly more modern, go for a blend with nylon and spandex. Nylon is moisture-wicking, and the fabric won't pill or stretch out. Add a little spandex in the fabric as it helps for movement with easy and extra comfort. Fresh on the scene is a fabric called Modal. Modal is a natural material sourced from beechwood trees that has a similar feel to cotton— they're incredibly stretchy and breathable.
1. MeUndies Men's Trunk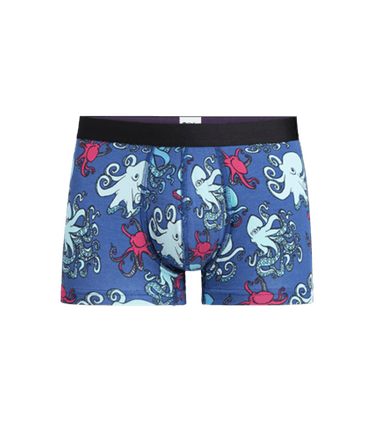 Made from a soft modal fabric. With the flatlock stitching, there's little to rub the boys the wrong way. The MeUndies' monthly subscription program cuts a third off each pair's price while assuring your draws are always fresh. As a side benefit, MeUndies has new designs out each month that have some timely aspect, like its seasonal themes. While a lot of men prefer to switch out underwear en masse via a multi-pack, MeUndies is actually set up to replace your undergarments one at a time over multiple months.
2. Mack Weldon Jersey Boxer Briefs
When developing their underwear, Mack Weldon took the process seriously with over 10,000 hours to perfect the best underwear money can buy. Seriously, this one checks all the boxes you should be looking for when purchasing underwear. The killer combination of Modal fabric, Lycra for stretch, and good ol' trusty cotton make these boxer briefs soft and breathable, while the no-roll waistband and secure grip at the bottom legs keep these bad boys in place. To really hit a home run with this underwear, they incorporated mesh cool zones by the pouch and inner thigh to keep you feeling fresh when temperatures heat up. Plus, you can score them in the trunk or brief style, too.