Special occasions demand formal attire. For most, weddings, galas, and charity balls rank as the type of special occasion worthy of a formal dress code. And for men, "formal dress code" is synonymous with "tuxedo."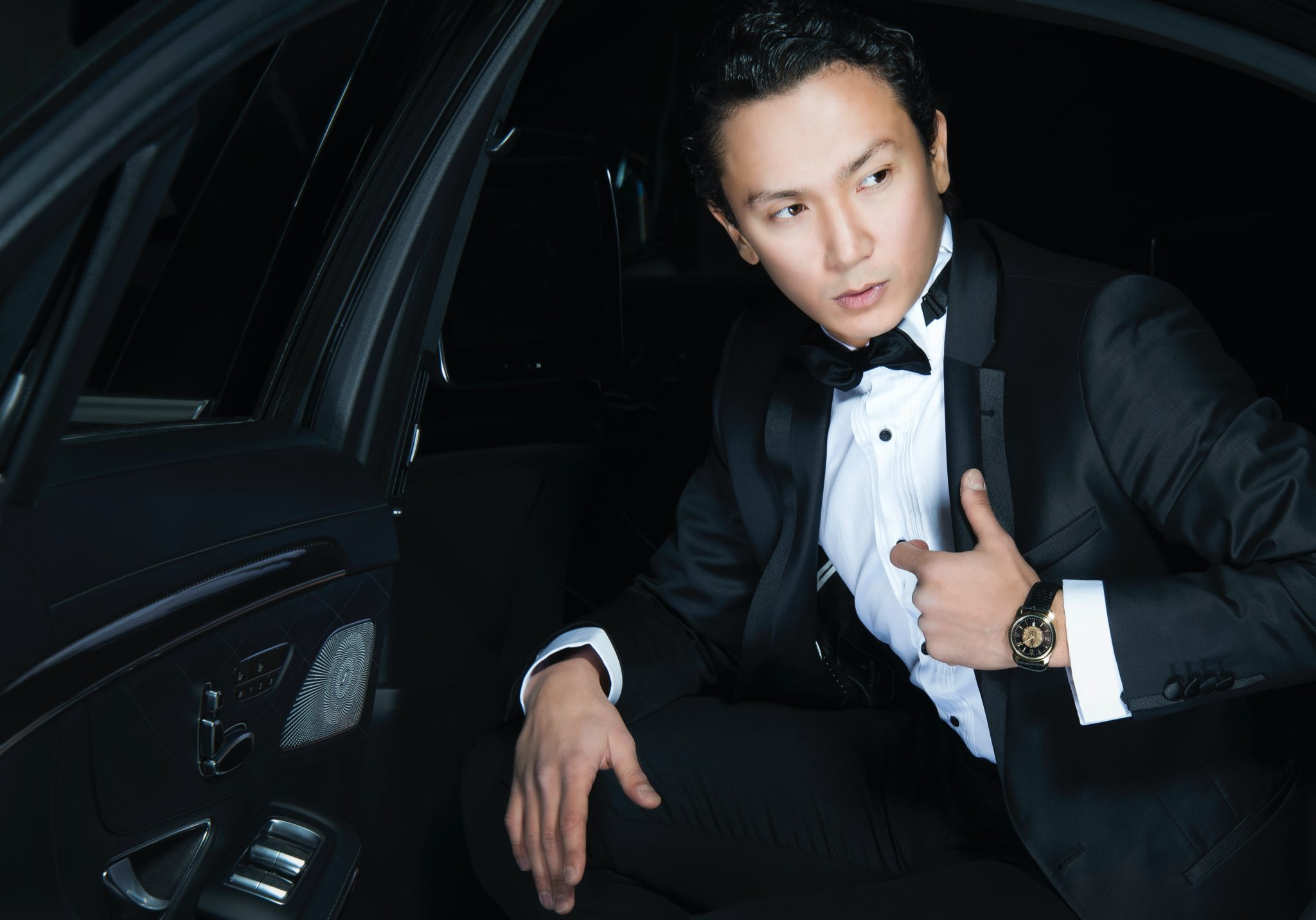 For men, the tuxedo represents the ultimate of formal fashion. Though often grouped together with suits, tuxedoes are their own genre, the same way an evening dress for a woman is very different than a summer dress – sure, both are dresses, but just as a woman wouldn't wear a summer dress to a gala, nor should a man wear an everyday suit to a charity ball.
But formal occasions do not need to be boring for men. On the contrary, tuxedoes for men have evolved to the point where just as there are various price points, there are just as many different styles within the tux category. While the growing variety of style is good news for men – gone are the days where, if you've seen one tuxedo, you've seen them all – it also means men need to adopt greater attention to detail when buying a tuxedo.
Where to start?
Consider, for starters, the events (or environment) where the tuxedo is most likely to be worn. For example, academic galas will call for a certain style, while a summer wedding will call for another. Then, combine the planned event with a man's personality and personal flair for fashion – if he's flamboyant and extroverted versus reserved and traditional, for instance, will lead him to different styles. Starting with these two elements – the environment and the man's personality – will play a crucial role in the purchase of a tuxedo. More on this later.
Next, evaluate the options available on the market. Again, with the growing availability of tuxedo options, that part will likely pose the greatest hurdles. So we've put together a shortlist of the ten best tuxes for weddings, galas, and charity balls.
1 – Brooks Brothers Regent Fit Shawl Collar
From the brand that bills itself as the original authority on American style, Brooks Brothers is where a lot of men turn whenever they need classy fashion wear. From shoes to tuxedoes, Brooks Brother's offers an exhaustive list of options for men and is also the oldest men's clothing store in the United States.
Starting with Brooks Brothers makes a lot of sense when shopping for the best tuxes for weddings, galas, and charity balls. Regardless of a man's style, Brooks Brothers will have a solution.
For a formal and versatile tuxedo, we recommend the Brooks Brothers Regent Fit Shawl Collar Velvet Tuxedo. Available in sizes ranging from 36 to 48 in regular and short lengths, this navy Brooks Brothers single-button velvet tuxedo will appeal to men who appreciate current fashion trends (velvet) and need a versatile formal wear solution that will help him look good at weddings, galas, and charity balls alike.
2 – Perry Ellis Men's Slim-Fit Stretch Navy Shawl-Collar Tuxedo
This navy, single-button option from Perry Ellis allows a few extra options over the Brooks Brothers tuxedo. While it's available in the same sizes, the Perry Ellis tuxedo also comes in Regular, Short, and Long variants. Another key feature that sets the Perry Ellis tux apart from the crowd is the jacket's higher armholes and trimmer chest and waist, making it visually appealing on the right body type.
Its slim-fit pants, however, are tighter than others on the market and are recommended only for those who wear slim-fit exceptionally well.
3 – Ludlow Slim-Fit Tuxedo
For a style that stands apart from the crowd, consider the Ludlow Slim-Fit Tuxedo. Suitable for all formal gatherings, the Ludlow offers a classic blend of tradition and modern style. The traditional peak lapel and two-button Italian wool jackets come in navy or black, and it won't stand out in settings where less formal suits are called for. However, at formal events, this tuxedo fits right in. From a brand that pushes styling cues to the modern ages, the Ludlow Slim-Fit Tuxedo is a visual delight without being pretentious.
4 – Boss Halven/Gentry Slim Fit Wool Tuxedo
This tuxedo from leading designer, Hugo Boss, will leave a stunning impression on both the wearer and the rest of the crowd. With Boss, men will get a looser fit from this slim-fit design. In fact, the fit is technically more of a regular fit, offering additional comfort for those who typically stray from the slim-fit options on the market.
The notch lapel, two-button virgin-wool tuxedo offers a clean, modern look, and comes in navy and black variants. Considered one of the best tuxedoes for weddings, galas, and charity balls, the Boss Halven/Gentry Slim-Fit Wool Tuxedo will stand the test of time insofar as style and visual appeal are concerned.
5 – Suitsupply White Washington Tuxedo Jacket
Looking to stand out in the crowd at the next wedding, gala, or charity ball? Check out Suitsupply's formalwear options. With a variety of tuxedos available, the retailer's offering will surely match any man's style preferences.
To make the search a little easier, we recommend the White Washington Tuxedo Jacket. The wide shawl lapel, double-breasted Havana style hints at classic elegance and a progressive, intellectual style. The white bamboo fabric not only stands out in its elegance but is exceptionally breathable, making for a less suffocating experience in warmer climates or stuffy ballrooms when the air-conditioning takes too long to kick in or breaks down altogether.
6 – Black Lapel Royal Blue Tuxedo
For men looking to stand out in a crowd, the Black Lapel Royal Blue Tuxedo will certainly draw the eyes and attention of others. This slim-fit royal blue tuxedo sports a slim shawl lapel that hints at modern-day style and youth. The single-button jacket formalizes the ensemble without offense.
The custom-made tuxedoes by Black Lapel will appeal to all modern men looking to draw the attention of others at any formal event. What's even more impressive is the hand-crafted attention to detail and quality fabrics that this online-tailor offers in addition to its progressive styles. If the Black Lapel Royal Blue Tuxedo doesn't have enough of a peacock's flare, consider the brand's burgundy tuxedo, which sticks to the rules as a traditional tuxedo but steps outside the color box.
7 – Capstone Italian Wool Tuxedo
The Capstone Italian Wool Tuxedo will appeal to anyone. Available in all three lapel styles – notched, shawl, and peaked – and a wide range of sizes, and the traditional black and navy colors, this tuxedo will suit all types of formal events. The tuxedo pants are available in slim, athletic, and regular fit, but can also be custom tailored, which makes this a highly customizable tux that will suit all shapes and sizes and style preferences. The Capstone Italian Wool Tuxedo will fit the bill for the man who needs to look good without drawing the extra attention that often accompanies an exceptionally well-built and high-quality tux.
8 – Armani Tuxedo
As a leading Italian fashion designer, Armani has appealed to men's formal tastes since 1975. With men's tuxedoes, Armani offers a navy or black shawl lapel option that comes with a crisp cut and two-button jacket. What stands out among Armani tuxedoes is the subtle design cues that set this fashion statement apart from the crowd. Constructed in cool wool to ensure breathability in hot environments, the Armani is extremely comfortable, which is expected from an Italian designer. The downside with Armani is its limited color options and its high price tag. Recommended for aficionados seeking to upgrade on of their existing tuxedoes to one of the finest tuxedos on the market.
9 – Canali Black Wool Tuxedo
Another pricey tuxedo, this variant from Canali, comes in pure wool, single-button, peak lapel jacket. The modern, slim-fit design will appeal to those most comfortable with this cut, but still carries the presence of a traditional tuxedo. With just half a dozen sizes available, and the restrictive fit and price, the Canali will not appeal to some men. As with other premium brands, this tuxedo will make for a nice upgrade to an existing wardrobe, offering fashionable design while abiding by the classic tuxedo's traditional design characteristics.
10 – The Black Tux Contrast Shawl Tuxedo
An economical option that steps outside the traditional tuxedo lines without being glaring about it, the Contrast Shawl Tuxedo at The Black Tux offers an enhanced formality without being bland or ordinary. The two-button, black shawl lapel on white super-fine Italian wool jacket will definitely stand out, in the same way, a Rolls Royce might outside a Fifth Avenue Hotel — elegance and distinction always do. But this tuxedo, which might come across as a little too formal for a wedding, will also barely catch an eye at a modern-day gala or charity ball, making it a versatile choice for someone who plans on wearing the same tux for multiple events. What's even more appealing is that The Black Tux offers rentals. If that option suits you, we recommend this tuxedo for a man looking to make a lasting impression at a socially-important charity ball.
Still Unsure? Many of the ten best tuxedoes for weddings, galas, and charity balls will be more suitable for one event over another. However, they will always fit in at all three formal occasions. As noted earlier, the man's personality will drive much of the decision when choosing the best tuxedo. Here are two basic personality types and the recommended tuxedoes for each.
For the Man Who is Outgoing and Attention-Seeking
If the man wearing it is a little more outgoing and tends to attend formal charity balls as a way to draw attention to himself, consider that the shawl lapel and single-button tuxedo jacket are more traditional. This might blend in with the other tuxedos in the crowd, making the notch or peak lapel and multiple-button jacket more appealing for a man with this personality. In that case, the White Washington tuxedo by Suitsupply might be a better option for the man looking to stand out without getting kicked out. Taking the attention-grabbing option to the next level, the Burgundy Tuxedo by The Black Lapel will not only draw eyes but a few whispers as well.
For the Introvert with an Appreciation For the Traditional or Classical
If the man purchasing the tuxedo prefers to keep to himself while looking good, the less formal option of a notch lapel single-button black tuxedo will work just fine. This type of tuxedo will always look good at a variety of functions without the risk of getting blacklisted. A classic in this arena is the Ludlow or Boss tuxedoes above will instill confidence without drawing unwanted attention, all while allowing the man to meet modern tuxedo conventions. An even more formal option would be the shawl lapel, which is the classic lapel style for tuxedos, and for that personality, we recommend the Brooks Brothers Regent Fit Shawl tuxedo.
Environment
In terms of the environment where the tuxedo will be worn, consider that weddings are increasingly becoming less formal. Where a tuxedo might have once been the norm for all guests, more and more often the formality of a tux at a wedding is reserved for the groom and groomsmen. Galas and charity balls, however, commonly require tuxedoes from the men in attendance, but each of these environments will have varying expectations for attire. A charity ball will likely call for the highest level of formalwear — shawl lapel, single-button, black or navy from the likes of Brooks Brothers, Armani, and Perry Ellis. On the other hand, a gala might have more relaxed expectations and double as a social setting for those looking to stand out – peak lapel, two-button tuxedoes from The Black Tux, Canali, Suitsupply.
While shopping for the best tuxedo for weddings, galas, and charity balls might seem difficult given the selection available today, once the environment and man's personality are pinned down, the decision boils down to the style, fit, and price of the tuxedo. In all likelihood, the right match can be found above in the ten best tuxedoes listed here.