Who doesn't love a great sweater? They're soft and warm and among the most comfortable pieces of clothing around. Their comfort is just one of the reasons we love them, though. There are sweaters for every occasion, from hanging around the house to heading out for a date night. Whether you want an edgy look that includes things like boots and bomber jackets or a more polished look that pairs your sweater with leather gloves and a long wool dress coat, sweaters are a must-have for every man. But what makes a sweater a good sweater? And which styles are the best choices for men? We've waded through all the options and read through all the information out there to bring you this list of the nine best types of sweaters for men. But first things first. What should you look for in a sweater to know you're getting the best quality for your money? There are a couple of things to consider: materials and fit.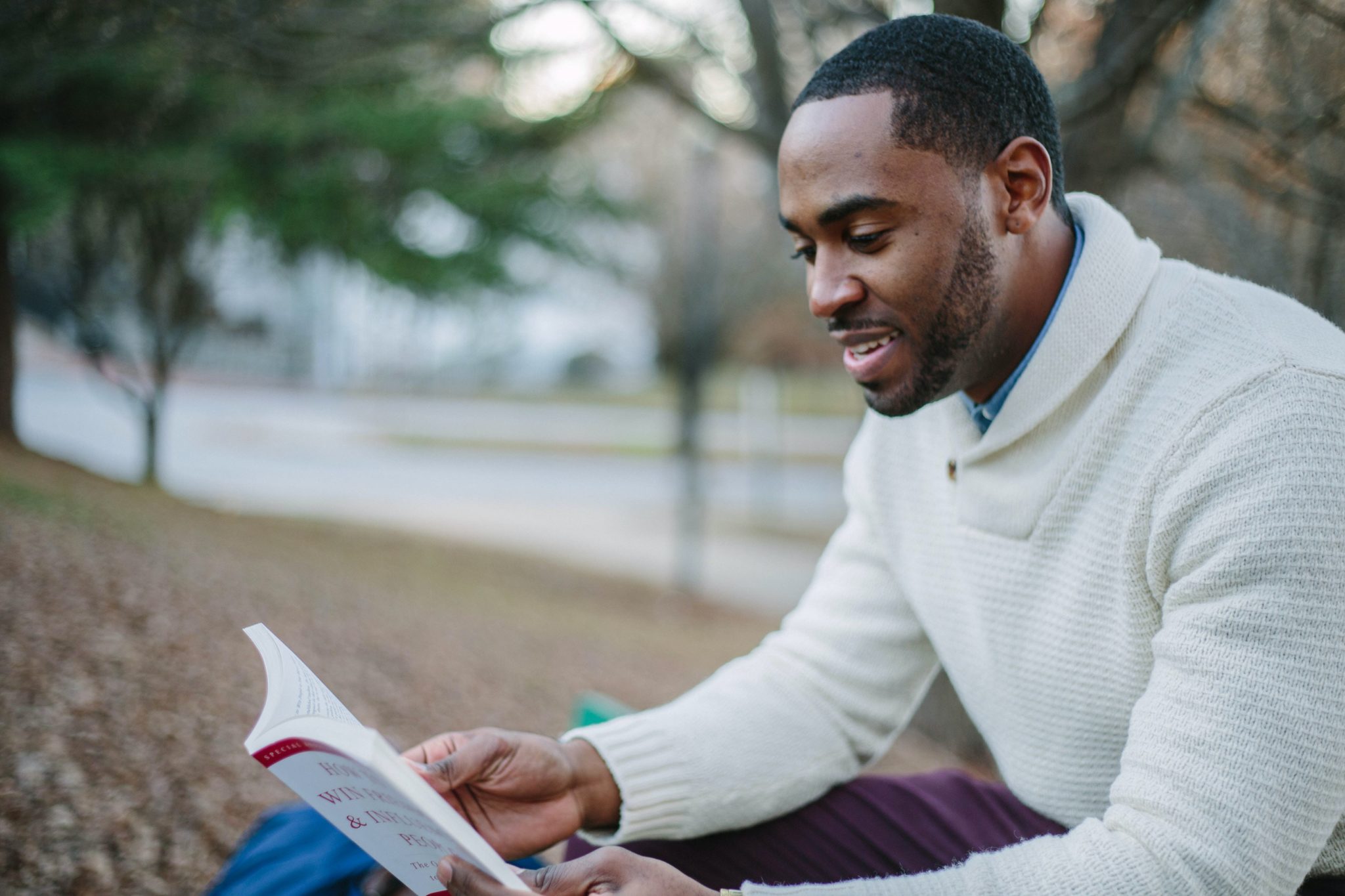 Materials
What is the sweater made of? You're probably buying a sweater for warmth, at least in part, so it's important to know what it's made of and whether it will keep you warm.
Wool – The top choice for protection from the cold is wool. It's been used for centuries because it's the best at providing insulation when temperatures drop. There are many kinds of wool. Some, like merino wool, are softer, and some are rough and scratchy. Texture is one area where you do tend to get what you pay for with a wool sweater. In general, wool costs more than many other materials, and softer versions are at the high end of the price range. It's often worth the splurge, though. You'll wear a soft, warm wool sweater over and over for years while you'll be counting the minutes until you can take off a scratchy but inexpensive sweater. One of the reasons we love sweaters is their comfort. The right materials make all the difference here.
Cashmere – Cashmere is famous for its silky feel due to its threads that are finer and softer than wool. It's also very good at keeping you warm. It can be combined with wool, providing even more protection. Cashmere is more lightweight than wool and breathes more than wool, making it a more comfortable choice for many people. It's at the pricey end of the spectrum because cashmere supplies aren't as plentiful as wool, but many love the way it feels against their skin so much that they find the best cashmere sweater well worth the money. A cashmere sweater can last years if properly cared for. 
Cotton – At more affordable prices, cotton is also a good choice in men's sweaters. It's easy to care for and stands up well to everyday wear. The downside is that it doesn't protect you from the cold as well as the previous two materials. Look at a thicker cotton sweater to maximize its ability to keep you warm. A lighter-weight cotton sweater is fine for cool summer nights. Also, consider that if it gets wet with snow or anything else, it stays wet for a while, so you may want to give extra thought to the coat or jacket you'll wear over it and whether you'll be exposed to the elements while wearing your cotton sweater. Still, it's a good option. Cotton is a quality material that is chosen by many for a variety of clothing pieces.
Fit
Like any piece of clothing, it's essential that you find a sweater that fits you properly to make sure it's something you'll enjoy wearing for years to come. The chest should be comfortable, not tugging at the seams. Sleeves should extend to your wrists and have a little extra material so the cuff doesn't ride up when you stretch out your arms. Lengths can vary slightly depending on the style of sweater you're looking at, but generally, a men's sweater should at least cover your belt and not ride up when you raise your hands over your head.
9 Best Sweater Types for Men
Now that you know what to look for when shopping for a quality men's sweater, let's jump into the nine best types of sweaters for men.
V-Neck
The v-neck is an essential classic sweater style that should be in every man's wardrobe. It works with jeans, shorts, casual pants, dress pants, or suits. Add a tie for a more formal look or go without for more casual occasions. You can find v-neck sweaters in either pullover or cardigan styles, and because they are such a valuable staple, manufacturers provide a wide variety of colors and patterns. You're sure to find something that appeals to you. Stick to the classics with a solid navy blue or gray, or choose from a bolder pattern or color if you like to stand out.
To look your best in any clothing, you need a good fit. Here's how to know if a v-neck sweater fits you correctly.
It shouldn't be baggy. It should fit close to your body (shoulders, chest, waist, and sleeves) but shouldn't be tight.
The sleeve should come up almost to your armpit. You don't want it too snug here, or it will hinder your movement, and we don't want that. Try it on. Move your arms. If it's tight under your arm or if you feel it tugging there, it doesn't fit properly.
The bottom hem should sit right below your waist and shouldn't be baggy. There should be just enough extra fabric there to allow you to turn without the sweater riding up or stretching.
Cardigan
Next on our list of must-have sweater styles is the cardigan. Long shunned as the clothing choice of older adults, they're now popular among young and old alike. Celebrities like Ryan Reynolds and Lebron James have been photographed donning modern versions of this classic. Think of it as a lighter, looser version of a jacket. Its versatility rivals that of the v-neck as it can be worn year-round with or without a tie, with casual or dress shirts, and under a blazer or suit coat. It's also a great alternative to a jacket if you have an active lifestyle because it's easy to put in your backpack or toss in the car when you're heading out for a hike or other outdoor endeavor.
Fit is key to looking stylish in a cardigan sweater. Think slim, not baggy, to look modern and fashionable. The shoulders should be a little loose (keyword here is "little"), and the bottom of the sweater should cover your belt when you button it. A man's well-fitting cardigan should have some shape to it as well – narrow right below your rib cage and then growing wider on its way down to your hips. This shape creates that slim look we talked about before. In general, there are three things to consider when looking for a good fit in a cardigan.
The right balance between comfort and fit – It should be comfortably loose without being baggy. This means that the shoulder seams sit on top of your shoulder, the hem covers your belt but not your pockets, and the sweater's general fit is snug enough to not create a large sag when you bend forward.
Quality construction – It should be made of something that feels good to the touch. Something rough or scratchy will be driving you crazy by the end of the day. Seams should be without looseness, and fibers shouldn't pill up when you rub the sweater.
The rest of your wardrobe – Choose something that fits what you already have but doesn't add monotony to your current wardrobe. Mix it up with some neutrals you can wear with anything and some brighter colors that will work as accents to your existing outfits.
Shawl-Collar Cardigan
This variation on the classic cardigan is thicker with a look and feel that's more luxurious than the basic we just talked about. A wide, turned-over collar that narrows as it extends to the sweater's waist creates its distinctive look. It can be layered with a jacket but more often is the outer layer of an outfit. They're available in cable knit, which adds some texture to a look. They have comfort and style, making them a popular choice among men purchasing sweaters. The guidelines above regarding the proper fit for a cardigan apply here too, but there are other things to consider in this looser version.
Buttons: For a casual look, leave just the top or bottom button undone. Or don't button any of them unless you're wearing a tie. Then, the shawl-collar cardigan looks best completely buttoned up.
Pants color: Your pants should generally be a different color than your sweater, regardless of the kind of sweater you're wearing. But it's even more important with a shawl-collar cardigan. The monotone look with this style looks very 1970s, not modern and fashionable.
Layering with a blazer or jacket: If you're wearing a shawl-collar cardigan under a blazer or jacket is nice when it's cold. The neck of the sweater can even act as a sort of scarf in this situation. But what to do with the collar itself? Play with it to find what's comfortable for you and what you feel looks best. Just avoid spreading it out over the lapels of your blazer or jacket, as this creates another very 1970s look.
Shawl-Collar Pullover
The shawl-collar pullover is a slightly less formal version of the shawl-collar cardigan. It has the same wide, turned-over collar that narrows as it extends downward, but the collar closes as the two sides meet. It's not as commonly worn as a crewneck sweater, making it a good choice for times you want to be appropriately dressed for the occasion but also wear something distinctive.
Crewneck
The crewneck sweater is probably the most traditional men's sweater type. Its round neck defines this enduring classic. The variety of fits and weights make it one of the most versatile choices for men shopping for a sweater. Pull a lightweight one in a neutral color over your dress shirt for casual Friday at work. Add a blazer over it for after-work drinks. Substitute the dress pants with jeans on the weekend for a look you can wear to any destination.
Turtleneck
With coverage from your neck to your waist, turtleneck sweaters are perfect when temperatures dive, whether you're looking for something to wear while running errands or you're putting together an outfit with a more polished look. Paired with jeans and some heavy boots, it's a great day-to-day look that keeps you feeling toasty in frigid conditions.
Turtlenecks are also great for layering. Wear a bomber jacket over it for a more edgy look or a long wool coat if you want to look a little more polished. Or choose a more lightweight turtleneck to wear under a sports coat for a more formal and classy look.
The classic men's turtleneck sweater covers the entire neck and folds down at the top. If you unfold the neck, it typically comes up to your lips or cheeks. Doubled down, it tops out below your chin. There are many variations on this, however, with some going halfway or less. There's even the mock turtleneck that comes up on the neck just an inch or two and doesn't fold down at all. Find what you feel looks and feels best to you.
Cable Knit
Cable knit sweaters are a great way to break up your outfit with a little texture. Even a solid-colored cable knit sweater adds interest to something as simple as jeans and sneakers. Opt for a v-neck version with striping at the neck and waist for that high-class look. Heavy, bulky cable knits and lighter ones are both easy to find and are popular choices.
Quarter-zip men's sweaters are another outstanding stylish option. They allow an opening at the top of the sweater without the bother of buttons, making them a more practical choice in the eyes of many. They often flare out a bit at the top, adding a nice sporty touch to the look, and the opening at the top gives you the option of wearing a collared shirt beneath the sweater if you'd like.
Those who need to dress quickly after time at the gym also find them good choices because the top opening means they aren't quite as hot as some other sweater styles. There are even quarter-zip sweaters made from materials that will help you cool off after your workout. Just make sure you consider your destination if you choose these athletic versions, as they aren't intended for social events.
Last but certainly not least, on our list is the hoodie. Definitely the most casual choice, they should be worn only with jeans and in the most casual of settings. A hoodie is comfort at its best when a man needs to stay warm and just relax. Pull the hood up onto your head if you have to dash out to the car in the rain or wind. They usually fit pretty loosely, so just choose the one that feels the most comfortable to you.
Other Tips
A few other things should be considered when deciding on which men's sweater to purchase.
If you're just beginning to build your sweater wardrobe, start with colors like oatmeal, navy blue, white, brown, and gray for the most versatility. And stick mostly to solids to maximize the number of outfits you can get out of each sweater.
We've talked about price already, but it's worth mentioning one more time. A well-made, expensive sweater can be an excellent investment, but not if you just don't like it. A cheap sweater you love but won't wear much and will get rid of after one season isn't a good buy. Look for the sweater you love that is going to last.
Think of it like this. You can pay $150 for a well-made sweater that you love. If you love it, you won't want to give it up, so you'll get it repaired when it needs it and generally take good care of it. A good sweater will last you for years. It could last you ten years. If you wear it 150 times over those ten years, you have, in effect, paid $1 for each time you wear it. Or you can pay $50 for a sweater that you feel okay about but that loses its shape, fades, or becomes otherwise unwearable after one season when you wore it maybe five times. You paid $10 for each time you wore that sweater. Even if you love that cheap sweater when you buy it, you paid $10 for each wearing.
Take your time. Spend the money on something you love that's made well. Invest in a sweater. Money spent on such a versatile piece that can add style to any outfit is money well spent.