Few things have the ability to frame and shape a man's face the way sunglasses do. More than nearly any other accessory, a well-chosen pair of sunglasses has the unique ability to infuse a man's face with an element of mystery, subtlety, and a certain indefinable refinement. On the other hand, poorly chosen sunglasses can make a man look awkward, odd, or even outdated.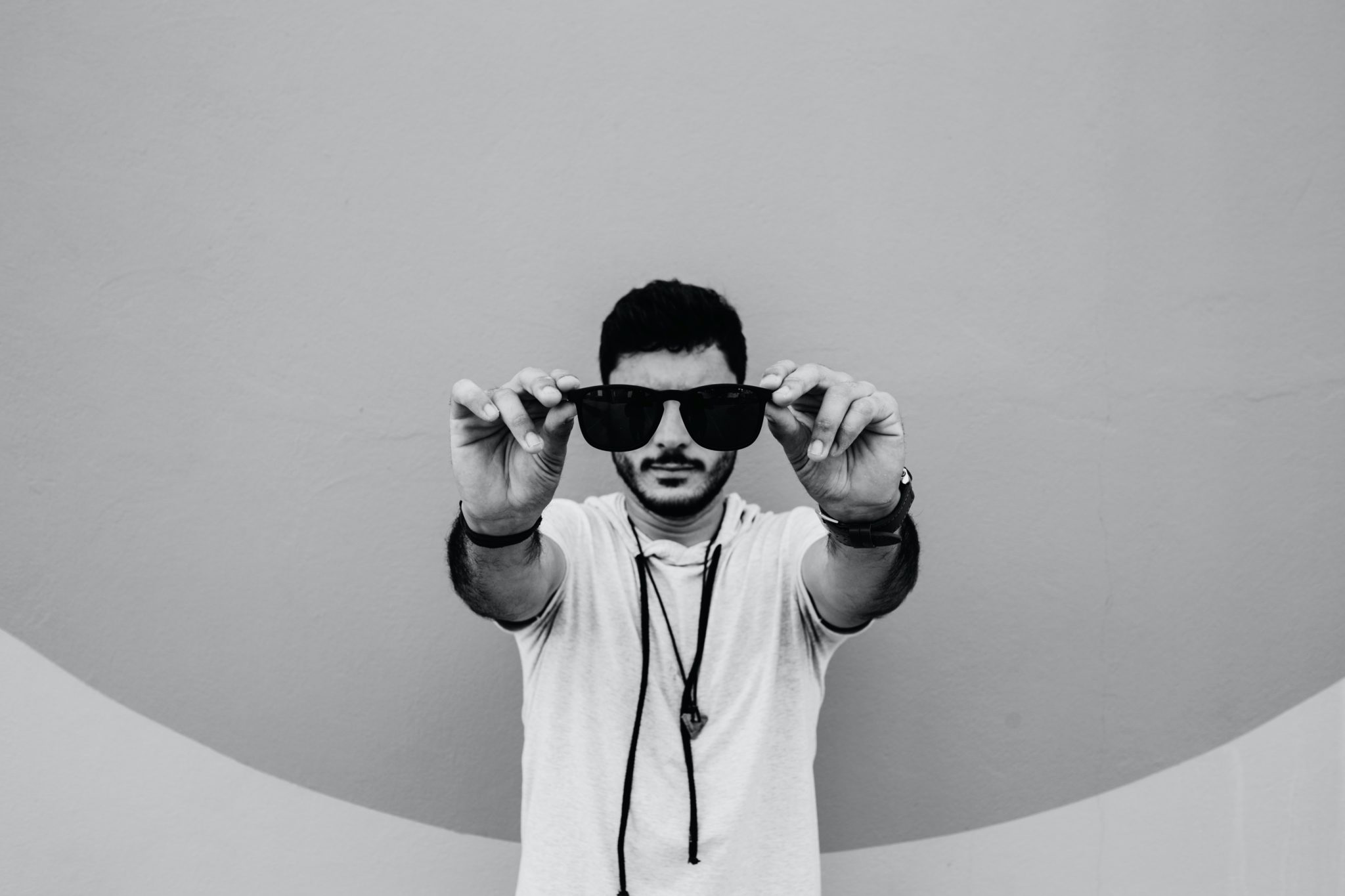 The main consideration when choosing sunglasses is face shape. The strong graphic shape of dark lenses against the outline of the face can either complement the overall look, or it can look off or unbalanced. A general rule of thumb is to choose a lens shape that contrasts the shape of the face, such as choosing an angular lens to complement a round face.
Also, it's useful to consider hair color and skin tone when selecting frame style and coloring. The best way to obtain an informed opinion about a pair of well-styled sunglasses is to simply go to a store that specializes in selling glasses and sunglasses and try on different styles and frame types to narrow it down to the pair that looks the best. Ask an associate for their professional opinion. They deal with glasses every day and should be able to make recommendations for an appealing pair.
With that said, there are MANY styles and brands of sunglasses available and there are probably several that would suit each person. With so many choices available, it can easily become overwhelming to the consumer trying to find and customize the perfect pair of sunglasses. We've narrowed down the choices a bit by presenting a small selection of sunglasses that we feel are particularly noteworthy, and we're confident that there is a pair in this list to suit any face and any lifestyle. Here are 10 of the best that we've selected.
1. Persol Typewriter Edition Sunglasses
Originally founded in 1917 as a maker of durable sunglasses for aviators and racing drivers, Persol quickly became known for beautiful, well-made sunglasses. The Persol Typewriter Edition carries on this tradition with design choices inspired and influenced by the evocative styling and hardware found on classic analog typewriters from the golden age of early 20th-century writing. Each pair of glasses features a beautiful rounded acetate frame, angled end-pieces, glass lenses, and beautiful detailing on the arms. This is truly a strikingly designed pair of sunglasses, and it is available in a variety of colors to suit any taste and complement any style.
For the man seeking exceptional, classic styling that makes a bold statement, the Persol Typewriter edition is a great choice.
2. Prada Men's OPR 67TS Sunglasses
Prada. The name itself is legendary in the world of high fashion and haute couture, and like the company that has produced them, this pair of men's sunglasses, the OPR 67TS are a sleek, impactful masterpiece of eyewear design. The glasses are built on an intriguing foundation of design with masculine lines, larger 63mm lenses that blend into the frame, and overall dark angular appearance makes a compelling statement on any face.
Each pair of 67TS sunglasses features a thin double bridge as a subtle, dramatic accent to connect the lenses that support the eyes with 100% UV protection. This eye-catching pair of Prada sunglasses exhibits an attention to detail and thoughtful design that is understated, striking, and unmistakably high-end, exactly what you would expect from a company with Prada's reputation.
3. Raen Benson 48mm Men's Sunglasses
Raen has at the core of its mission, the drive to create high-quality, stylish glasses and sunglasses at an affordable price. Based out of Southern California, Raen seeks to imbue all of its designs with the independent spirit of the state.
With this pair titled "Benson," they have achieved that goal. Benson sunglasses are handmade and feature an arresting, wire-framed, round style that almost anyone can look good wearing. These glasses are also available with a 51mm lens.
Benson's frames are crafted of acetate and stainless steel, and the Carl Zeiss lenses from Germany provide 100% UV protection. If searching for a minimal, yet dramatic pair of sunglasses to complement almost any look, then you need to search no further than handmade Benson sunglasses by Raen.
4. Costa Del Mar Tuna Alley
Sunglasses from Costa Del Mar are inseparably associated with a beachfront lifestyle, and therein lies the impact and striking style of these performance sunglasses. Sunglasses with such a strong, distinctive style need a distinctive personality to pull them off, but the specs on these noteworthy sunglasses earn them a mention on this list.
Polarized glass lenses, 100% UV protection and a vent system to keep humidity from building up around the eyes make these an ideal choice for someone seeking glasses to complement an active outdoor lifestyle. On top of that, most Costa sunglasses are built with a durable nylon frame, helping them stand up to whatever activity they're put through. While the styling of these glasses might not be the first choice of some, the rugged, activity-friendly construction makes these a great option for someone seeking sunglasses for an athletic lifestyle.
5. Le Specs Bandwagon Sunglasses
Le Specs is a sunglasses company that has been setting style trends paired with affordable pricing since 1979. The company pushes the envelope of what is possible in eyewear design by partnering with globally known artists and designers to create some truly iconic styles. Le Specs have been worn and loved by some of this generation's most well-known personalities.
The Bandwagon design is no exception to the company's tradition of design excellence. These modern sunglasses take inspiration from some of the classic shapes and styles of midcentury design to create a fresh, contemporary look, available in a variety of frame colors and lens finishes. With a 51mm lens and category 3 UV protection, Bandwagon sunglasses bring a polished design update to iconic 20th-century design for a thoroughly modern look.
6. Ray-Ban Clubmaster sunglasses
Ray-Ban Clubmaster sunglasses combine a vintage look with a timeless sense of style. Though these sunglasses were not introduced to the market until the late 1970s, the design drew much of its inspiration from the iconic brow-line frame style that was very popular in the 1950s and was worn by important public figures of that era such as Malcolm X and President Lyndon Johnson.
Ray-Ban is a company known for the outstanding quality of its products, and the Clubmaster is no exception. Available in multiple variations of lens finish and frame color, the midcentury styling of these sunglasses is sleek and vintage, but still effortlessly modern. Whether looking for a dressier pair of sunglasses to wear to the office or a casual pair of shades for summer weekends, Ray-Ban Clubmasters are a versatile, refined choice for any man.
7. Oliver People's "Gregory Peck" Sunglasses
The design of the Gregory Peck sunglasses is based on the timeless styling of the glasses worn by attorney Atticus Finch (played by Peck) in the timelessly impactful, highly-esteemed 1962 film "To Kill a Mockingbird."
The acetate frames of these glasses feature a round lens styling and are customizable with a wide selection of frame colors and lens finishes. One of the most interesting frame styles is a two-tone acetate frame that transitions from black at the top of the frames to tortoise-shell at the bottom. The combination of film-inspired midcentury styling and high-end materials in these glasses creates a unique, exceptional choice for any man with an eye for the future and an appreciation for history.
8. Randolph Engineering Aviator Sunglasses
Aviator sunglasses are one of the most popular and timeless of all sunglasses shapes. Harkening back to the golden age of flight, the glasses evoke a bygone era, while remaining firmly rooted in cutting edge modern styling. Originally founded by a navigator in the British Royal Air Force and a Polish machinist, Randolph Engineering was originally founded to produce the world's best sunglasses. Based on the experience of the founders, Randolph eventually became a contractor producing their Aviator sunglasses to the exacting specifications of the U.S. Air Force and the Department of Defense.
The Aviator frames produced by Randolph Engineering carry a remarkable pedigree and are the ideal glasses for the man who is looking for precision engineering performance sunglasses. While Randolph still produces shades for the U.S. military, they also produce lenses and frames in a variety of finishes, including materials finishes such as 23K gold. For the man who wants heritage styling rooted in tradition with a choice of modern luxury finishes, Randolph Aviator sunglasses are the ideal selection.
9. Ray-Ban Wayfarer Sunglasses
No list of men's sunglasses would be complete without including the Ray-Ban Wayfarer. These distinct sunglasses have become the most recognizable sunglasses in the world due to timeless styling, durable manufacturing, and eager adoption by celebrities, musicians, and even politicians. Ray-Ban Wayfarers can be spotted on icons of style and history such as James Dean, the Beatles, and President John F. Kennedy. They can also be seen on more recent celebrities such as Michael Jackson and Leonardo DiCaprio.
There's a reason why these particular sunglasses have achieved such popularity. The design is rooted in the timeless and distinctive mid-century design principles of Charles and Ray Eames, as well as deriving inspiration from the lines of classic automobiles. The strong styling, distinctive frames, and overall timelessness make Ray-Ban Wayfarers the logical choice for any man looking for a modern look that is firmly rooted in history and style. Also available is an update to the original: the New Wayfarer Classic which offers a smaller frame and more rounding to the lens shape.
10. Oakley Frogskins Sunglasses
Oakley, Inc. is a giant in the world of performance eyewear. In addition to their world-famous sunglasses, Oakley also produces other sports gear such as shoes, backpacks, apparel, and watches. However, for many people, the first thing that comes to mind when they hear the word Oakley is sunglasses. Oakley sunglasses have pursued a course of development with athletes in mind, testing their glasses in a variety of conditions to develop a rugged, durable product.
Originally designed and developed in the 1980s, the Oakley Frogskins carry on this tradition of premium optics and durable production in a frame style reminiscent of classic midcentury design, but with a quality and durability that is uniquely Oakley.
The Frogskins are also available with Oakley's Prizm lenses, which enhance contrast and color for the wearer. All of this provides unparalleled vision quality in a handsome frame. Frogskins are available in a variety of frame styles and lens coatings for a look that complements any wearer.
Sunglasses have come a long way since the earliest versions that were created from pieces of emerald. Roman emperors used them to protect their eyes from the bright Mediterranean sun while watching gladiatorial contests.
The modern man has nearly infinite choices when it comes to frame styling, material, lens coating, lens size, and many other details and features. This can make choosing the perfect pair of sunglasses a challenge, but this article has attempted to narrow the field with a few of the finest pairs of shades available today. From classic mid-century styling to military-grade materials, to durable sport glasses designed for sun and surf, the sunglasses listed above should begin to open up the doors to some of the best sunglasses around.
Take a look at the brands and specific glasses on this list, and take the time to learn more about their quality and materials. The variety of options is staggering, but don't let the many choices hinder the search for the ideal sunglasses. Whether a seasoned outdoorsman, someone who enjoys outdoor entertainment, gardening, or exercise, the perfect pair of sunglasses is out there to complement any face and suit any lifestyle.