Open your sock drawer and take a look inside. Do you tend to ignore your socks when purchasing a fashionable wardrobe? The days of putting on the same old white athletic socks should be behind you, thanks to all of the options on the market. We'll go over the seven different types of socks available to men today, along with scenarios of which socks you should pull out to match and the materials you should check out.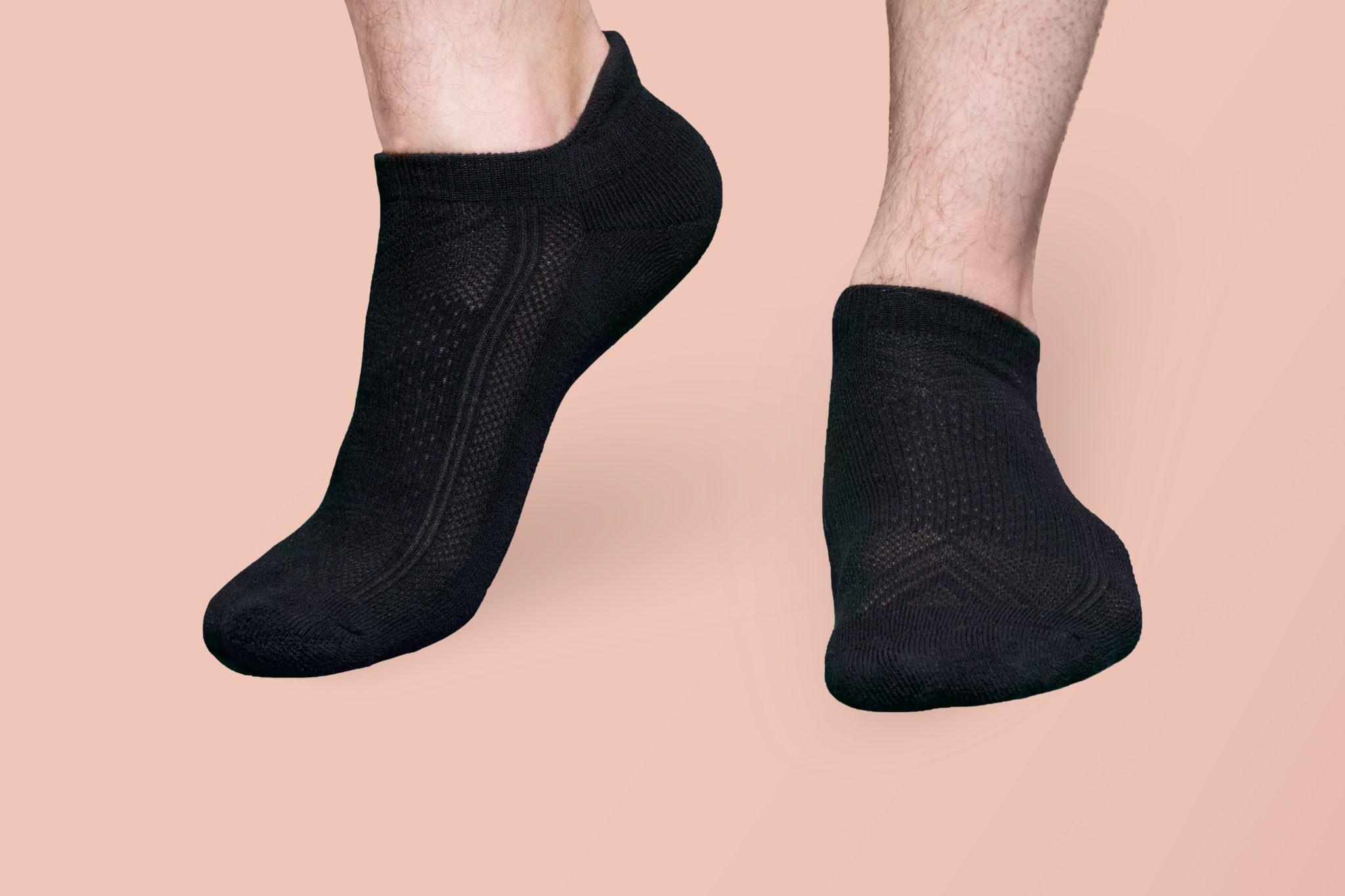 Seven Types of Socks
Liner
A liner sock is exactly what it sounds like in that you add a liner sock to a thicker pair of socks. They will act as a layer between your feet and the thicker ones you're wearing. You'll often want to find a liner sock that's lightweight while having moisture and odor absorption qualities. They help to wick away the sweat from your feet while on long hikes or activities where you're on your feet for long periods of time. It can help prevent your feet from dealing with rawness and other issues that come from walking and standing in wet socks.
No-Show
No-show socks are those socks that look almost like the nylon booties offered at the shoe store to create a barrier between your feet and the shoes you're trying on. No-show socks fit on your foot and cannot be seen above your shoe. These low-profile socks are also called loafer socks. They make it appear as though you're barefoot while still get the benefits of wearing socks, such as odor and moisture absorption. Men often opt for this sock style when wearing more casual shoes, such as boat shoes or loafers. Typically, you'll find yourself wearing these in the summer months.
Low Cut
Low cut socks are similar to no-show socks in that they have a lower profile than most socks. These typically extend above the edge of a pair of shoes to right below the start of your ankle bone. Depending on the pair of shoes, you'll typically only be able to see a thin line of the sock. Often, you'll want to opt for these socks if you find that wearing no-show socks tends to give you blisters or allows the shoes to rub uncomfortably against your ankle. They can also be a good choice for ankle boots where you want extra protection between your foot and the shoe's material. You'll find that it's best to opt for these shoes during the warmer months of spring and summer, along with when you're involved in physical activity.
Quarter Ankle
A quarter ankle sock goes above a low cut sock to give your ankle more support. These work well as an athletic sock thanks to their size but are typically not used for formal or business wear. They are not very fashionable. Track pants and joggers are often paired with this size sock. They typically don't work well for shorts or cropped pants.
Mid-calf
If you own men's dress socks, there's a good chance that they are mid-calf socks as you may know them as trouser length. They are also viewed as crew length socks. Typically, these socks are used with dress pants or suits, but these socks can be worn for many occasions depending on the material used. Often, they are made of a thin material that works well with dress shoes. For those that love bright colors, patterns, and other fun socks, this is usually the type of sock offered with them.
Over the Calf
Historically, over the calf or knee socks were the most popular socks in the past. Manufacturers didn't have access to the same materials and fabrics as today, so over the calf socks were made as the calf muscle helped keep them in place. Now that there are more elastics and elastic fabric on the market, socks no longer need to rely on the calf to help hold them up, allowing for more size choices. That being said, over the calf socks are still beneficial. They are great for athletic activities. There are also nice lightweight socks that work well with suits and other formal wear. Knee-high socks can be comfortable and offer support.
Hiking Socks
Specialty hiking socks may seem like just a way to part you from your money and that other socks can work for hikes, but they offer several perks above and beyond other socks. Hiking socks are designed so that they help keep your feet comfortable and safe on your adventures. These socks will often have a decent amount of cushioning to help protect your feet from any rough terrain you may face during your walk. Hiking socks should also be very durable to help keep them in shape, which can come in handy for hiking trips. Besides the hiking socks, you may also consider adding a liner sock to help further protect your feet for long hikes. These socks are good for short hiking trips or longer trips.
Popular Sock Materials
The material of your socks can often be just as important as the style of sock you choose. You don't want to use a synthetic material that doesn't have absorbent qualities that let your feet breathe during physical activities like hiking. On the same side, you don't want to pair a pair of thick woolen socks with a pair of loafers and shorts to lounge poolside.
Synthetic
Completely synthetic socks have some benefits, such as durability, being lightweight, and the lack of shrinkage, but they tend not to breathe or absorb moisture. It's often better to select a synthetic blend, such as a poly-cotton blend that takes advantage of both polyester and cotton benefits.
Silk
One of the most expensive materials for socks, silks tend to be a choice for more formal occasions. Think events that have black tie requirements. Fancy events need fancy socks to match what you're wearing. Silk socks often don't last as long as many of the other materials but are sometimes blended with materials like cotton or cashmere to increase the durability and warmth offered.
Cashmere
Cashmere socks are a luxury like no other. Like silk socks, they tend to be used for more formal events. They are very comfortable and soft to wear. Keep in mind that their upkeep requires commitment. You cannot throw these socks into a washing machine or dryer. They need to be hand-washed and line-dried not to become misshapen or become torn.
Wool
Wool socks should be your go-to on cold days to help your feet feel warm. The wool characteristics also mean that they will help keep your feet feel cooler on warm days. They sound like the perfect material, but they have some drawbacks. One of the key drawbacks is that this material doesn't wick up moisture. Another is that pure wool can be scratchy and feel overly heavy. Blending the wool with cotton or synthetic fabrics helps make them more breathable, lightweight, and able to absorb moisture. Keep in mind they do tend to cost more than other socks.
Cotton
Cotton is one of the most popular fabrics for socks. You'll find that many of your athletic and formal socks are made with cotton or a cotton blend. Cotton tends to keep its shape easily. It's easy to care for and doesn't cost a large amount of money. Plus, it offers breath-ability, is cool, and lightweight.
Colors, Patterns, and More
A final point to consider when picking out socks to add to your wardrobe is the colors, patterns, or designs available. No longer are you stuck with plain white socks or tube socks with a single solid color stripe along the top. There are a lot of different choices today. It can be helpful to keep these tips in mind:
Be mindful when matching patterns on your socks with your outfit. You may appear overly matched if the pattern repeats throughout your look. It may be best to go with a solid or a similar pattern that doesn't clash without appearing to be made from the same material.
When choosing everyday socks, it's often a good choice to go with darker colors, such as dark blue, gray, and black. They tend to look good with everything. Plus, dirt doesn't show as easily as it does on lighter colors. That means your socks will last longer and look cleaner after washing without having to be bleached.
Try to match your socks' color with what you're wearing above your waist rather than below, especially if you're looking for your socks to not blend in with the rest of your outfit.
Want something a little different without picking bold colors or patterns? Not everyone is comfortable with their favorite anime or bright colors on their socks. Sometimes, it's just not right for the occasion. Try out different textures. It can add a little something to what you're wearing without going too far.
One of the issues with having many patterns, colors, and designs is keeping them together. Roll your sock pairs together to help keep the different colors and patterns separate from each other to make it easy to grab and go. You don't want to wear mismatched socks unless that's a style that you choose.
Popular Sock Brands
Looking to expand your sock collection. Here are some popular sock brands and why you should be checking them out.
Gold Toe
Gold Toe is a well-known sock company that provides comfort and luxury for a wide variety of socks. Not only do they have a wide selection of patterns and designs, but they also have different cuts for types of no-show socks depending on the type of shoes you're planning to pair them with to keep them invisible.
Bombas
An excellent example of why Bombas is a brand to check out are these Men's Solids Calf Sock. They are great basic everyday sock that comes in classic collars, offers comfort and functionality, and gives you a sense of helping out. Bombas will donate one pair to homeless shelters for every pair purchased.
Nice Laundry
Want to simplify the socks you purchase? Nice Laundry offers customizable boxes where you can choose from athletic socks, dress socks, no-show socks, and even underwear if you really want to simplify your life. They come in a wide pattern of colors, styles, designs, and textures. You choose any six items to build your box.
CDLP
Interested in eco-friendly socks to add to your collection? CDLP is a Swedish company that offers socks made out of sustainable materials. For instance, the Mid-Length Socks are made using bamboo to be breathable and comfortable. Also, this blended material offers anti-bacterial, anti-odor, and anti-allergenic properties.
REI Co-op
REI is known for their outdoor gear, and they are a great stop for socks, especially hiking socks. One example of hiking socks offered is the Darn Tough Hiker Boot Full-Cushion Socks for Men. These wool-blend socks are up to any test you put them through on the trail. They are cool for the summer months you hike and offer warmth during the winter months. They are durable and help to wick moisture away from your skin as you go about your day. They can be easily paired with REI Co-op Silk Liner Crew Socks to protect your feet further.
Nike
Nike knows a thing or two about footwear, and they offer some very nice socks that you can add to your collection. For instance, the Nike Everyday Plus Cushion is perfect for most activities and is comfortable walking around the mall or shooting hoops with your friends. They are sweat-wicking while also providing extra support to your arches.
Socks shouldn't be an afterthought after you've spent time planning what you'll wear that day. Following this guide should help you pick the perfect sock for the activity you're doing and the outfit you're doing it in. Don't settle for your dad's old sock choices.