Whether it's in dreary London or monsoon season in Asia, showers can rain on your parade. That's why every man needs a good dependable rain jacket to stop making those rainchecks. That goes especially for days when commuting in unsightly one-time-use disposable plastic ponchos is simply not an option. The new year brings resolutions for a wardrobe spring clean. It's time to replace all those health-hazard moldy rain jackets with some snazzy new ones. If you're on the market for rain jackets, this all-encompassing list of 10 best rain jackets might just help you in your closet update. Factoring in different styles, price range, needs, and material tech, these cream of the crop picks have weathered it all.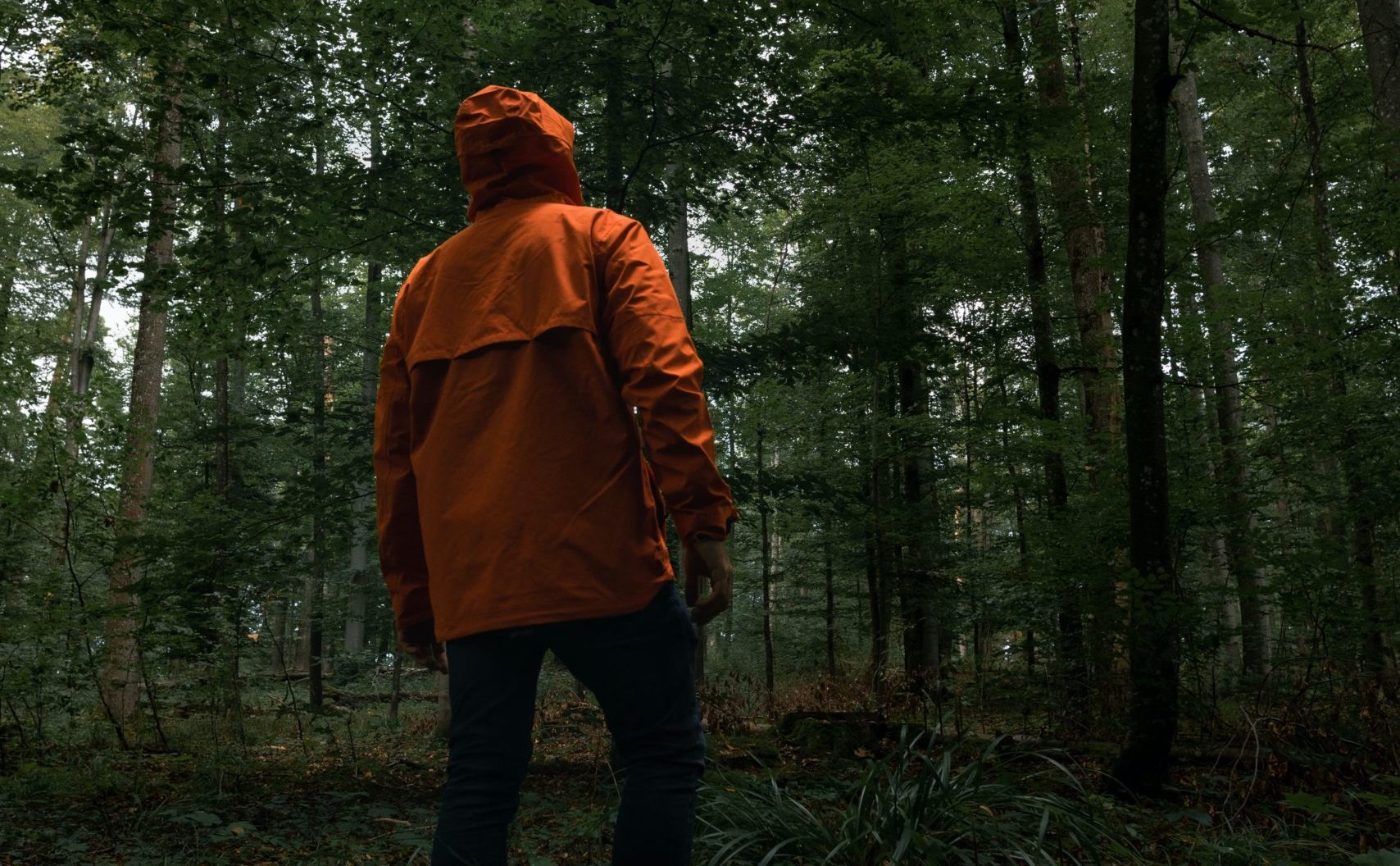 How to Choose a Rain Jacket
Day in the city, on a bike tour, or mountaineering in the wilderness, the right rain jacket will help you man up against natural elements. When it comes to picking the right one to accomplish the goals of your day, it all boils down to your needs. That's why when it comes to rain jackets, we say having more than one in your wardrobe is no crime. But before you jump right in on making stylish decisions, here are some functionality factors you should consider to make the best out of your investment. We've also included some resilient recommendations along the way to ease you in before we reveal the top 10 best rain jackets of all time.
On Water Resistance
It doesn't matter how fashionable or voguish of a statement your rain jacket makes. The whole point of wearing one is moot if you can't stay dry. When it comes to water resistance, the development of rainwear fabrics has upped its technology over the years. There are two common types of materials that make jackets waterproof:
– Laminated Jackets: Laminated jackets are made from ePTFE, PU, or polyester membrane. They provide superb water resistance, breathability, durability and are lightweight.
– Coated Jackets: Coated jackets are made from different variations of PU. Although the material offers good water resistance and breathability, its performance is not as outstanding as that of laminate jackets. Coated jackets range from ultra-lightweight to lightweight and are often cheaper in price than laminated jackets.
*Quick Tip: When it comes to tried and true rain resistant jackets for the great outdoors, we recommend the REI Co-op Drypoint GTX Jacket and the Marmot Men's Minimalist Jacket.
On Breathability
As cold as the wind blows, no one wants to embrace the rain in a sauna suit. The breathability of a rain jacket boils down to material technology. Breathability translates to the efficiency of your skin's sweat vapor permeability. How the moist air on the inside is transferred to the air outside determines how uncomfortably clammy or cool and dry you stay. Compared with the all-plastic ponchos that conveniently shield us from the pouring rain without allowing any ventilation, material technology has come a long way. Today, air-permeable fabrics are both waterproof and breathable. The only downside is that they're not exactly windproof on the micro-level. That means that you might feel cooler than you would like to once you've stopped doing any strenuous activity.
*Quick Tip: If you're set for an outdoor adventure despite the rain, we recommend Men's Foray GORE-TEX Jacket to conquer your day and beat the elements.
On Functionality Features
Now let's talk functionality. When it comes to rain jackets, consider which of the below features might suit the occasion's needs. Think about the number of pockets, packability, hoods, vents, and adjustment features.
– Number of Pockets: If you're out in the woods on a hike, you'd probably want to pack as little as possible. Here's when the accessible pockets, especially ones that come with waterproof zippers, can become a necessity. However, if you're in a crowded city, some jackets even come with hidden pockets located under flaps or seams so you can reduce the chances of getting pickpocketed.
– Packability: Rain jackets are not necessarily an everyday wearable, but their need becomes real at the weather's quick change. As such, a non-bulky packable rain jacket is a highly convenient bring-along, especially say for kayaking trips when carry-on space is limited. Weight also becomes a crucial factor when you're packing for a climbing trip. You don't want gravity pulling you down more than it should. Today, many rain jackets can be rolled away into their own tiny sack, so carrying them makes it uber convenient.
– Hoods: Most rain jackets today come with hoods. The question, therefore, lies in how functional these hoods are. Things to consider would be whether these hoods can accommodate headgear wear such as helmets for biking and whether the hoods can be tightened or loosened easily with just one hand so you can better multitask.
– Vents: Rain jackets that are primed for a strenuous activity should have mesh vents under the arms. There are also jackets that include zippable mesh-lined pockets in their design to allow the option of dumping heat and moisture when needed.
*Quick Tip: Great hood design, durable, breathable, and hip-belt friendly pockets make Arc'teryx Zeta SL a top pick when it comes to functionality.
On Warmth
Weather shells can determine the weight and warmth of your rain jacket. As such, it's good to understand your needs so you can pick up the right type of jacket from the overwhelming options in the market. Here are the different categories of weather shells:
– Hard: Hard shell jackets are waterproof and breathable though they are generally stiffer. They aren't quite insulated, and how warm you can stay depends on your jacket's mid and base layer. In general, the fabric provides adequate protection against weather elements.
– Soft: Soft shell jackets are water-resistant and insulating, though they do not perform as well on the fronts of breathability and wind protection. These jackets are suitable for strenuous activities that involve plenty of perspiration and flexible movements.
– Mixed: As the name suggests, mixed shell or hybrid shell jackets are a combo of soft and hard, each constructing different jacket parts. For example, soft, breathable fabrics are used for the sides and undersleeves, while hard windproof fabrics make the jacket's front and top.
– Insulated: Insulated rain jackets are perfect for keeping warm in cold rainy climates, but the trade-off is its bulkiness. Although breathable and water-resistant, these jackets come with a puffy insulating layer so that one can retain heat.
*Quick Tip: For the perfect mix of breathability and mobility, we recommend the Outdoor Research Men's Interstellar AscentShell Jacket to weather the storm.
On Style
When it comes to style, the term "cool" pretty much lies in the eyes of the beholder. But one thing's for sure, if you're up for a wet-weather pub-crawl or a date in the city, you're probably looking for a rain jacket that can dress up your outfit a little more. When you feel like eyes are on you, style plays as much a role as your jacket's functionality. Details such as color, fit, and shape will matter.
*Quick Tip: We deem Helly Hansen Men's Highland Waterproof Windproof Breathable Rain Jacket a must-have for every urbanized man's wardrobe.
The Top 10 Best Rain Jackets of 2021
Indeed, 2021 has been off to an unconventional start, and seemingly, when it rains, it pours. But come gentle drizzle or raging thunderstorm, Stocking up on weather-proof jackets is a necessity rather than a luxury. While trends come and go, your personality and style should be a permanent statement. Here we drum-roll in the top 10 best rain jackets of the year with varying styles and price ranges.
#1: The Backpacker's Rain Jacket
The North Face Men's Dryzzle FUTURELIGHT Jacket
FUTURELIGHT is an advanced nano breathable and waterproof technology by The North Face. The fabric is unique because it's ultra-thin, it provides superb protection, durability, and mobility in the harshest of environments. So when it comes to packability, this one will have zero qualms fitting into a corner of your small carry-on. The uni-colored Dryzzle jacket has a fully adjustable hood, a laminated storm flap, and is 100% windproof. The best part is its basic, versatile style that makes the jacket suitable for both the great outdoors or a day in the city. Pick your favorite hue from 5 different colors to match your frequent outfits.
#2: The Explorer Rain Jacket
Black Diamond Stormline Stretch Rain Shell Jacket
Trekking through uncharted territories means having to prepare for unpredictable weather. You never know what the skies might bring, so it's best to pack light and seal tight when a storm hits. This Stormline Stretch Rain Shell literally acts as a shell, shielding the wearer from the outside rain and wind while ventilating moisture on the inside. Scrambling for shelter with baggage? The BD. Dry technology and Stormline construction enable a four-way stretch so you can move freely instead of feeling like a sitting duck. This explorer jacket comfortably fits a helmet in its hood so you can continue your adventure regardless of the storm.
#3: The Sea Lover's Rain Jacket
22 Degrees Ocean Jacket
The great big ocean offers hobbyists endless possibilities. But diving or fishing, you know that storms out at sea can be bitterly daunting, especially if you've experienced one. Therefore, in our top 10 rain jackets, we've included this 22 Degrees rain jacket for ocean lovers. This jacket is made of Shieco Eco Neoprene, an eco-friendly material for sea masters who endeavor to keep our green earth thriving. Plus, it features two large pouch pockets, drawstrings on the hood, and a YKK Aquaguard zipper to keep you sealed and dry. Did we mention that a divemaster designed this sea lover's rain jacket? But if you ask us, we'd say that it rocks the look for leather-loving bikers just as much.
#4: The Runner's Rain Jacket
Patagonia Men's Storm Racer Jacket
If you're an avid athlete training for a marathon, this runner's jacket is essential for your wardrobe. Of course, we all expect to be a hot, sweaty mess when it comes to running. That's why we recommend this Patagonia's Storm Racer Jacket that has been designed with unparalleled lightweight material and ventilation. Come rain or shine, on the street or up in the mountains, this runner's jacket features a double zip rain protection that goes all the way up to your chin so you can keep the elements out. When on the move, the right zip makes it easy to access food and water pockets for longer journeys. No clammy armpits and fumbling for your backpack with this jacket!
#5: The Forever Rain Jacket
REI Co-op Men's Stormbolt GTX Jacket
Are you roughing it out in the wild? The REI Co-op Men's Stormbolt GTX Jacket might just be your pick when it comes to durability. Made with a GORE-TEX 3-layer nylon ripstop shell, it is designed with abrasion-resistant side and back panels for those who have to shuffle about to grab something from their backpacks. The affordable jacket is waterproof, windproof, breathable, and has a compatible helmet hood with a built-in adjustable visor. Yes, that means keeping the rain, snow, or wind out of your eyes so you can see where you're going. This hardy rain jacket comes in 3 different colors and is made from a Fair Trade Certified™ factory if you're all up for protecting the environment as earth's citizen.
#6: The Everyday Rain Jacket
Helly Hansen Men's Rigging Rain Jacket
If you're on a tight budget and don't need anything crazily fancy, this minimalist Helly Hansen jacket will work perfectly for you. But don't let its price fool you. Just because the jacket is a little easier on the wallet doesn't mean that it is subpar in its performance. For starters, Helly Henson has been around for more than 140 years and is trusted by mountaineers, skiers, sailors, and professionals who face the outdoor elements in their line of work. This jacket is waterproof, breathable, windproof, and made with soft-touch cotton fabric.
#7: The Urban Rain Jacket
Rains Long Jacket
Are you looking for something a little more stylish and a little less caveman? If you're not doing high kick-sprints, here's a rain jacket that can posh up your outfit even on a dreary day. The Rains Long jacket provides more rain protection with its longer length without compromising on style. It comes with a beautiful matte finish and high tech seams that make it waterproof, and windproof. And with 13 different colors in 2 different textures, you really can't say it doesn't match your fashion flavor. Whoever said raincoats are tacky hasn't seen a Rains Long Jacket.
#8: The Minimalistic Rain Jacket
Helly Hansen Men's Highland Jacket
If you haven't quite heard, minimalism is trending, and fancy is out. That deems this Helly Hansen Men's Highland parka a worthy mention on the top 10 best rain jacket list. The jacket is constructed with HELLYTECH PROTECTION, meaning it's breathable, waterproof, and windproof. Plus, it's 100% machine washable. That alone makes it the ideal jacket for any busy modern man. The simplistic design goes with pretty much any outfit and occasion. Plus, it features 4 pockets to balance functionality with style.
#9: The Every-Season Rain Jacket
Filson All-Season Rain Coat
Before you make a fuss about the huge price tag, we'd like to say that the Filson All-Season Rain Coat is a worthy investment. Think versatility and protection from rain, snow, and even hail. No matter how harsh the weather gets, this Filson raincoat has your back, and quite literally. The jacket comes with a fully lined upper component that will provide ultimate warmth and comfort. Drawcord waist makes the jacket a custom fit for just about anyone. It is built with an 11-oz Shelter Cloth which is a thickly waxed cotton that repels water. Plus, the jacket totally rocks a stylish old-school cool vibe. It comes with large functional pockets, great for keeping your hands warm in the cold.
#10: The Storm-Resistant Rain Jacket
Arc'teryx Zeta SL Rain Jacket
When it comes to braving storms with top-tier quality, the Arc'teryx Zeta SL has repeatedly emerged champion. Why? Because it allows unhindered mobility, protects from the rain with DWR (Durable Water Repellent), has superb breathability, and is light and compact. The jacket is so functional it has been deemed editor's choice for many reviews. If you're looking to go hiking, camping, backpacking, or even exploring a new city, you really can't go wrong with this storm-resistant jacket.
Zipping Things Up
Mother nature is full of surprises. So no matter if you're hunkering down in a tent during a storm or embracing the downpour to conquer your day's goal, having one of these top 10 best rain jackets will keep you dry. After all, proper preparation prevents poor performance, or so the saying goes!