With nearly $86 billion in annual sales, the US footwear industry's size is substantial. For consumers, that's good news. It means the major footwear companies will continue to invest in new products. For men in particular, that's especially good news because men tend to spend more, in general, on footwear than their female counterparts.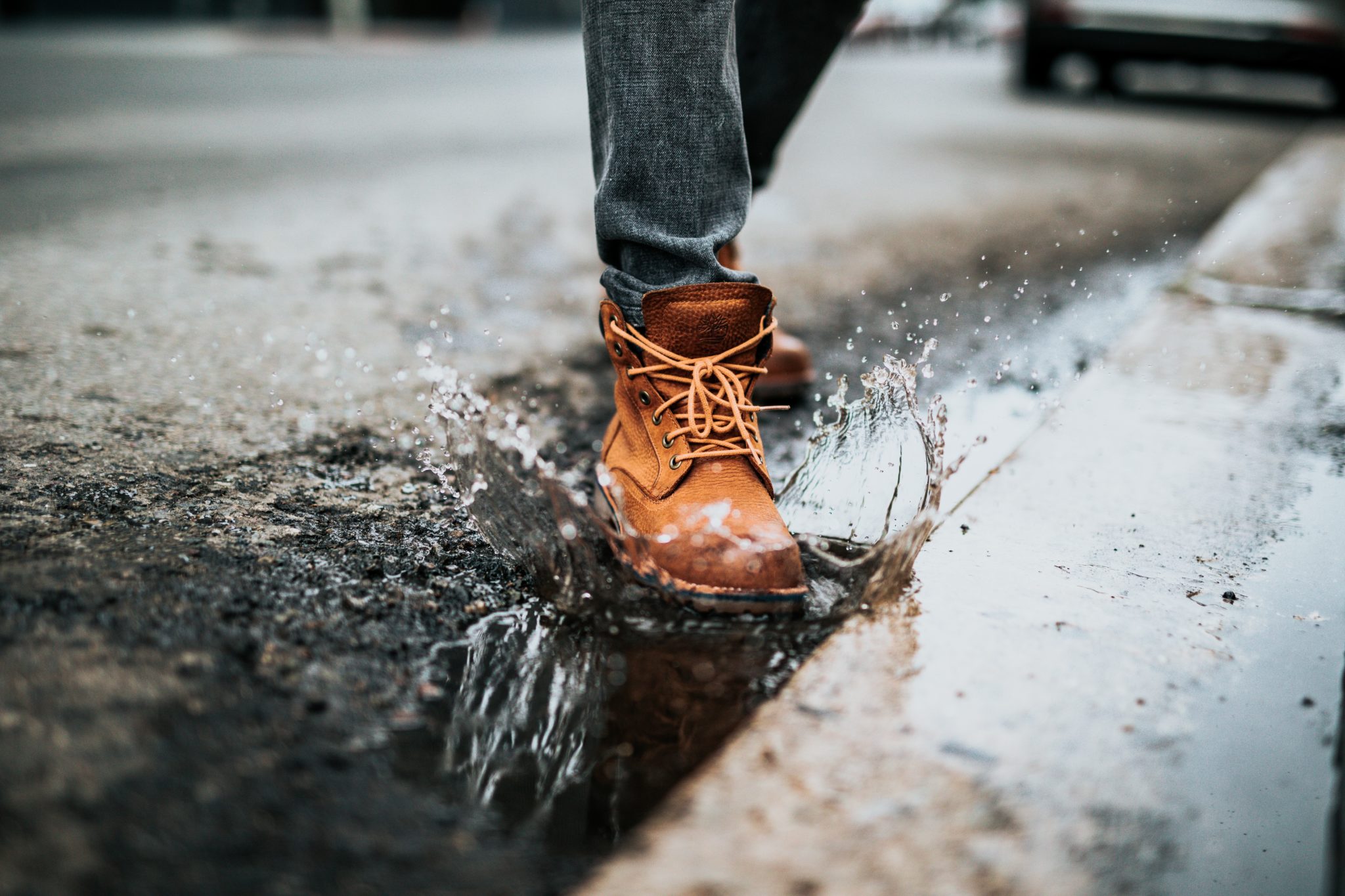 While men have a vast selection when it comes to choosing athletic, casual, and dress shoes, the selection thins out when it comes to finding high-quality rain boots. Here, we've pulled together the Ten Best Rain Boots for Men. This is more than a list of waterproof, ankle-high shoes or booties. The ten rain boots identified here are traditional. The type of footwear today's men will appreciate in keeping their feet dry, comfortable, and safe.
Whether shopping for rain boots yourself or the special man in your life, consider the underlying purpose of the purchase: to keep water out. That means finding a rain boot that meets a minimum of 10″ in height, allowing for protection against, at the very least, some water-submersion. It also means ensuring the boot's waterproof qualities are exceptional for that submerged portion that exists underwater and faces the elements. Lastly, when shopping for men's rain boots, consider the one factor that often gets overlooked when it comes to utility footwear: comfort.
Our list of the 10 best rain boots for men takes all of that criteria into consideration – a minimum boot height, above-average or higher waterproof ratings, and comfort in the form of the traditional definition as well as protection. Many of the boots and styles will be familiar; today's rain boots can be worn in public, thanks largely to their comfort attributes that allow for ongoing wear, and the fashion and style histories of the companies that design and sell them.
So, what rain boot should you choose? Consider the individual strengths of each boot, as well as the personality of the man wearing it. If you know the environment, purpose, and time the boot will be worn, skip ahead to our selection of the best boots for each… but for the man who needs the ultimate, start at the top of our list for our top choice!
1 – Muck Men's Chore Max Comp Toe
The days of flimsy rain boots are over, and the Muck Men's Chore Max Comp Toe boot demonstrates just how over those days are. As the heavy-duty leader in men's rain boots, the Chore Max Comp Toe will protect against wetness and other dangerous elements. Its composite toe and non-metallic plate for underfoot protection ensure nails and other sharp objects will not pierce the boot, guaranteeing long-lasting dry feet as well as safety.
Some of the other key features that stand out with this specific rain boot include an SRC-rated anti-slip sole, making it an ideal choice for use in wet environments. What's more, the Muck Men's Chore Max Comp Toe rain boot will keep feet comfortable. A breathable, mesh insole keeps feet cool (and reduces odor), even after extended use in the toughest of environments.
Though not cheap, the Muck Men's Chore Max Comp Toe boot was built to offer maximum protection in the fiercest of environments. It also offers the comfort level and premium features that make it a top choice for the man that needs the maximum from a rain boot.
2 – Hunter Men's Original Tall Rain Boots
A company that has been manufacturing and selling its boots for over 150 years, Hunter's products are among the trendiest on the market. If the Muck Men's Chore Max Comp Toe is an off-road pick-up truck, the Hunter Men's Original Tall Rain Boots are the luxury SUV. In other words, the Hunter Men's Original Tall Rain Boots offers weather protection as well as comfort, but these boots are most comfortable in urban settings.
Backed by its 150-year heritage, the Hunter Men's Original Tall Rain Boots will appeal to men seeking a trendy rain boot that will protect their feet and protect against slippage. A top pick for men who appreciate (dry) fashion.
3 – Bogs Classic High Rain Boot
A tough rain boot, the Bogs Classic High Rain Boot for men, offers extreme temperature protection against cold temperatures as low as -40F and is 100% waterproof, exceptionally comfortable, and trendy. Like the Hunter boots, the Bogs have established a reputation as casual rain boots, but this model, in particular, offers a heavy-duty anti-slip outsole to help protect against falling as well. As a tall rain boot with a 16″ cuff, the Bogs Classic High Rain Boot for men balances utility and style.
4 – Crocs AllCast Rain Boot for Men
Known for its uber-comfortable and soft, cushiony insoles, the Crocs AllCast Rain Boot for men has the lowest cuff height. However, its seamless, single-mold fabrication ensures dryness. With its traditionally wide insoles, the Crocs will appeal to those who appreciate the extra width and room for their feet. What's more, the Crocs don't stand out as a utility boot; they're worn in wet environments such as rushing to the coffee shop during a torrential downpour or the pedestrian commute from the subway to the office in the fall. That means they're unlikely to be worn during a week-long wilderness hike through one of Wyoming's many national forests, regardless of just how comfortable the Legendary Croslite foam feels on the feet. (Did we mention just how comfortable these rain boots are?)
While the cuff size will turn off someone who requires hardcore protection in the wettest of environments, the Crocs AllCast Rain Boot for Men will appeal to wide-footed men who appreciate this boot's subdued style cues and its top-rated comfort characteristics.
5 – Baffin Men's Enduro
The poster-child of rain boots, the Baffin Enduro Rain Boot for men, offers A traditionalist style and an exceptional level of competence. As the "sleeper boot" in this group, the Baffin Enduro might not spark excitement over its looks, even though its 16 1/4″ high cuff means deeper submersion levels than many. However, this plain-looking boot packs advanced comfort features like a flexible gel heel and midsole that make it agreeable during longer walks. A thick rubber sole makes it ideal for tough outdoor environments. With the addition of a safety toe and plate, the Baffin Enduro rain boot for men impresses where it counts – keeps feet dry, comfortable, and protected – while ignoring the less functional features that one might disregard in utility footwear. A great buy at a surprisingly low price.

6 – Helly Hansen Midsund Rain Boots for Men
As one of the most popular names in outdoor wear, Helly Hansen offers the Midsund Rain Boot for men. This is a no-frills rubber rain boot from a brand everyone will recognize. Given the company's long history in the protective weather gear space, durability and longevity should be expected from this rain boot. Ideal uses include wet and slippery surfaces. For shoppers seeking a plain rain boot that will keep your feet dry, and a name that's respected and recognized at the cool kids' table, the Helly Hansen Midsund Rain Boots for men are essential.

7 – Kamik Icebreaker
Canadian-made and manufactured, the Kamik Icebreaker earns its namesake. With a -40F tolerance for extreme weather, the Kamik Icebreaker elevates the basic rain boot by insulating the foot and offering a feature that many shoppers undervalue when scouting rain boots: warmth. Considering that the wettest seasons are the spring and fall when temperatures haven't quite reached their highs of summer and can still dip into the winter lows, insulation is a lot more important, whether trudging through ankle-deep waters, slush, abrasive chemicals, and other dangerous liquids or finishing up a job wet, cooler climates. Aside from keeping feet warm and dry, the Kamik Icebreaker's best basic rain boot for cold climates is the highly engineered sole. Made of synthetic rubber that is half the weight of regular rubber, this boot won't feel bulky or burdensome like a lot of rain boots. For active men looking for true functionality and the basics of comfort and protection, the Kamik Icebreaker can't be beaten.
8- Muck Wetland
The only brand with two boots on our list, Muck rain boots for men, offers a full range of premium products. Although nothing else on the market can compete with the brand's indestructible and heavy-duty Men's Chore Max Comp Toe rain boot, the Muck Wetland rain boot for men delivers a premium rain boot product at elevated levels of functionality and comfort.
There's little question why the Muck Wetland ranks as one of the brand's best-selling boots. Engineered for breathability, the boot will keep feet dry without retaining perspiration and moisture like a lot of lesser brands. This means feet will be less prone to blistering and infection after long periods of use. What's more, the Muck Wetland's stretchable top bonding helps keep water and cool air out, resulting in additional protection against water as well as ensuring that heat stays in. This makes the Muck Wetland a top choice in cooler climates. The Muck Wetland will appeal to men who value and appreciate the high standards and rich features of a premium boot but don't need the added protection (and cost) that comes with the armored-car benefits of the Chore Max Comp Toe boot.
9 – Servus Comfort Technology PVC Steel Toe
As an economical rain boot for men with toe protection, the Servus Comfort Technology PVC Steel Toe boot will get the job done. By "getting the job done," this boot will protect your foot with its steel toe, which also offers added foot space in the insole area. What's more is that the PVC-injected material is waterproof and resistant against agricultural chemicals, while also flexible enough to accommodate men with large leg (lower-calf) muscles. Ideal for limited periods of time, this rain boot might lack some of the creature comforts of models that cost five to ten times as much, but its durability and flexibility make it a purchase for someone looking for basic protection and a large fit in a steel-toe rain boot.
10 – Tingley Economy
For some, absolute functionality trumps all else. Spending more for things like comfort or comfort when the rain boot's sole purpose is to keep feet dry simply makes no sense. For men who need the absolute basics from a rain boot, the Tingley Economy will get the job done. Its stable heel is the center point of the sole's stable platform, which enhances this basic rain boot's appeal as a sturdy contender in slippery environments, while the tall, rubber construction guarantees dryness, even after hours of exposure to deep, submerged terrain. Tingley won't break the budget for the man who values only functionality and needs a rain boot on standby to get basic jobs done. For under $20, whether it's a man's only rain boot that will help with simple tasks or a second set backing up a more expensive pair, the Tingley rain boot gets the job done.
Still, need guidance? Here are some additional tips, whether purchasing for yourself or someone else. When working through the list of these ten best rain boots for men, consider the purpose of your purchase, the environment where they'll be worn, as well as the length of time they're likely to be worn.
The Ultimate
The maximum in protection, comfort, and features, where cost is not an issue, the Muck Men's Max Chore Comp Toe ticks all of the boxes.
Casual – Indoor & Outdoor – Minimal to Extended Periods
If you need a casual rain boot that can be worn for extended periods of time and exposed to long periods of rain (anyone who lives in the Pacific Northwest will appreciate this) allow the comfort attributes to weigh in. Start with the Crocs if the environment will be a mixture of indoors and outdoors and then graduate to more-traditional boots like the Hunter or Bogs that are designed to spend more time outdoors.
Outdoor – Medium Exposure to Water and Mud/Snow – Medium to Extended Periods
For a man seeking a boot that will provide waterproof protection while delivering comfort during the entire time they're worn, start with the Baffin Enduro. For added comfort and a premium wearing experience, the Muck Wetland will also deliver an exceptional experience.
Outdoor – Cold Exposure – Medium to Extended Periods
For the outdoorsman who requires the basics of a rain boot in cold environments – keep feet warm and dry – the Kamik Icebreaker will deliver exceptionally well. For someone seeking additional creature comforts, the Bogs offers a premium upgrade with added comfort qualities.
Basic – Outdoor – Low Exposure to Water – Minimal Periods
For the no-frills shopper, the Tingley Economy rain boot for men will impress and not just because of its low price. The outsole will ensure safety on slippery surfaces, and the boot will take a beating. A perfect addition to the family home, cottage, boat, etc. that won't break the bank. For added protection, the Servus offers a steel toe and will also keep your banker happy.