Some trends are just that – trends. They come and go. Sure, harem pants and shoulder pads had their day, but no guy wants to be seen wearing them now, right? However, there are other clothing pieces that are here to stay, that have been here for decades, and will always be classic. Like classic denim jeans, a well-cut shirt, and the peacoat. Yes, the peacoat. The peacoat is a stylish piece of outerwear with a long history and always looks great. Its classic, clean lines and understated style make it a great piece to invest in and add to every man's wardrobe.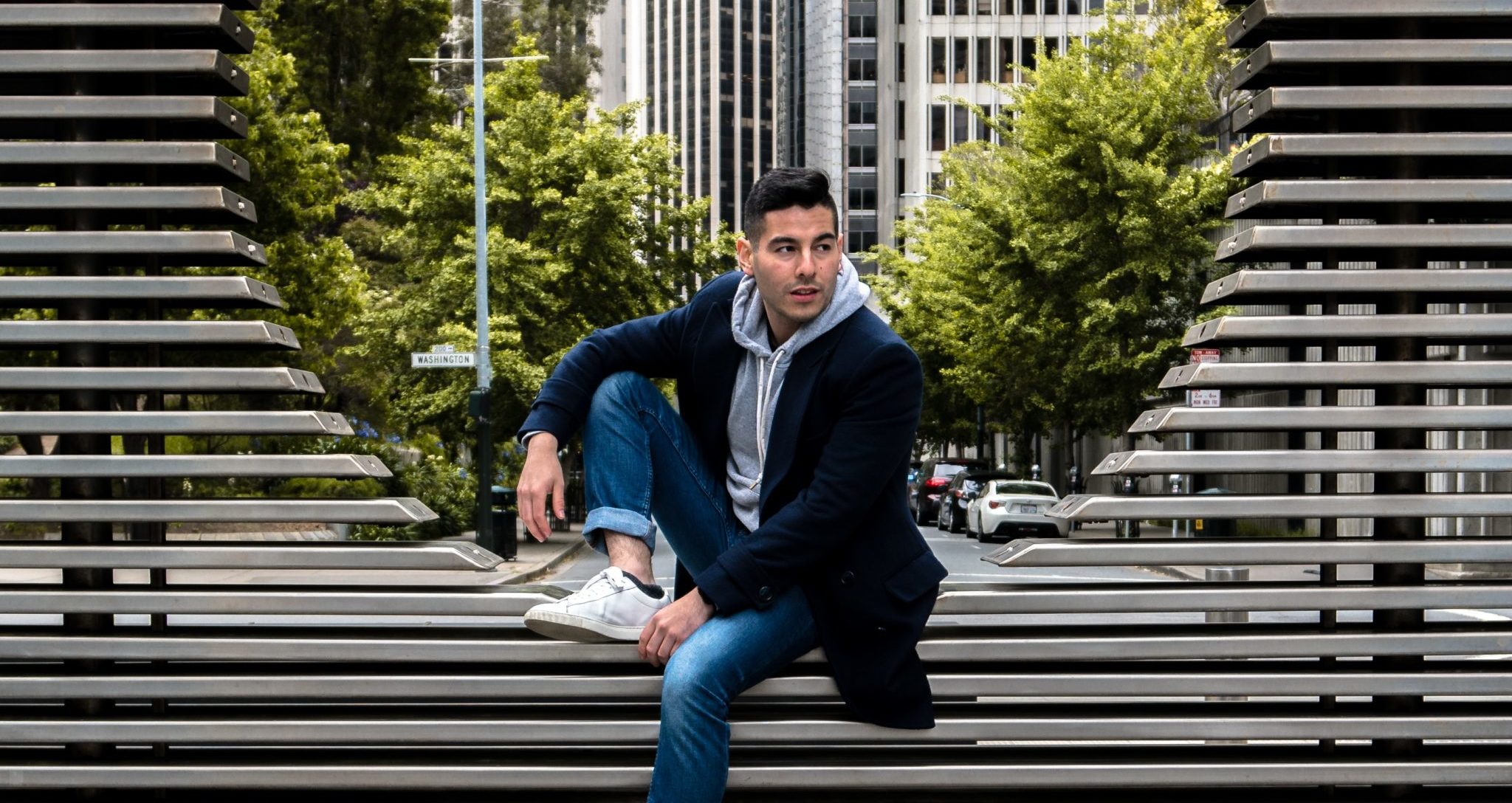 We all know what a peacoat is, right? It's that smart-looking coat usually made of wool with oversized lapels and a collar. It's double-breasted and hits right around the hips making for a not too long, not too short coat. The great collar and perfect mid-length can keep its wearer snug and toasty along with the help of that substantially warm material. Often, we see peacoats in navy, and you'll see where they had their start in just a minute…but for the bolder wearer, they come in other, less traditional colors, too.
Every guy should have this classic staple in his wardrobe. He can dress it up or go totally casual with a peacoat. It's easy to wear, looks great on everyone, and can transition from chilly fall to harsh winter. So, take a look at our picks of our favorite 10 peacoats. There's one for everyone, don't be shy. But first, a bit of history.
The History of the Peacoat
The peacoat got its start in the military. And while other military inspired trends, like combat boots and army jackets, have had their time as a fashion piece, they've tended to fade away. However, the peacoat, a military inspired coat that has made its way into the general population, has a steady reign. Sure, we see some times when it hits harder, and maybe this is one of them. So, after this little lesson, check out our top 10 list – anyone can find the perfect peacoat!
Heddels shares that the peacoat has been around since the 1800's when it was popular with the Dutch navy. It was a staple part of their uniform. Before making its way to America, the British navy began to wear it, and that is where it gained its larger popularity. This version was part of the petty officer's uniform and designed to be worn while carrying out naval duties. Hence, its comfort and great all-around wearability. Sailors had to be able to move in it. As the coat came across the Atlantic to the United States Navy, they adopted the coat and used the coat for "reefers", who were the sailors responsible for the unenviable task of climbing up the rigging of sailing ships.
Regardless of the navy, they all needed a durable coat that could withstand the harsh elements of being at sea. The collar was great for flipping up and protecting the neck and face, the vertical pockets led to easy accessibility and warmth, and the buttons were substantial to not only look great, but to easily work, even with cold and gloved hands. Then the peacoat made its way into the general population, and there America fell in love with it. People still love it for its traditional look, easy wear, and warmth.
How to Wear the Peacoat
Since the peacoat is such a classic piece, is there a certain way to wear it? How does it look best? The peacoat is extremely versatile, that's one reason people love it. It looks great with jeans and some sneakers for running around on Saturday doing errands, and it looks fabulous with a sweater, chinos, and boots for a chilly date night. Be careful layering it over a suit, though. It's a bit too casual for formal business wear, and the shorter length will show the suit jacket. That's a big don't. However, it's classic but rugged look pairs well with pretty much anything else in the fall and winter wardrobe, so grab one of these awesome coats and wear it well!
Peacoat colors
We need to start with navy, right? You can't get more classic than that. Navy makes the coat a bit casual, a bit preppy, and perfect for weekend wear. Pair it with almost anything for a great look – sweaters, scarves, a sweatshirt, even a cool t-shirt will give a chill and understated look.
Black peacoats are also always popular. This adds a bit of a more formal vibe than navy but still goes with almost anything. This one could pull off a business look better, but remember to stay away from layering with a suit or sport coat. The wearer will be timeless, simple, and sharp in a black peacoat.
A gray peacoat is somewhere in between the two. It's easy to dress up a gray peacoat or dress it down depending on what it's paired with. This is a great versatile option to choose and can span tones from deep charcoal to light heathered gray.
Camel is another color often seen in peacoats. This classic neutral maintains the look and style of the peacoat while adding a warmth that looks great paired with blacks, neutrals, or even bold reds or greens.
Our top 10 picks
Any guy's wardrobe can benefit from a peacoat. As Beardbrand says, the peacoat is one of only a few wardrobe items that you can dish out good money on with the confidence of knowing that you'll still be able to call on it decades later. So, the only question left is which one.
Pair a peacoat with L. L. Bean, and there's classic written all over it. This sturdy, durable coat is made of 100% Italian wool for a warm, tailored fit. Though it is tailored, it's roomy enough for layering over a sweater and the great almost black navy color maintains the timeless vibe. With Thinsulate™ Insulation and a polyester lining, this wool coat is warm for chilly days and cold nights. It's got it all – it's warm, classic, and looks great.
Schott NYC Classic Melton Wool Navy Pea Coat $310
This classic coat maintains the peacoat's original integrity and will keep the wearer warm and comfortable in even harsh conditions. It comes in navy, black and gray with a few options of navy and gray colors. The wool and quilted lining is made for warmth and style. Schott, in fact, made the US Navy style of this coat way back when. You can't go wrong here.
For our guy who wants a bit higher-end peacoat, this is the one. Sure, it costs a pretty penny, but this classic coat will last a lifetime. And it won't go out of style. Plus, it's a cashmere/ wool blend. Available in charcoal and navy, this naval-inspired coat holds both tradition and current style. Made in England, this coat is made to be durable and warm, with military grade pockets and great luxuries like ultra-fine needlecord linings in the pockets and inset sleeves with a plain cuff. This may be the only coat you'll ever need. Sizes range from XS to XXl, so it's sure to fit any guy.
We love this coat for a lot of reasons. For one, it's a timeless tailored peacoat cut from rugged Melton wool. It's warm and thick, and the wind resistant substantial cloth will keep the wearer warm in the cold wind. The Japanese satin lining adds a bit of luxury while the corduroy lined pockets keep that rugged vibe. This WWII-era Naval inspired design has that modern, tailored fit that works for the modern guy who still likes a bit of tradition. It's the coat for a lifetime.
This pick is a standout, and it comes in the three classic colors of navy, black, and gray, plus a fabulous Loden. This is sort of a muted autumn green that still says neutral while being a little different. It looks great with creams and denim and maintains a practical elegance. It's also worth mentioning that Gloverall made the coats that the 1980 British Olympic team wore; these are quite the coats. Made with 100% English Melton wool, this coat is in it for the long haul.
Crew Dock Peacoat $298
In the more affordable price range, this J. Crew coat speaks timeless and classic. Everyone knows and trusts J. Crew; you can't go wrong here. A 1930's peacoat coat was the inspiration for this one specifically, and it's even made with eco-friendly PrimaLoft® insulation. Customers love the plain, simple, and classic vibe this coat offers. It looks great on a casual workday or on a weekend adventure. Though it's heavy enough to keep anyone warm, it also works in spring and fall as it's not one of the heavier ones. Great coat, great price.
For the guy looking for a less traditional peacoat, this is a great pick. Plus, we found it for a great sale price at $329. This classic style walks off the traditional path as it's made from a Japanese cotton canvas, inspired by a canvas sea bag from the 1940's. The buttons engraved with anchors maintain the naval feel and the washed cotton gives it that well-worn feel. The unlined peacoat works awesome for a great layer over anything, even a retro look t shirt. Even if this one is sold out – we love the worn look of it.
Like the above coat, this peacoat isn't traditional wool. Instead, it's made from a single-layer high-performance Schoeller® softshell fabric that is water-resistant (DWR), breathable, and stretches in four directions. Not only is this a great durable, weather-resistant coat, but it's easy to shove and stuff in any bag, and this makes it a great travel piece. It doesn't take up much space but serves a great purpose. This black jacket maintains the same classic style as a traditional peacoat, but it took it a step further in versatility. It's sleek, practical, even sporty. If someone needs a second peacoat, this could be the one.
While we're here, the Bridgeman Pea Coat deserves a spot. This coat made of a 3-layer fabric boasts not only warmth and durability, but also easy layering due to a less bulky frame. There is not separate liner because it's all built in to the 3-layer fabric. There's basically nothing this coat can't due as it's windproof, highly water-resistant, breathable, insulating, and stretches in four directions. For a modern, yet classic take on the peacoat, this could be the one. With color choices of charcoal or black and sizes from XS to XXL, guys have some great choices to get the best fit and the best style. Zero compromise is the motto here; this peacoat's the proof of that.
Ending our top 10 list is this affordable coat from ASOS. It's not wool like the others, but at this price, who cares! It has a chill vibe in this cool gray and looks great with a modern or vintage style. It may not be as warm as some of our heftier picks, but this could be a great addition to any wardrobe for those chilly days where no one needs to bundle up. This is a great accessory jacket in a classic, yet modern style.
Honorable Mention
With so many peacoats on the market, and so many fabulous looking ones, choosing ten was not an easy job. Here are a few honorable mentions worth noting:
Affordable: Old Navy's soft brushed peacoat for men is a steal at $52.97 if it's still on sale. Regularly $99.99, this coat has all the style with its acrylic/polyester/wool blend and quilted lining. Throw it over a hoodie and jeans, and it's good to go.
Luxury: This Alexander McQueen peacoat has all the bells and whistles. There's nothing subtle about this $2300 Italian made coat (and that's the sale price), from the embellished, embroidered patches to the floral buttons, it's a statement piece, for sure. No deciding between navy or black either, it's both.
Quirky: For the peacoat that goes off the beaten path, this one from Farfetch at $986 does the trick. The light stone color stands out in and of itself, but the detailed, contrasting hem and cuffs add that eye catching detail. Pair it with some black jeans for a modern, cool vibe.
In 2016, the United States Navy made the announcement that peacoats would no longer be the standard issue coat for sailors. They were transitioning to a black parka. Though sailors could still wear the peacoat as part of their uniform, they'd have to purchase it with their own money, according to Art of Manliness. That's a bit of the end of an era, eh? The peacoat has been around for quite some time, making its way around the world. It also made its way from the military into popular culture and the world of fashion. It's a versatile, practical piece that should grace the closet of all men's wardrobes.
All the features of the classic peacoat are what make it so popular:
The shorter length makes for easy movement, whether it's to walk the dog, hop on a bus, or chop some wood
The vertical pockets keep hands warm and some incorporate great linings and extra pockets
The big collar keeps the neck warm and looks cool
The double-breasted cut adds to the warmth and weather protection
The classic silhouette and style are timeless
Some quick do's and don'ts for wearing a peacoat:
Do:
Have the coat hit the bottom of the hips. This defines the torso
Wear a well fitted coat
Wear it with sweaters, t-shirts, hoodies, crewnecks…
Wear it with jeans and chinos
Wear it with boots and sneakers
Find an individual style with it
Don't:
Wear a peacoat that is too long – it will lose its shape
Wear a peacoat that is too short – it will make the wearer look rounder and let other layers show that shouldn't
Wear a coat with sleeves that are too short. Layers should not come out of the sleeves
Wear it over a suit or sports coat
The peacoat is an awesome addition to any guy's wardrobe. It's classic, warm, stylish, practical, and versatile. With the rate society is moving to a more casual look, the peacoat will even have more of a place in the professional world. With casual offices, don't be afraid to wear it to work. This can be an item to last for years. When choosing a peacoat, look at the options, think of your style, and choose what speaks to you. No doubt it will make a wardrobe impact and may become the very favorite piece ever.
Now go get that perfect peacoat.