This might sound crazy, but for a lot of men, there doesn't seem to be a lot of comfortable options for casual and professional footwear.

At least, that is, until they learn about the ever-fashionable, super-useful, and also highly distinguishable- penny loafer.

After all, some men especially may not initially like the appearance and overall style of the simple and elegant loafer, but over time, eventually… they pretty much all get there.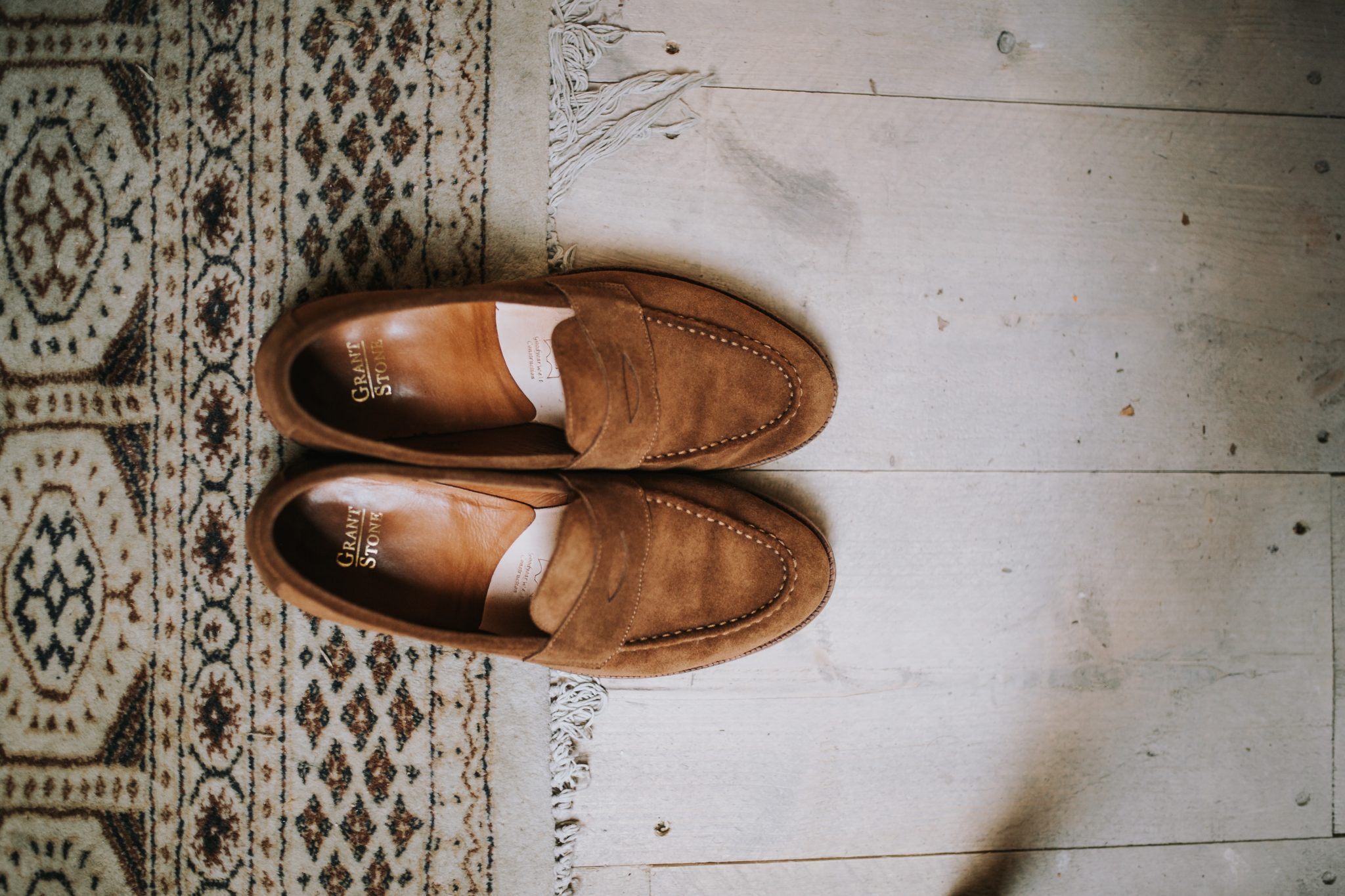 So, why are they called "penny loafers"?
This iconic footwear had its humble beginnings in the 1930s, originally known as the Aurland shoe from Norway. Actually, the original designer was borrowing inspiration from the mocassins of the native Indians in North America! It was first intended for being worn while farming, as well as for being worn while working as a fisherman.

Then in 1934, G.H. Bass created his first version of this shoe, which included a small additional strip across the front crest of the shoe.
A little later, the popularity of this shoe even further exploded when another new trend with the shoe came about.

It wasn't all the way until the 1950's that the trend of sporting a dime or penny in the small leather strip really took off. And hence, the name was forever ingrained into the fabric of the shoe style (literally).
Ok, but why do they stand out from other footwear?
First of all, by design, penny loafers are what nearly every other shoe style wishes they were: slip-on. This may also be a large factor why many uninitiated youngsters who have not known the joys of a great loafer may simply wonder, "what's the difference between loafers and slippers?"

Actually, this is a great question!

Although what many consider to be "slippers" are also comfortable and may even seemingly have a similar-looking design, for many, the difference is quite clear: penny loafers encourage you to want to go outside of the house.

Most likely, this is due to the added confidence anyone will feel while boldly wearing a great pair of penny loafers.
That's great. Now, what should I look for in a loafer?
This list is going to help you if you are looking to browse the top 10 penny loafers being made today and why they are all great options for many different lifestyles. Of course, there are many different factors that come into play when searching for the best loafer that will work perfectly for your specific needs and budget.

Before you jump into it though, here are the five factors for how these loafers are rated.
Keep these main factors in mind when looking for your own perfect pair of loafers:
1) Price – to be honest, none of these are your "$10 bargain-bin deals" – think of these more as an investment.
2) Style – it should be easily identifiable and the style should also match the other main factors of the shoe very well.
3) Functionality – this area can be highly subjective, but overall needs to physically work well for the main intention.
4) Durability – although not outwardly known for their ruggedness, a great pair of loafers are made to last- and should.
5) Uniqueness – another very subjective area, but here simply anything else that might be notable about the shoe.
Top 10 men's loafers today:
#1 – Wolf & Shepherd – Combining superior style with maximum comfort
When you wear a penny loafer like this, you truly are ready for just about anything. Whether you need to get your steps in and are just going out for a walk or simply needing a fresh, professional look at the office- these loafers really can do it all. With a beautiful range of options, this brand will surely have a style that suits your taste. And starting at an affordable price, at only $125 for the Belmont Bit Loafer, you could be walking down Wall Street and you would fit right in. Also, be sure to browse the hot new Limited Edition.
Crossover™ Loafer featuring all the perks of a classic loafer, but reimagined with an athletic fit and a sleek and modern style.
Possibly this is one of the most functional brands on this list, simply due to the wide array of options they have available.
Made from high-quality soft Italian leather, and also featuring unique comfort fits developed by leading athletes.
Crafted in the USA and perfectly created to comfort you by using instant-forming memory foam.
#2 – Ledbury Tangier – A classic look with a modern reinvention
Tangier is incredibly well-crafted footwear. This is probably because every single pair is hand-made, and originates from a small craftsman workshop, which can be found in northern Italy. These shoes also boast a bold style and do so with a powerful, but noticeably simple design. With a higher support construction, they are still slip-on loafers, but with an added air of utility and personality. Check these out as soon as you have a chance, and you will most likely wear them from then on.
Serious ruggedness points for this pair of loafers, largely from a triple sole construction, from select calfskin and leather.
Open-flame hand finishing creates a unique look for every pair that is made, with a brilliantly remarkable luster.
Genuine one-of-a-kind techniques result in truly unique results—an instant classic.
#3 – G.H. Bass & Co. Weejuns – Classic style, affordable modern comfort
Let's say that you aren't the only one in your family who is into loafers (you shouldn't be surprised). In that case, the broad selection of Weejuns that the G.H. Bass & Company offers are second to none. As a historic producer of this iconic footwear, you really can't go wrong with a tried and true name in the industry, which is another reason why Weejuns are among the top picks on the list.
Classic, versatile and adaptable design that the Weejun is historically known for.
From all walks of life, and with all kinds of celebrities, many proudly wore Weejuns. From James Dean to John F. Kennedy.
Truly one of the trendsetting brands, from the actual inception of the loafer, until today.
Alright, let's say you want to go in the opposite direction with it and are looking for what is possibly the most magnificent loafer among them all? Now bear in mind you will have to pay for that extra magnificence- but wow, is it worth it! With next-level intricacy and out-of-this-world details, this traditional shoe proves time and time again why they are a timeless classic. Still a slip-on shoe, but with all of the class and elegance of an unbelievably stylish shoe.
Featuring an almond toe, these critically sharp shoes are a key piece to any fine outfit.
Made in Italy, with an undoubtedly stylish leather texture on black leather.
Tried and tested and also have superior durability, and ruggedness. Even featuring a water-resistant exterior.
#5 – Robert Graham – the "rock 'n' roll loafer"
Ok, I agree it's time to bump up the uniqueness factor up x100 and see what we can come up with- yeah? Well, how about these amazingly cool and very unique shoes and loafers from the Robert Graham collection? Not only do many of the designs feature totally modern prints or designs, but many are limited edition runs, while still offering totally customizable options. From being hand-crafted to each design having individually numbered prints, you can really find something your own with this designer.
Made from rich fabrics and luxury embroidery techniques.
Created with the "loud" individual in mind, who doesn't mind wearing that and showing it off.
Founded in 2001, this brand also offers a whole line of other clothing products and accessories.
#6 – Oliver Cabell – The everyday loafer for the everyday man
Converging on design, craft, and value, this brand is really emphasizing your ability to wear loafers, well- anywhere. Plus, as one of the most affordable styles on this list, with their Driver style starting at just $150, many types of settings would suit this comfortable and sleek loafer style. Even just grab a pair for simply wearing around the house – we won't tell. Another brand made in Italy.
Uses high-quality materials, from Margom outsoles to ethically sourced Italian leathers.
Boast being able to offer their customers "actual cost" and save them tons of money while still offering a luxury brand.
A brand that challenges the status quo and has been featured in many major publications and magazines.
Ok, when you think of that classic, super easy to wear, super comfortable loafer that is perfect for the beach, what do you think of? Chances are, it is not far off from what Loro Piana is crafting, because these beach and summer loafers are simply on fire! With an unlined, water-repellent suede, you will be ready to tackle the hottest days in style. And, with very earthy and well-balanced color designs, from the ultra-popular Sand to the extravagant Burgundy or the lush Mushroom, you are sure to find something that truly matches your personality.
Made in Italy with suede made from calfskin, with leather lining and rubber soles.
Literally made as a luxury item for walking around during hot weather.
Comes with their own dust bag for protection in dusty climates.
When you say the name "penny loafer" many will instantly conjure up the images of a shoe that frankly looks just like this one. With a truly classic and rich brown or black tone in the leather, you will probably see these and think, "Oh yeah, those are definitely classic penny loafers!" Right down to the very cuts of meticulously planned leather design, it takes a full nine months just to finish giving the soles their oak-bark tanning for superior flexibility and ruggedness.
Handmade by expert craftsmen in England and the United Kingdom.
Made from brown leather with leather linings and leather soles.
Also, these come with their own dust bag for protection in dusty climates.
#9 – Gucci – Another luxury loafer that will blow your mind
You probably recognize this manufacturer. But did you know they also make premium luxury loafers that have been around since the 1950s? With designs like the classic Horsebit loafer, you can literally bridge the past to the present. The heel can be worn with the flap up or down, an homage to the shoe's equestrian beginnings. 100% made with Italian leather and metal, you really cannot go wrong if you are looking for an unmatched style with superior comfort.
As a well-known premium brand, you get extra support and service for taking care of your loafers.
Many different styles and options will leave you with a host of stylish options to choose from from the same designer.
Functional and efficient- not something this brand is well known for, but it's true.
#10 – Toga Virilis – Bold and badass meets vintage fashion
To close this list out, there is simply none other than the incredibly unique Toga Virilis. Hailing from a Tokyo-based designer, these outstanding shoes are truly unique. With many featuring some form of buffed metal with absolutely bold and unique designs, there is an element of casual mixed with formal, spiced up with almost futuristic elements. Not only are these some of the most comfortable shoes you can find, but they truly are head-turners and will have anyone new you meet asking "where did you get those?"
Featuring classic men's styles that are mixing eras and styles, blending themes and references with harmony.
Totally unique feel and personality that is sure to seal the deal for any bold look or outfit.
Bringing unique flavors together that don't traditionally go together – truly designed in the spirit of the loafer.
Find a loafer that matches your lifestyle.
These shoes are more than just something to wear on your feet while out and about. They are a statement. They can bring you a level of comfort that not many other things can. 

That is what is really about, isn't it? If something like a simple shoe style makes you feel good, look great, and make the right moves in life- then why wouldn't you want to invest in yourself that way? 

Your personality is shining with every step you take. But in a premium penny loafer, well… you are literally walking the walk. 
If so many other great minds and leading trendsetters are into them, maybe it's time to at least try a nice pair on and see how a test run feels for yourself?
Conclusion: Men's loafers are not just for looking good while relaxing.
Let's face it: when a man has the choice to make anything more comfortable than it already is, he will find a way to make that option into a reality. Probably not just randomly, either- but as his preferred one!

As you might guess, this is no different when it comes to finding comfortable footwear, whether for around the home and office or for everywhere else in-between. After all, what guy would not enjoy an easy and functional way to look good and stay cozy at the same time?

However, we have to also be honest about another thing. These days, there very well could be as many options for men's loafers as there are colors of socks to wear them with! This is why it can be really difficult when trying to narrow down which kind of penny loafers. Just remember to keep in mind our main points of price, style, functionality, durability, and uniqueness, and you should be able to find any other themes that matter most to you very quickly and easily.
Final Thoughts – take care of your shoes, take care of your life.
Now that you have all the info for making the most informed decision when it comes to getting your own premium loafers, what sort of factors do you see as most important to you for making your choice? 
Are you looking for something unique that totally matches your bold personality, or do you need something with more poise and classic appeal?
Remember that no matter what you decide on, your premium shoes are going to require a little bit of extra maintenance if you really want to make them last. Make no mistake – these are still "low maintenance" shoes when you think of all the time saved not having to deal with tying your shoes again, but the material quality is just on a different level.
You will want to make your loafers last! This is because your shoes can also be a reflection of deeper, more profound sentiments about your own personality and style.
Take some serious time when shopping for your perfect cozy footwear, because even if this list is just a starting point for you- there is a design out there calling your name to step into it with full confidence.
And, if all else fails- simply choose from any of these top 10 men's loafers, and you definitely cannot go wrong!