There are essential items that don't get the credit they deserve, and the gym bag is at the top of that list. For starters, you'll probably carry it around all day. You're missing out if you're not using your bag to make a statement. And it's time to change that. If you're reading this, you're probably considering making the investment. We're here to tell you: it's worth it. This is the item you should get to start 2021 the right way.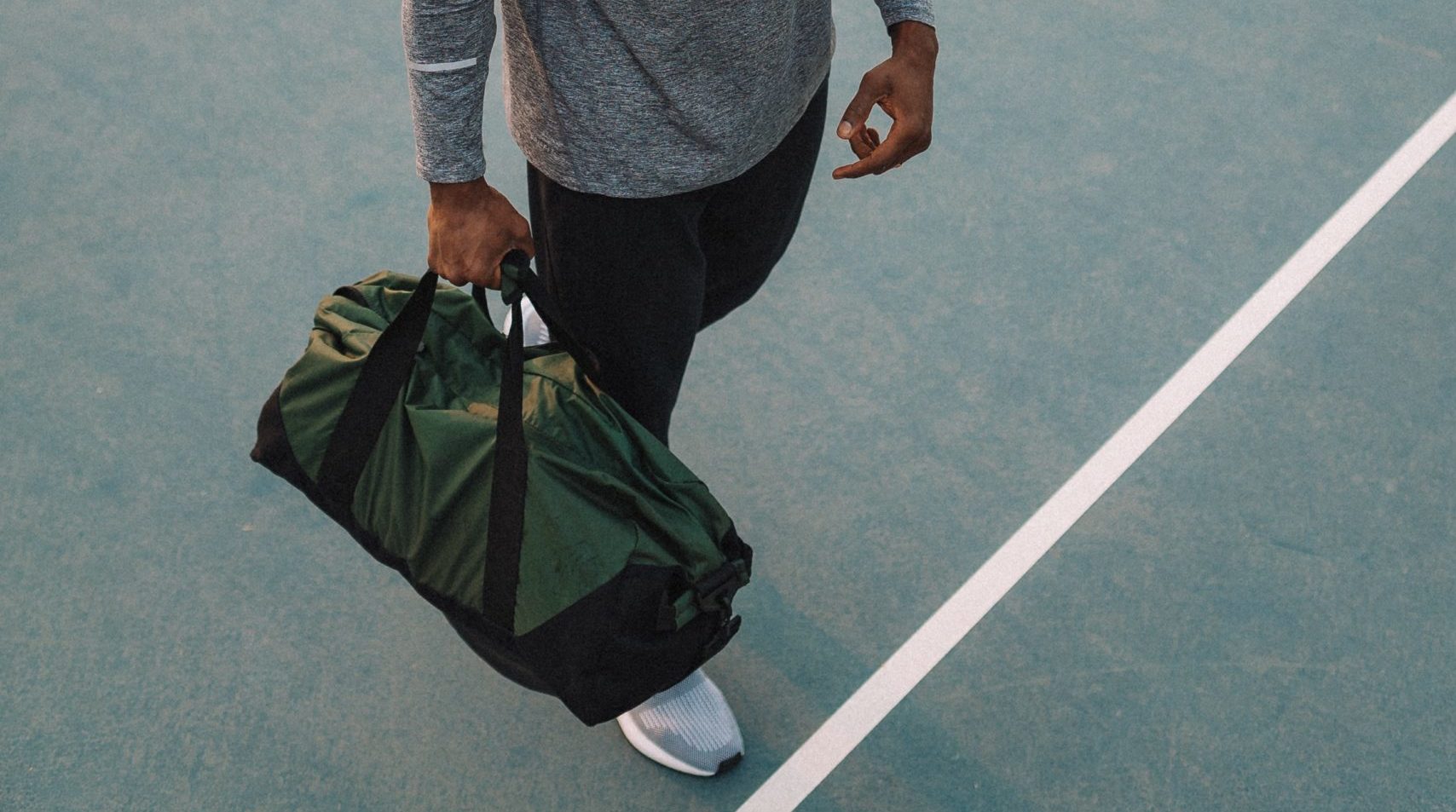 Besides the aesthetic part, which is certainly important, there are practical considerations when you're selecting a new gym bag. Does it have enough compartments? Is it odor resistant? Is it waterproof? Does it have a separate pocket for your wet or sweated out clothes? What about a compartment for your shoes? One for your laptop? One for the all-important water bottle?
Yes, people, selecting a gym bag is a science. So, we should start from the very beginning.
What should you pack in your gym bag?
First of all, a change of clothes. That should be at the bottom since it's the very last thing you're going to use. Don't forget the socks. A separate packing cube with your toiletries, that at the very least it should contain deodorant, shampoo, soap, face wash, wipes, a toothbrush, and, of course, hand sanitizer. That one could go in a more handy compartment because you should constantly use it. 
A microfibre towel takes up less space. Ideally, all your gadgets go in a separate compartment, and so does your laptop if you choose to take it with you to the gym. Don't forget your headphones. Your wallet goes in the most secure place you can find. Your water bottle should have its own place. And, on top of it all, the things you're going to use first. That is your workout clothes and any specialized gear you might need.
Some nice-to-haves are flip flops, a padlock because you never know, a headband, a wristband, gym shoes, a fitness tracker, shampoo, snacks, and gloves.
Tricks of the trade
If you do the gym thing right, you're going to sweat profusely. There's no shame in packing a couple of odor balls in your gym bag. In fact, it might be just what the doctor ordered. Another very important tip is, unpack everything as soon as you get home. Get the dirty and damp clothes out, and air out your gym bag. Everyday.
Another quick tip: use name tags.
The top 10 gym bags on the market
Now that you're an expert packer, it's time for the big event. The ideal gym bag should be stylish enough to be by your side all day at the office, and cool enough for you to take to the park on the weekend. We studied hundreds of them to bring you the ultimate guide, the best list on the Internet hands down.
Ideal for swimmers, this waterproof gym bag is made out of ripstop fabric. The versatile piece brings you the best of both worlds, it's a duffle bag that has padded straps, so it transforms into a backpack. It also comes with exterior daisy chain loops for you to lash additional equipment to. It has lots of compartments, zipped interior pockets, and two-way zip closure on the outside.
It weighs under three pounds, but it's sturdy and built to last. Surprisingly, the laminated fabric is made from recycled materials. You see, Patagonia claims to deliver "top-of-the-line performance while minimizing its environmental impact." The company is a founding member of 1% for the Planet. That means it donates 1% of its global sales to environmental causes and organizations.
To top it all off, when empty the Black Hole folds down into a convenient package roughly the size of a laptop.
In another case of double trouble, Thule's "Chasm 40L" is also a duffle bag that can morph into a backpack when needed. Made from tarpaulin fabric, this gym bag is weather-resistant and waterproof. It includes a carry case, that can be used as a packing cube for toiletries. It comes in four colors, amber, blue, green, and classic black. This is the small one, if you pay a premium you could get a 130L Chasm gym bag. 
It comes with several pockets for you to separate and organize your belongings. It has a padded bottom that protects everything inside, and with what they call a wide-mouth open for extra comfort. It also has zipped side panels that provide convenient alternative access to your stuff.
In any case, this thing is a gorgeous gym bag that ticks all of the boxes. It's a little expensive, but it could double as luggage when needed easily.
The third version of this 56L duffle bag has space for everything your gym life requires and then some. And with UA Storm technology on the outside, and abrasion-resistant bottom, and side panels, it's almost indestructible. Inside, it has three separate compartments, including a vented pocket for sweated clothes, wet clothes, and/or shoes. On the outside, it has three additional pockets for items that require easy access.
It's available in classic black, pitch grey, silver, and pink. The padded shoulder strap is essential and makes it a very comfortable bag. It has a D-ring on the front panel for you to lash additional things. One of its more notable features is the oversized Under Armor logo on the outside, ideal for those that want to show off.
Even with all that, the Undeniable's greatest strength is the price tag. You can't get a more durable bag on a budget.
It may look small, but the "Locker Pack Lux Bag" might feature the smartest design from all this list. It comes with a locker loop on top, so you can hang it anywhere for easy and comfortable access to your stuff. It has separate pockets for everything, from the water bottle to your accessories, to the laptop. Surprisingly, those pockets are also accessible from the outside.
The most important feature might be its internal shell. It maintains its shape even if the backpack is empty, and protects your belongings while full. It's water repellent. Comes with leather straps that adjust to your body over time. In general, the design is so wonderful that you could use it as a gym bag, as a carry-on, as a normal backpack, and always maintain the style.
It's expensive, though. That's for sure.
The manufacturers of this monster of a duffle bag are so confident in it, that it comes with a 25-year warranty. This gym bag feels so solid that we're not surprised. It's made with 1,000-denier nylon, and the material alone separates this bag from the rest. Everything is doubled stitched, the zippers are thick, the fasteners are made out of metal, and the buckles from carbon steel.
Is the design too boxy for you? That could be the only drawback. It's available in red, grey, or black. The inside has a 33L capacity, but it has five extra pockets for accessories and bottles and a shoe compartment. And, if you need more space, there are two bigger sizes, 45L and 63L. Pick carefully, because this might be the last gym bag you buy in your life. It's that though.
They say it was designed with weight lifters in mind. Make of that what you will.
This gym bag is the only choice if you're really on a budget. It looks amazing and the price tag looks like a mistake, but it isn't. It's made out of polyester and it comes in several colors and, oddly, slightly different shapes. They all look good, though. It's very well made for the price, but you can't compare it to other bags on this list. Which is only logical.
The only drawback is that it has no inner pockets. And, besides the shoe compartment, it only has two big outside pockets and a little one for keys and such. The long shoulder strap is not as good as the rest of the bag, but it does the trick. And it also has short handles as an alternative, so it doesn't really affect the overall quality of the bag.
Plus, the huge logo gives you bragging rights that you didn't even pay for.
If you're going for the looks alone, there are few gym bags more stylish than this retro Fred Perry one. Just look at it, it's beautiful. Not as functional as other items on this list, though. It has a big main compartment, a secondary one, and that's it. And it's made of polyurethane leather. So, it's artificial leather.
Look at it, though. You could take it to a tennis match in the sixties, to a boxing match in the nineties, or to ultimate fighting training tomorrow and not feel out of place. Despite the artificial material, it's really well made and feels solid. An interesting detail is that the shoulder strap is detachable.
Did I talk about how good it looks? I mean, it looks amazing. Plus, it's Fred Perry. A brand with a reputation no one on this list can match.
We've featured a couple of duffle bags that transform into backpacks. This Aer piece is the exact opposite. And, let's be honest, this backpack is a better look for the office. And in general. This bag is a work of art and will get you compliments left and right. The best thing about it is that it has two zippers, one on top, and one across, duffel-style. You can access your stuff from both sides.
It's very well made out of polyester and 1,680-denier Cordura ballistic nylon. It holds 24L. It has a separate and ventilated pocket for your shoes at the bottom, another made especially your laptop, and several cleverly positioned ones for everything else. Even if that's not your forte, you'll end up an organized person. That's the magic of the "Duffel Pak 2."
The two drawbacks are that it might be too big to carry on your back, and, let's face it, the hefty price tag. Are you willing to pay this much to have the coolest gym back in the office? That's the decision you have to make.
Pretty cheap for a name brand gym bag, that's also gigantic and made out of 600-denier polyester. Adidas believes in this product so much, that it comes with a lifetime warranty. And that should count for something. It features a gigantic interior, three big outside pockets, and an inside one with a zipper for your valuables. Rest assured you'll be able to fit everything in there.
One of the cool features this gym bag has is that its exterior is wipeable, so you can easily clean it with soap and water. It used to be available in various colors, but nowadays you can only buy the black one. Which is beautiful, and features a sizable logo for maximum bragging rights.
If name brands are your thing, this is the one for you. And it's a steal considering everything it offers.
If money is not a concern and luxury is what you want, look no further than the "Hobo Full-Grain Leather Holdall". This French import makes a statement all by itself. Bleu de Chauffe tanned the cow leather using natural agents, and that's just the beginning. Just the smell of this thing will get you the attention of the whole gym.
It holds approximately 20L, it comes with detachable handles and an adjustable shoulder strap. It has a frontal slip pocket and an internal cotton pocket that's also detachable. Plus, it comes with a dust bag. So, all in all, not as cleverly designed as other gym bags on this list. But it's incomparable in other areas. This is a luxury item and it shows. The women will be the first to notice it, also.
As you might imagine, this one doubles as a carry-on bag, an office briefcase, luggage, whatever you can justify just to show it off. 
How do you pack a gym bag for work?
A change of clothes at the bottom. Toiletries in a separate compartment. Your equipment on top. Don't forget your headphones a microfiber towel and flip flops. Always carry water and hand sanitizer. There's no shame in packing a couple of odor balls, especially if you're going to the office at some point. And remember, always unpack everything as soon as you get home.