Flip flops, also known as slippers, plakkies, jadals, or thongs, are the holy grail of vacation-wear. Whether it's for strolling on pristine white beaches, wayfaring on tropical lands, or traipsing around while working from home, everyone needs a good pair. The prehistoric slap-sounding footwear has been around for almost 6,000 years and was probably invented by ancient Egyptians. Despite so, it's not a fad that is going out of style any time soon. Who knew the simple design made from rubber soles and a "Y-shaped" strap could become such a necessity? If you're staring at a pair of faded and worn-soled flip-flops as we speak, you're probably overdue on getting a new pair. After all, it's not wise to let your flip-flops become a fall hazard. Ready to trudge through the market for your next pair? We present you with an informative guide and a countdown to the top "10 Best Men's Flip Flops" of all time.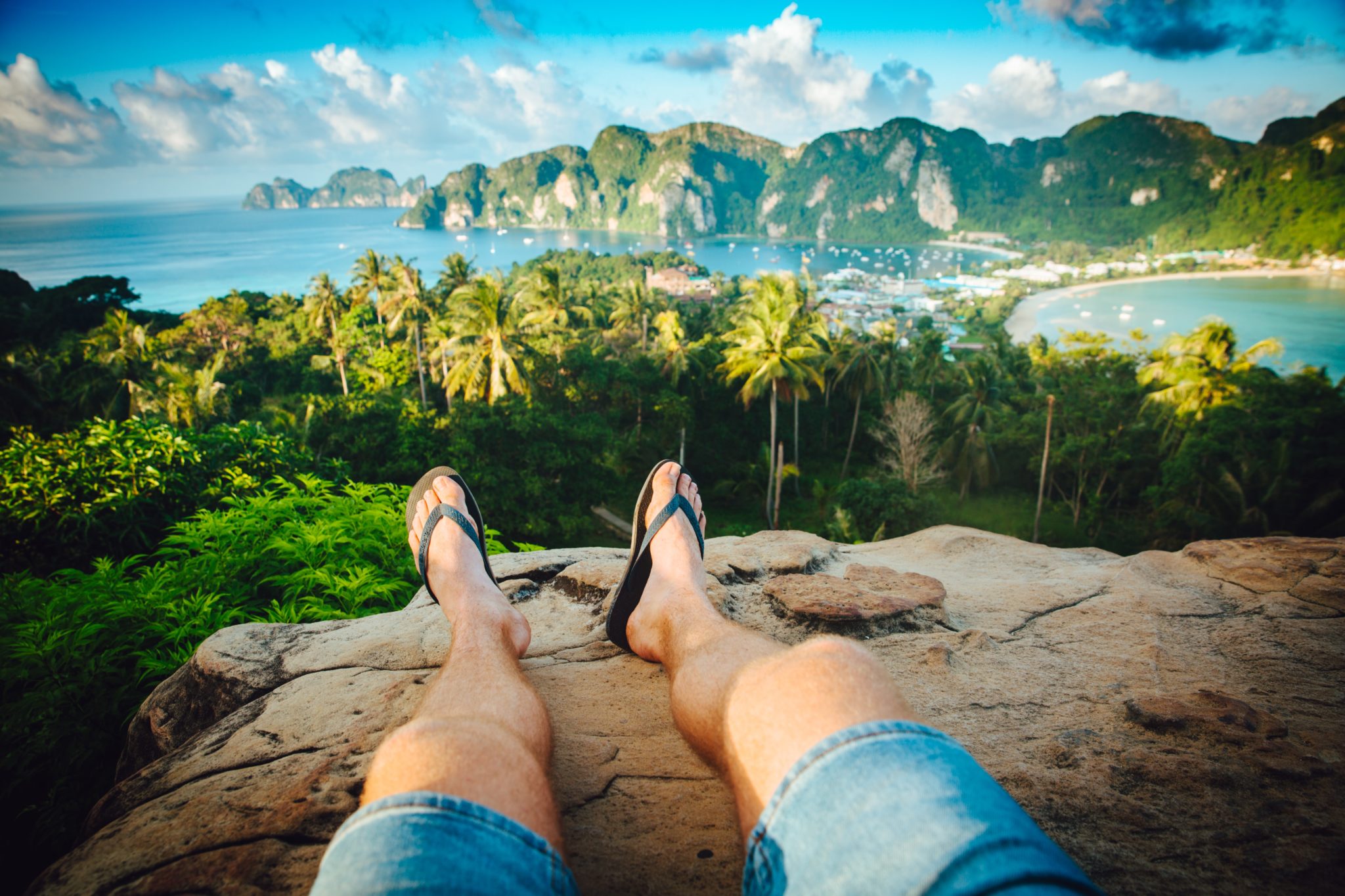 What Makes the Perfect Flip Flop?
Flip flops came into trend in the US after World War II as they were introduced to the Americans by the Japanese. Of course, these Japanese flip flops, also known as Zori, were not as floppy or comfortable back then. But ever since, they have evolved to accommodate comfort, laziness, individual styles, functionality, and even feet health. Before zooming in on your top choices, consider the following factors before making your investment.
A Good Traction of Foot Bed & Bottom Sole
If you've been to the tropics, you'll know why sole grip is a huge concern. With the humidity comes monsoon season, a rainy wet affair that ruins all kinds of footwear. In a similar environment, the well-loved flip flop is often sighted at poolsides and wet docks worldwide. And although most thongs may look similar in structure, non-slip is an extremely useful feature to have in these cases. It's not just the grip of your flip flops' soles. Having sufficient grip between your feet and the slippers' footbed is equally important. Walking around in flip flops while trying not to slip out of them is no easy feat and can result in accidents and injury.
On the other hand, if you're a nature lover who prefers having the breeze swirl around your toes, flip flops with good sole grips are crucial too. Indeed, flip flops are not usually recommended for hiking and trekking through rough rocky terrain due to their instability and floppiness of the sole. But it's always good to know you have a quality pair just in case you're peer-pressured into taking a spontaneous light-hike while on your road trip. After all, life is but a great big adventure.
A Supportive Sole Structure
Flip flops are a head-shaker for many doctors. Research has shown that most of them cause back pain, foot problems, and chronic knee issues. This is because most flip flops are flat and do not provide sufficient arch and heel support. Your knees ultimately pay the price to compensate for this shortfall. To add to that, the lack of structural support also results in a misalignment of the hips and back. Then comes a long list of issues such as plantar fasciitis, Achilles tendonitis, strains, bad posture, joint problems, and pinched nerves.
Over time, the bad reputation of flip flops has deterred many from making the purchase. But since then, footwear manufacturers have worked with orthopedic specialists and podiatrists to remedy this long-term problem. Today, a good pair of flip flops may be a tad pricy, but they come with the right balance and arch support. They are a worthy investment to make in exchange for long hours of breathable walking.
An Appropriate Bottom Sole Hardness
Aside from causing a laundry list of orthopedic problems, the pliable soles of flip flops make them a considerable hazard when driving. For instance, they can be lodged in the pedals' components or slip off your foot. Besides, some flip flops have also caused unfortunate escalator accidents. We're not recommending that you relish driving with flip flops, but it's advisable to at least wear a pair with a sturdy sole, so it doesn't bend. Don't be fooled, though. A sturdy bottom sole doesn't mean uncomfortable footwear. Quality flip flops today combine support with cushioning comfort and a good stable sole.
A Style to Match Your Personality
When it comes to style, snazzy lies in the eyes of the beholder. Although, unlike polo-tees on smart-casual workdays, flip flops will never cut it for business presentations. But that doesn't mean you can't express your personality through them. Since the footwear's evolution, there is now a truckload of options – even ones that can make you look a tad dressier. Whether you go surfer dude or trendy movie-goer at the mall, there's a style to suit everyone, and it's more than likely that you'll need more than a pair. Because like your regular shoes, flip flops today come with different features and functionalities. Hence, it's essential to consider the purpose of your flip flops before buying them. A good footwear cupboard should probably consist of a water-resistant pair to go with your beachwear, one for a long day of walking, and a chic pair to match your everyday casual outfits.
The Correct Fit for Optimal Comfort
As flip flops are casual lazy wear, many tend to take size for granted. If you look around you, you'll probably notice that half the flip flop wearers have ones that are too big for them. This can make the sole a tripping hazard. Easier said than bought, though! We understand that because flip flops are such a basic and unsung apparel, many consumers refuse to fork out more for them. And in turn, cheaper brands tend to not carry half sizes that enable a better fit.
Then there are the issues of straps. Everyone foot is made differently. Bony or fleshy, straps that are too tight or loose can result in painful blisters and discomfort. Either way, if you're going to take the time to pull out your wallet, you might as well get it right than risk a regret!
A Make of Quality Material & Durability
Picture this: You're walking down the street, and you suddenly feel a strap of your flip flop come loose. Sound familiar? That's why we've included quality as one of the primary considerations when buying your next pair. Most flip flops last a year or two. But malfunctions aside, poor quality ones can become a bed of nasty bacteria, especially if they are not well maintained or washed. With open toes, you're already putting your feet at risk; why compromise further and make yourself susceptible to fungal and bacterial infections like athlete's foot?
The befuddling available options and having to sit in a store to try them out is not a priority for most men. After all, shopping can be a tiresome chore. So if you're still not convinced that good material is a worthy investment for flip flops, think about how much time and money you could save with a durable pair that could last for years. You never know where life could bring you in the near future, but with a good sturdy pair of flip flops, you'll have no qualms getting there!
10 Best Men's Flip Flops: 2021's Ultimate List
If anything, the pandemic's new work-from-home trend has undoubtedly upped the sales of flip flops. The weekly visit to the grocery store is pretty much as fancy as it gets these days. As such, we found it imperative to pull together this ultimate list of men's flip flops. In that, we've included variable price ranges that will ensure the choice you make below will be one of value for money. But that said, it's still crucial that you wear the appropriate kind of flip flops to match your activity of the day. After all, you will never wear a tank top on a snowy winter night. See if you can find the perfect option that hollers "you" below.
#1: The Beachy-Keen
Havaianas Top Men's Flip Flops
Let's start with the bare minimum basics. And on top of that list is the king of rubber flip flops: Havaianas. Originating from Brazil, the brand is known to be a social equalizer and a national pride that has spread its beachy trends worldwide. Although Havaianas are known for their colorful statements, we're putting this classic one on the list because unicolor options are highly versatile and go with most outfits. Let's not forget the brand's slip-resistant rice-patterned sole and how a human being has made every pair with careful detail. Despite the soft cushioning sole, Havaianas flip flops are known to be durable, comfortable, and affordable. Conquer soft sandy beaches and wet waves in one out of five colors, or tuck them away compactly for emergencies. Either way, this sun-loving pair will see many laid back days with you.
#2: The Chic Resort
Hari Mari Scouts Men's Flip Flops
If you have a slightly greater budget, try these on for size and sheer joy. There's no need to break into these Hari Mari Scouts Man's Flip Flops. They come with the patented MemoryFoamToe™ and a cupped heel to cuddle your unique feet in comfort. These slippers are a combination of firm arch support and soft-squeeze midsoles. That means you can kick under-feet corns out the door and forgo the possibility of tripping over your own feet. These babies' footbeds are made with quality nubuck leather that huddles your hoofs in memory-form lined wick-away straps. Pick from four different colors to match your style, and you'll be whisked away to exude a luxurious vacation vibe all year round!
#3: The Post-Gym Athletic
Crocband™ Flip Men's Flip Flops
The signature Swiss Cheese Croc shoes may not be incredibly voguish, but don't faze out the brand just yet! The Crocband™ Flip is sporty, lightweight, and stylish. They help keep your gym-junkie vibe going and are a breath of fresh air after a clammy covered-toe sesh. Plus, Crocs are extremely durable, easy to clean and dry, slip-safe on rainy days, and 100% water-friendly. A massage-pod food pad and Croc's 360-degree comfort will soon rid you of corns and make your feet feel like they're at a spa. Pick from seven different colors to match your mood and forget to leave a donation at check-out. Yes, Crocs support Feeding America, so they're not just right for your feet, but also great for the community.
#4: The Multi-Functional
Reef Fanning Flip Flops for Men
Ah, what would life be without man's favorite beverage? Here's an awesome reason why we put this one on our list: it is the only flip flop church key bottle opener. No kidding! And these bad boys are not just here to quench your thirst. With a footbed consisting of anatomical arch support and an airbag, a long day will feel like a breeze quite literally. The Reef Fanning Flip Flops for Men is also so shock absorbent and contoured they will make you wonder if you're really wearing flip flops. Get this – these flip flops come in eighteen different colors. There's really no excuse for you not to own one.
#5: The Responsible
The Olukai Kiai II Men's Sandal
Hawaii is the land of sun, sand, and sea, and these Olukai Kiai II Men's Sandals are the official footwear of the Hawaiian Lifeguard Association. These flip flops have been field-tested and vetted for their strength, durability, and support. The non-slip, ergonomic footbed and the wet-grip rubber sole will make you a natural and bona fide amphibian. Plus, these flip flops have a compression-molded midsole and dry really quickly, especially on a sunny day. Pick your favorite shade of two different colors.
#6: The Doctor-Approved
Vionic Unisex Wave Toe-Post Sandal
If you're indignant about the hazards of flip flops, here's one that will debunk all of them. These slip-ons come with a concealed orthotic arch support and are designed by a podiatrist. In fact, it's received the American Podiatric Medical Association Seal of Acceptance, so how can they be bad for you, right? These flip flops scream stability from the ground up and are biomechanically engineered to hug your feet all day long. So if you're one who suffers from plantar fasciitis, pick your fave color out of five pronto!
#7: The Surfer's
FitFlop Surfer Freshweave Flip Flops
Here's another pair that's an excellent value for money investment. The FitFlop Surfer Freshweave balances its price with great support. It comes with a unique biomechanically engineered ergonomic FitFlop footbed for maximum comfort. Yes, when it comes to innovation, this pair has it all. This surfer footwear consists of a triple-density midsole made of Microwobbleboard™ technology so your toes can enjoy a tan while experiencing the comfort of covered-toe shoes. Plus, with FitFlop's long-lasting durability, you'll probably have them for years.
#8: The Smart Casual
Birkenstock Medina for Men
We get that Birkenstock technically neither flips nor flop. But considering how comfortable and easy-to-wear they are, we couldn't resist including these on our list. The Birkenstock Medina is the ideal vacation thong sandal made with skin-friendly and durable Birko-Flor®. Made in Germany, the country of premium-quality exports, they are as sturdy and trustworthy as functional. These well-structured flip flops can dress up any outfit to make it smart-casual.
#9: The Jeans-Worthy
Reef Cushion Lux Men's Flip Flops
You know that pair of worn-out looking jeans that rubs you the wrong way? This comfortable looking pair is nowhere near deceiving and are as snug as its appearance. If you're looking to splurge a little, these are the flip flops for you. They come with full-grain leather straps and a rebound footbed that will put a bounce on your feet. Complete with arch support and heel cupping, these cushioned flip flops will have your feet walking on sunshine all day, whether you're in a pair of jeans or not.
#10: The Everyday Flip Flops
Freewaters Men's Basecamp Therm-a-Rest Flip Flop Sandal
You'll be willing to walk an extra mile in these. Remarkable cushioning aside, the footbed also renders exceptional grip and airflow. And even though they're plushy, these flip-flops are also water-friendly. Plus, with solid arch support and a durable web strap, your investment is in good hands (or rather, feet). Pick from two sophisticated colors and wear them every day and everywhere.
Wrapping Things Up
When it comes to the cons and corns of flip-flops, we say debunk them all. If these 10 Best Men's Flip Flops don't get you moving, we're not sure what else will. Put your feet on vacay all year long with these comfortable flip-flops. Trust us when we say you won't regret or flop on your decision!