Flannels are not just for looking good while chopping wood. Seasons may change, winter to spring, but every day is flannel weather when it comes to comfort. Yes, flannel shirts are the quintessential staple of every modern man's wardrobe. They're so eternally adaptable that they can be bent for any look from rough-and-tumble grunge to the suave dapper casual. The new year delivers refreshed resolutions of dressing better. Should you choose to include flannel shirts on your shopping list, there are certainly more creative ways to dress them up, that is, other than the typical jeans and kicks. Let this comprehensive guide on the "10 Best Flannel Shirts" be a personal wingman to urbanity and suave.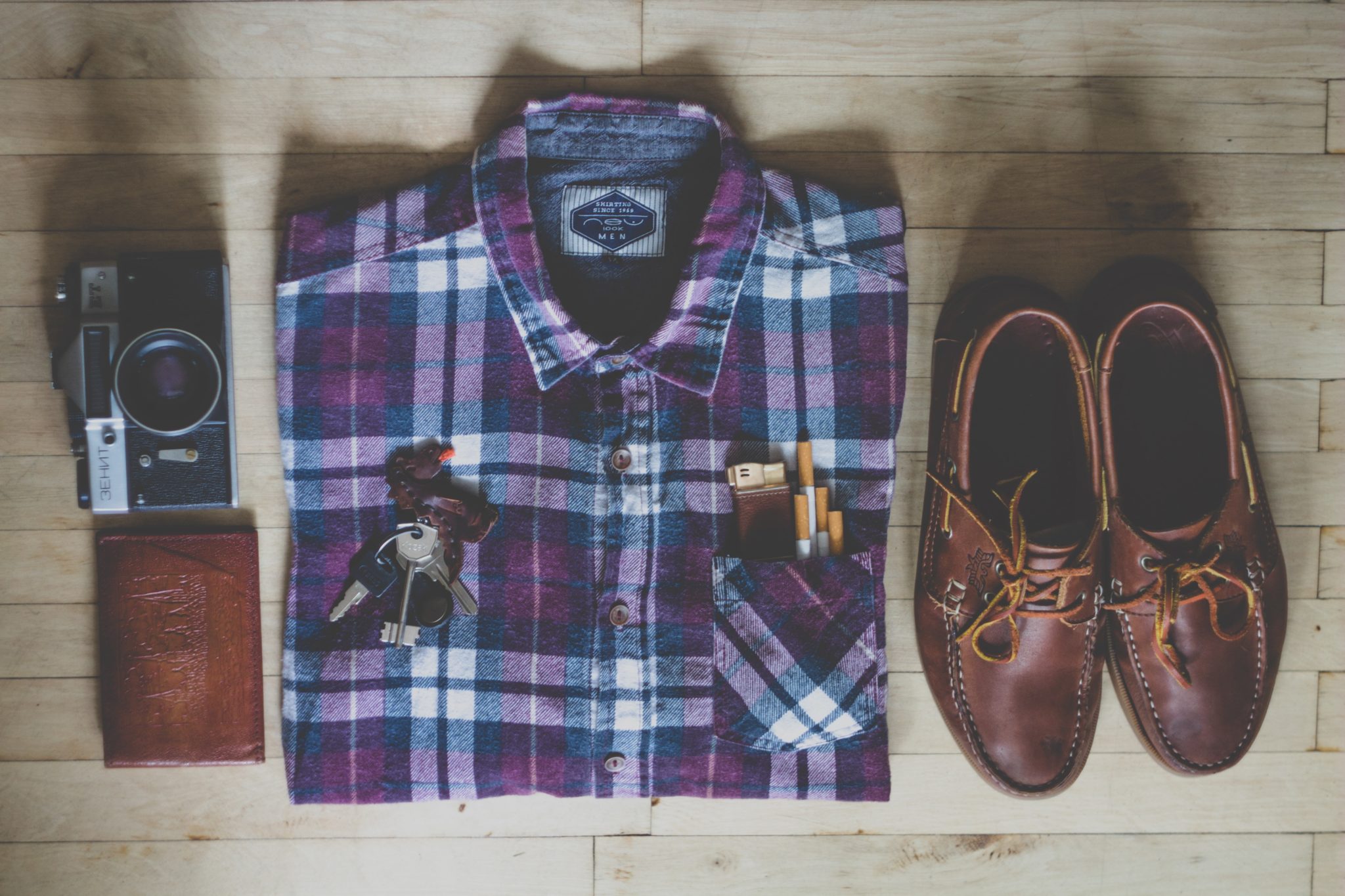 What's A Flannel Shirt?
For those who don't already know, flannel is a soft fabric typically woven from wool or cotton. What started out as farmer-wear in the 17th century has evolved into a new-age checkered revolution. Today, the typical flannel shirt involves top to bottom buttons and a collar. Although it is commonly thought that all flannel shirts are plaid patterned, the apparel name actually refers to the material rather than the plaid. Hence, flannel shirts doeth come in unicolor designs. These tend to create a more dignified and sophisticated look compared to the common skater-boy or lumberjack association the shirt comes with.
What's the Flannel Craze About?
Love them or hate them, flannel shirts are not going away anytime soon. So it's best to discover your flannel style rather than fight the movement. Here are some reasons why flannel shirts have survived the decades and prevailed.
The Why
Let's face it. Most men see shopping as a necessity than a sport. It's not uncommon to adopt the ever-decisive, hassle-free, quick-in-quick-out shopping routine. The same goes for throwing on threads at the start of every day. These are some reasons why flannel shirts have become so welcomed in every man's closet. They are fancy enough to deem one well-dressed without the need for accessories or additional colors.
The Who
Flannel shirts are marketed as affordable, versatile, universal, and dependable and have been sported by almost every demographic. That goes from tech-geeks to cool kids, from blue-collared workers to surfer punks. The apparel has been time-tested and resilient. They're dressy enough to be approved as office wear and respectable enough for brunch with your girlfriend's folks. West coast rappers dig them oversized, while gym-goers go with a slim-fit cut.
The When
Come what may, flannel shirts are not seasonal. That's what makes them worth the investment. Legit flannel material is an excellent insulator since wool traps air within its fabric. On the reverse, flannel fabric is also evaporative, breathable, and cooling. Layer them up for winter, and roll up those sleeves when the sun is at its peak. 
The 101 on Pulling Off a Flannel Shirt
Trends may come and go, but personal styles remain and exude one's personality. While there are a hundred and one ways to wear a flannel shirt and a million and one types in cuts and designs, nobody would be comfortable in an outfit that is just not them. Once as you understand your body type and style, restocking the wardrobe can be a breeze. For starters, explore the vibe you're going for, then match it up with the occasion you're dressing up (or down) for. Here to inspire, check out which of the below flannel shirt styles suit your personal style.
The Classic Casual Weekend
Check styles work exceptionally well for movie dates or pub-crawl weekends. Classic vintage look colors include red, green, black, grey, white, and brown. Plaid flannel shirts can easily go with a pair of jeans and some boots or sneakers. It is important to remember that bolder patterns are loud on their own. Hence dial down the rest of your outfit a notch if you're going for them. You can do so by going for neutral colored bottoms and shoes.
The Weekday Work Outfit
Corporate settings tend to bring to mind the stiff old crisp shirt with a suit. Given how Zoom calls have become a thing of the now, formal wear has definitely stepped down a notch. Believe it or not, flannel shirts can look respectably corporate if one knows how to pick the right plaids for the right battles. Go for single-colored flannel shirts or smaller discreet check patterns for a more sophisticated look. These options are also much easier to pair with a tie where necessary. Choose well-fitted flannel shirts and tuck them for a clean-cut look. If you're suiting up, do remember that the same smartening-up rules apply. That means matching the belt with the shoes and the color of your blazer with that of your pants. In any case, novice flannel shirt wearers should steer away from conspicuous looks, at least at the beginning. It's probably also wise to keep an eye out for any questioning looks from HR with each flannel shirt experiment carried out. 
The Humid Day
Getting hot and bothered? Roll with short sleeve shirts, or roll up your long sleeves. Better yet, tie your flannel shirt around your waist for a devil-may-care 90's look. Pale pastel colors work best for short summer days. Pair them with a well-fitted pair of plain colored shorts to beat the heat.
The Chilly Day
Damp weather on the horizons? Flannel shirts make awesome layers. There are many ways to do this, depending on your style. Everyone tends to have that one misjudged flannel shirt that's a size or two too big at the back of their closet. Instead of throwing them out, pass them off for outerwear. Simply match them with a plain colored tee on the inside and leave the buttons unfastened. If it gets even more chilly, use flannel shirts as an in-between layer. Add an outer layer such as a denim jacket or a single colored coat. 
If you're looking to feel snug without penguin-waddling layers, try these options out for size. For a street look, layer a well-fitted hoodie over with a flannel shirt. Alternatively, you can experiment and embrace a dignified look by layering your plaid flannel shirt with a single colored sweater on the outside. 
Ringing in The 10 Best Flannel Shirts
Now that you're covered on the basics of flannel shirt styling, it's time to tackle the matter of material. Flannel shirts are called flannel shirts for a reason. Proper flannel fabric is defined by wool or cotton that has undergone washing to give a fuzzy raised texture. Although, this is sometimes brushed down and smoothened out. Light to mid-weight flannels are suitable for summer, while heavier ones are great for fall and winter. No matter the thickness, the safe rule of thumb is to always complete plaid shirt outfits with other single colored pieces. Ready to shop? Here are the top 10 flannel shirts on our radar. Pick up this list, and you're flannel-sorted for the next 365 days ahead! 
#1: Woolrich Men's Oxbow Bend Flannel Shirt 
Cliché or not, nothing beats the vintage red plaid flannel shirt. It's timeless, casual, affordable, and just all-around masculine. Besides, when it comes to flannel shirts, the brand Woolrich on its own screams quality flannel. Designed for outdoor comfort, the classic flannel is 100% cotton. With just the right fit, you'll still be able to do a Harlem shake TikTok video without looking like you're wearing your dad's shirt. Match this rugged top with a pair of tailored jeans and some boots for a snazzy vibe. Alternatively, you can layer this flannel shirt over a solid t-shirt. Add a pair of flattering deep tan chinos, and you're good to go for a laid-back weekend on a chill day.
#2: Rothco Extra Heavyweight Buffalo Plaid Flannel Shirt
Nip the cold in the bud and get sorted for cooler seasons with this 8 Oz heavy-weight fabric shirt. What's awesome is that Rothco is known for its weather-tested outdoor apparel and military gear. A shirt really doesn't get more hardy and dependable than that! The 100% cotton shirt features two chested pockets, but here's the best part: it comes in 15 different colors. The shirt is so functional there's really no excuse to dress shabbily no matter the mood. Because of its thickness, this flannel shirt is a fantastic replacement for a jacket on lazy days. Simply button up to dress it up or leave it open to dress it down. Now all you have to do is find your fave color and a size that fits you perfectly.
#3: Buffalo Check Button-Up Flannel Shirt
Let's admit it; no boy really ever grows up. Age doesn't quite matter. There's always a skater-boy looking to roll with the punches, and here's a flannel shirt that might just reveal that rebellious streak with a touch of chic. This 100% cotton check piece by Topman comes with a slim fit that goes well with dark denim and a pair of kicks. Looking to kick it up a notch? Layer it with a biker's jacket and some combat boots to make a statement. Or throw on a skinny tie to switch things up for a clean European vibe. Whoever said black and white was boring didn't know any better.
#4: Flannel Sunday Shirt
This solid-color Madewell flannel shirt is perfect for those who struggle to pull off check patterns. It's the kind of shirt that's so cozy you have no qualms sleeping in. Made with 100% cotton, the regular fit is designed with a little extra room for the chest and body for maximum comfort without compromising style. With just a single pocket and a smoky red hue, it's subtle but never boring. Easily pull off this piece with a pair of chinos and chukka boots or leather shoes for a smart casual day at the office. Or match it with your favorite pair of boxers for an above-waist Zoom work call. Sleek, chic, and discreetly sophisticated, it's everything you would want in a smart flannel.
#5: BDG Washed Flannel Long Sleeve Button-Down Shirt
Nothing screams comfort like worn-out. In this case, vintage doesn't always mean plaid and country. Here's a unique one to expand your flannel horizons with. The BDG washed flannel shirt comes in 3 different colors and makes for a good outer layer. Go young and vibrant with orange or teal, or choose light brown for a safer look. Either way, the 100% cotton flannel shirt with a rounded hem and patch pockets makes for awesome casual wear. Experiment with different bottoms and a pair of Converse for a street look. Because old is in, and new is out!
#6: Wax London Whiting Shirt
All hail this king of over-shirts. And with glorious fabrics come a slightly steeper cost. This Portugal-weaved heavy-weight flannel shirt is luxurious down to the corozo nut buttons. Not to mention the fact that it comes in 9 different colors to suit any taste. The relaxed-fit, indescribably comfortable yarns feature two bold patch pockets. And if plaid is not quite your color, go with a sky captain linen solid shirt instead. To up a rough-and-look, match this versatile over-shirt with a pair of ripped jeans.
#7: Pendleton's Board Shirt
If you're looking for quality and comfort and are willing to fork out a little more for style, this 100% wool flannel shirt will get your attention. Think virgin wool that's pretty much resistant to every destruction your normal day brings, including water, odor, and stains. This fancy shirt is pretty much the perfect combination of luxurious threads meets casual-functional. Pendleton is well-known in the beach boy circles as the Original Surf Shirt since the 1960s. It's true. Nothing beats having soft wool against sun-sensitive skin after a fantastic day on the waves, but you don't have to be a surfer to wear one of these brown checks. Pull off the summer look with a pair of well-fitted solid-colored shorts.
#8: Taylor Stitch Yosemite Shirt
This 9-oz flannel shirt combines durability with sleekness. With 9 colors to choose from, including plaid patterns, it's on every flannel shirt lover's must-have list. Just find the one that speaks to you personally. With the fabric's incredible softness comes thought to every detail. The short-cut shirt features two flap-chest pockets and Japanese urea buttons and is hence most comfortably worn untucked. Made to frame with a refined silhouette, the Yosemite flannel shirt is one worthy investment that will never go out of style. Rock the look with a pair of well-fitted pants for a relaxed stroll in the park.
#9: Bonobos Flannel Shirt
You might think you know flannel shirts, but it's not until you own a Bonobos that you realize how far off you were. We dubbed this the fancy flannel for a reason. This 100% cotton piece comes in 10 different fabric designs ranging from common bold plaids to unique squared patterns. Easily machine-washable, this shirt pretty much embodies all the fancy without all that fancy delicate care. It features subtly visible pockets that blend into the shirt's pattern, making it an office-worthy shirt on Fridays. It might be called a flannel shirt, but it certainly is a far cry away from any association with lumberjacks and skater boys. Complete the refined look with slim-cut jeans or chinos and a pair of leather boots. To switch it up, throw on a sweater on top of the flannel for a unique mix of textures on a cold day.
#10: REI Co-op Wallace Lake Lightweight Men's Flannel Shirt
Dependable- That's how shirts should be. So if you're looking for an outfit to embrace summer camping days with, this REI Co-op Wallace Lake flannel shirt will be just perfect for you. Not only will the long sleeves shield your arms from the mosquito-feeding-frenzy season, but it's also soft and light enough to keep you cool when the sun's beating down. Throw it over a casual tee, and this great outdoors flannel shirt will add to your season-transition wardrobe when the start of autumn arrives. The shirt comes with an agreeable price tag and 3 plaid color options, namely red, orange and green. Plus, it comes in sizes ranging from "S" to "XXXL."
To Button Things Up
On your annual flannel shopping spree? No matter your style, flannel shirts are an essential and practical piece that will have your back for every season and almost every occasion. If you don't own one yet, it's about high-time you start looking for one. Don't hesitate to experiment with different colors and fits because versatility is what flannel shirts are about.