A gentleman's wardrobe should be armed with the perfect dress shirt, one that suits their particular style needs without crippling their pockets. Whether you're looking for a business formal or business casual, it needs to suit your particular needs. One of the principal factors that determine the suitability of a dress shirt is the fabric. The fabric speaks loads about a shirt's quality. This goes beyond the material used to manufacture the fabric, but also includes the technologies imbued into the cloth to improve its qualities. The common technologies include moisture-wicking, stretch fabric, anti-odor, and anti-wrinkle technology. With this in mind, the list below is a compilation of brands and the dress shirts they make for men.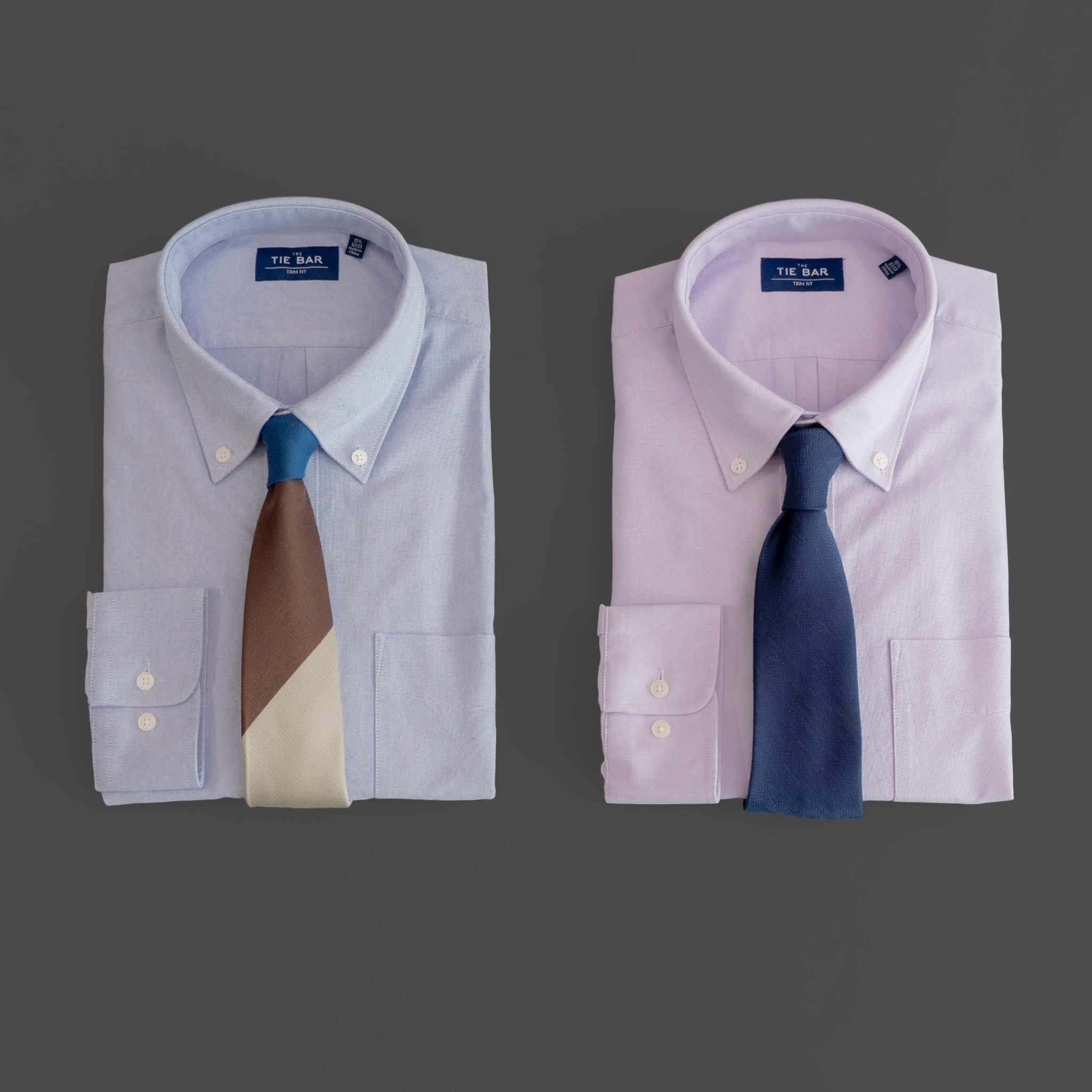 1. BANANA REPUBLIC
Banana Republic, owned by Gap, is one of the most luxurious clothing brands in North America with a market targeted at young professionals. Their catalog features classics tailored for a contemporary style.
Banana Republic's dress shirts come in three cuts. The slim-fit is tailored to follow and pronounce the shape of your body along the arms, chest, and waist. The standard-cut has extra room in the arms, chest, and waist, allowing for extra movement and breathing room. It has a looser feel than the slim-fit, but still follows your body's shape. The Tall cut has an extra one and a half inches along the length of the body and sleeves. They designed this for men with taller frames.
Banana Republic uses three fabrics on their dress shirts.
Hi-Dri fabric has excellent breathability, is quick-drying, and has good sweat-hiding properties. They also treat it to improve wrinkle resistance. This ensures you keep looking sharp throughout the entire day.
Stretch-Tech is applied to their cotton fabrics for added stretch. The shirt moves with your body and stretches whenever you do. They are also quick-drying, have extra breathability, and good moisture wicking.
Non-iron fabric is made from 100% cotton treated with chemicals during the manufacturing process to impart it with excellent wrinkle resistance. Clothes made from this material require no ironing following a wash. is makes clothes made from this material require little-to-no ironing after washing.
Banana Republic's standard and slim-fit shirts cost $79.50 while Stretch-Tech shirts cost $89.50. They currently have a sale that includes discounts of up to 40% off must-haves and an extra 60% off sale styles. They also offer standard and express delivery services via the carriers Hermes and DHL. This is a bargain given the excellent quality of the brand.
2. NORDSTROM
The American retailer started as a shoe store but later expanded into clothing, cosmetics, and accessories among others. Their clothing apparel ranges from casual to formal, and their label has become synonymous with style and class. Their catalog is for customers with a classy and modern taste in fashion.
Nordstrom's Smartcare Pinpoint Dress Shirt is designed with a button-down collar and single-button cuffs for a smart and neat look. The shirt is fitted with a chest pocket, has a curved hem, and split back yoke. The regular fit has extra space in the chest, arms, and waist, and a set of full sleeves that comfortably covers the wrists.
To add to that, Nordstrom's fabric is machine washable and can be tumble dried. Their Smartcare fabric is made from 100% cotton that is treated for wrinkle resistance. This means after the day is over, the shirt will still look like it did in the morning when you first wore it. It is available in the colors white, lavender, blue, and hydrangea.
Nordstrom offers free shipping inside the United States and your order will arrive within 3-8 days, while cardmembers in select areas receive free two-day shipping. They also have expedited and international shipping options. All this quality is offered at the modest price of $59.50 on their website, but prices may vary in-store.
3. Lululemon
Lululemon is well known for its high-quality workout gear made from premium fabric. As they commonly create gear for yoga, one can be assured they know the value of comfort in clothing. Their prices are a bit high, but their loyal customers know the quality they get is worth the price.
The Commission Long Sleeve Shirt is made for a classic fit. The fabric comprises 55% polyester, which adds to its low weight, and 45% cotton, which can be machine washed and tumble dried. This shirt is available in the colors of navy blue/black, harbor blue, white, and black. Lululemon incorporated the following into their shirt:
The four-way stretch makes the fabric move along with your body as you twist and turn for a comfortable and tight fit.
Sweat-wicking properties help absorb moisture from sweat during the day, to avoid clamminess and sweat stains on your clothes. The fabric also has properties that accelerate the drying of sweat to ensure.
Lululemon's fabrics are treated during the finishing process of production to ensure wrinkle-resistance. With this finish applied, the shirt is wrinkle-free after coming out of the dryer and does not need ironing.
No-Stink Zinc technology was also applied to the shirt. This inhibits the growth of odor-causing bacteria found on the skin, meaning more wearing and less washing.
An underarm gusset is present to improve mobility while the added eyelets aid in ventilation.
Such quality comes at a hefty price, with each shirt costing $98. Such a price-tag will scare away a lot of people, but for those that value quality, this shirt is a must-have. Lululemon also offers payments in four installments of $24.50 using Afterpay or Klarna. They have free standard shipping, but other shipping options are available at a certain fee. Check out their website for more information.
4. M. Lewin
The British store, named after a pioneer in the shirt industry, has sold over 30 million shirts since its conception and produces Britain's favorite shirts. They are recognized for their quality and craftsmanship, which is greatly appreciated by their loyal customers.
Their Premium Slim Fit Lilac Micro Spot Button Cuff Shirt is made with a slim fit and gentle tapering around the waist. This is a good look for the average body build when tucked in. The fabric is made from Egyptian cotton, which is responsible for some of the best quality shirts on the market. A silky finish creates an ultra-soft feel on your skin. A fully cutaway collar can be worn with or without a tie, making it suitable for formal and semi-formal occasions. This shirt by T. M. Lewin is a low-budget shirt without any extra technologies embedded into the fabric and will cost cheaper than most.
Pros: Cheap for those on a budget. Good quality shirts are available at a price of only $29.95 per unit. The company offers a 6-month guarantee and an extended return period of up to 90 days.
Cons: Their standard delivery within the United States costs $25, which is a bit steep when you consider the price. The shirt doesn't have any sweat-wicking or quick-drying properties, which is undesirable for customers living in warmer climates.
5. Charles Tyrwhitt
This British clothing retailer specializes in dress shirts, ties, suits, casualwear, shoes, and accessories and is a popular choice of male shirts. The Semi-Cutaway Collar Egyptian Cotton Poplin Shirt is available in six colors: lilac, white, blue, green, pink, and yellow. Like all of Charles Tyrwhitt shirts, it is made from 100% hand-picked Egyptian cotton of the highest quality. This type of cotton has finer and longer fibers that add to a higher thread count, meaning the fabric becomes softer and stronger than regular cotton. Despite the higher thread count, the cotton still has great breathability. The fabric has multiple yarns alternated within the weave to create a crisscross effect within the detail and the poplin weave feels cooler in warm weather.
A split back yoke and middle seam give the wearer extra mobility, which is further improved by the fabric's natural stretch profile. Twin needle stitching ensures the shirt is tough when tugged and can last for years. Furthermore, all of Tyrwhitt's shirts come with a brass collar-stiffener that prevents curling. The shirt is made in the classic, slim, and extra-slim fit cuts, with the former two having back pleats for easier movement. The sleeves have rounded two-button single cuffs.
Because of the high-quality material and excellent craftsmanship, the Semi-Cutaway Collar Egyptian Cotton Poplin Shirt costs $200. This might seem a lot for a shirt, but its high durability means it'll last for longer than most shirts whilst maintain a good appearance. Occasionally, they have sales where you can get these shirts at a bargain. The shop offers returns for up to three months and international shipping. To find out more, visit their website here.
6. Brooks Brothers
These retailers are one of the oldest and have been making shirts for almost 200 years. Along with their good quality standard and reputation, they developed the button-down collar in 1900. The Regent Fitted Dress Shirt, Non-Iron Houndstooth Triple Overcheck is a good pick from their catalog. The sleeves have a single cuff bearing the 6-Pleat Shirring, which is present in all of Brooks Brothers shirts. The shirt is also fitted with a centered pleat at the back, chest pocket, and pucker-free seams. The Regent fit is an altered modern trim fit with the chest and sleeves closer to the body. Their material is made from a unique cotton type that is grown exclusively in the southwestern United States.
Made from special Pima cotton that is longer. The fabric becomes softer than ordinary cotton cloth.
The fibers in the Supima cloth are long and dense, which helps retain color. The shirts made from this fabric remain vibrant for longer.
This special cotton is more durable and almost 50% stronger than traditional cotton.
Such a high-quality shirt normally costs $92, but the store currently has a winter clearance sale which sees a 70% drop in price to only $39. To add to this bargain, this shirt can be bought at $33.15 to holders of the Brooks Card and the Brooks Brothers Platinum Mastercard. They ship to all 50 states within the US along with select countries, but all methods cost a certain fee depending on destination.
7. Tie Bar
This premium quality men's clothing brand was founded over ten years ago to help men dress better at affordable prices. Their clothes are designed in-house and have featured in GQ, Men's Health, The New York Times, among other magazines.
Tie Bar's Gingham Non-Iron Dress Shirt is available in classic blue, grey, aqua, bright pink, and green. The Gingham pattern adds brightness and texture to the fabric, which is made from 100% cotton to guarantee softness. The cotton was treated to imbue true non-iron properties. This means this machine-washable shirt can be worn straight out of the drier without the need for ironing.
In addition to a trim fit, the shirt has a longer length to prevent it from getting untucked. The semi-spread collar has a wider gap between points to allow for a larger variety of tie knots, but can also be worn without one. The shirt also bears a set of two-button cuffs, French front, extra buttons, and plastic collar stays. The latter ensures the collar remains straight.
The Gingham Non-Iron Dress Shirt is available for $55, or you can purchase 3 for $140. This is a reasonable price for such a good quality shirt. All orders are shipped within one day from purchase. Tie Bar offers International Expedited shipping for $29.95, and the shirt arrives within 2-5 business days.
8. Eton
Eton's Dark Blue Signature Twill Shirt is also available in white, off-white, black, blue, pink, and purple. According to their website, it is their most versatile shirt, suitable for business formal and evening wear. A cutaway collar has medium-sized points, making it suitable for wearing with or without a tie. Single cuffs with a modern style can be easily switched to allow for cufflinks or buttons depending on the wearer's choice. The shirt can be slim fit or contemporary. Slim fit is more common and is fitted at the chest and waist, specifically designed for slim and regular bodies. The contemporary fit is straight and meant for wider body types.
Signature Twill fabric is woven in two-ply yarn from using staple cotton in a characteristic diagonal texture.
They are made from extra-long staple cotton, which is renowned for its luster, durability, and softness.
A Signature Finish gives it wrinkle-resistant properties that keep your appearance sharp throughout the day.
The fabric also retains color, which remains saturated even after washing.
The Signature Twill Shirt costs $250, which is a bit intimidating but the quality is worth the cost. Eton offers free UPS Express shipping which delivers within 1-4 days.
9. Hawes & Curtis
This London-based British fashion company was founded in 1913 and is best known for its shirts. The brand is widely renowned for its clients, the likes of which include several members of British Royalty. It is this brand that developed the Windsor Spread Collar to fit the Duke of Windsor's ties and knots.
Hawes and Curtis' Men's Dress Blue and White Fine Stripe Extra Slim Fit Shirt should be a staple in every gentleman's wardrobe. The particular cut is designed to create a contemporary look, which is further garnished by fine 2-ply 100s cotton. The shirt also has French cuffs, which can be held by cufflinks or silk knots.
Anti-crease technology applied to the shirt is more durable than standard non-iron tech. This can be further maintained by washing below 30 °C.
100s cotton yields a silky texture and makes the shirt lightweight.
The 2-ply weave lends a smoother feel to the fabric, making the shirt more comfortable to wear.
The is no doubt that this is a reputable label that has offered consistent quality throughout the years. The dress shirt by Hawes & Curtis is available for only $89, or you can get 3 for $159.
10. TWILLORY
This brand is well known for its performance and non-iron clothes, which is apparent in their Baller Performance Black dress shirt. This shirt is made from a blend of cotton, Coolmax fabric, and spandex imbued with special textile technologies to improve certain qualities.
Coolmax moisture-wicking technology is designed to absorb sweat from your skin as you go, helping keep you dry. It also accelerates the drying process and provides a cooling effect to the skin.
Their non-iron technology doesn't involve the use of chemicals like formaldehyde, which has been known to cause skin irritation.
Their four-way stretch fabric is specifically designed to move with your body during physical activities. Its hyper breathability improves ventilation.
The fabric is machine washable, dry cleanable, ironable, and is safe to tumble dry. It comes with Nickel collar-stays used to keep the cutaway spread collar straight.
Each shirt is available for $99, or you can get 2 for $139, and three 3 FOR $180. If you purchase 4 or more, you'll get each at just $55. Twillory offers free shipping within the United States but international shipping comes at an added cost.