The cycles of history are a strange thing indeed. Stephen King once said, "Sooner or later, everything old is new again." We doubt he was thinking about dad shoes when he said that, but don't quote us on that. You never know what the man's working on.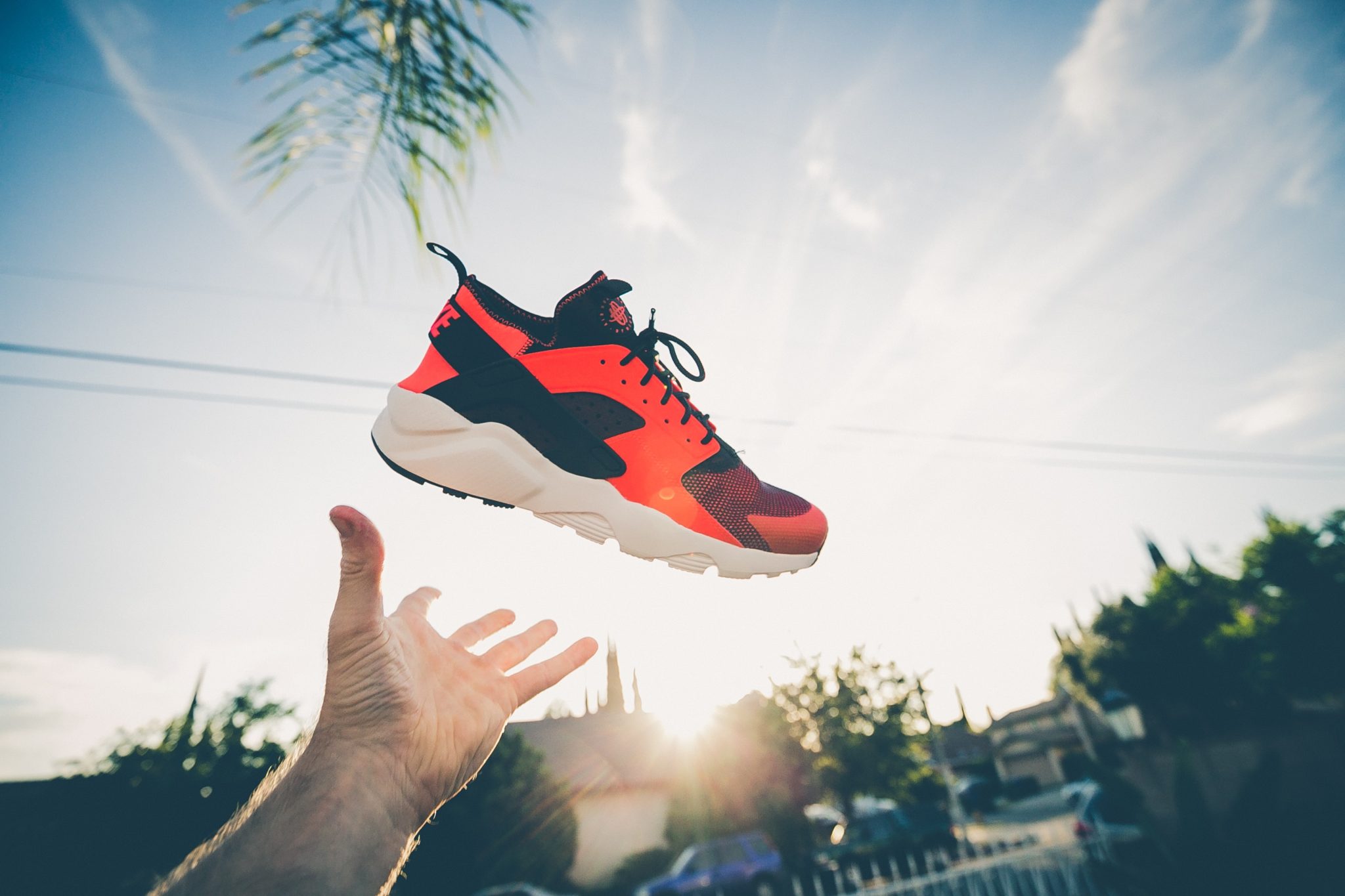 But yes, it seems we've come full circle. What was once a term of derision, reserved for oblivious, out-of-touch middle-agers in barbeques and yard sales, is now as steezy as Yeezy. Normcore's where it's at today, and your feet will thank you for taking the thick, cushy-soled path to stylin'.
"Wait," we hear you say, "Is this the 90s all over again? Are we talking about platform shoes with bold, big-lettered branding and air soles so soft you could parkour off a mountain with them?" Yes, we are, and don't knock 'em until you've tried 'em, is what we're saying.
And look, you don't have to take the full high-waisted jean, shirt-under-sweater path to style either. We know you'd rather get shot than have your Instagram followers see you in full dad regalia. You like to keep it smooth, no one's denying that.
But, with a low-slung jean, laid-back approach, you bet even the big influencers are post-ironically rocking the dad shoe look. And really, who's too cool for comfort these days? There's nothing like the feeling of walking on marshmallow clouds while your favorite jam plays on your AirPods.
But before you go scouring on eBay (or your dad's closet!) for a pair of Air Jordan's, let's point you in the right direction with the top ten best dad shoes in 2020.
Fila Men's Strada Disruptor
Nothing says "all-in" like the Fila Men's Strada Disruptor. These totally gargantuan sneakers are what you want if a hard-steppin' first impression is what you're after.
Taking a page off the basketball sneakers of yore, these big boys offer a surprisingly lightweight option, with a durable textile lining that's super soft, a nubuck leather upper, with a rubber sole so soft you'll immediately gain 10" on your vertical jump. Trust us, no matter where you take these babies out to, you'll feel like you're struttin' like a champ.
These shoes also exemplify Fila's modern design sensibilities. With their high-quality mix of leather and synthetic materials, they're bound to last you long enough that your kids will be raiding your closet when the "Dad's dad shoes" craze of 2050 hits.
PUMA Men's Thunder Spectra Sneaker
If wowed looks are what you're after, then the PUMA Men's Thunder Spectra Sneaker is the pair of your dreams. These amazeballs sneakers could turn heads in a pitch-black room, and they're about as loud and proud as you can get when it comes to retro chic.
With a lightweight, flashy track style with bright colors, these sneakers are not just about catching envious stares; they're cool-comfort exemplaries, with protective sidewalls, midfoot stabilizers, and inner heel support that practically massages your feet while you strut around. You may not be giving Usain Bolt a run for his money with these dad shoes, but ain't no reason why you can't look like a track star while you get your freak on at the disco.
Adidas Yung-1 Hi-Res Dad Shoes
These great all-rounders are known for their versatility. They're a sort of updated take on the 90s Falcon Dorf, but with just enough modern sensibilities to capture a perfect mix of old and chunky bold.
But, these dad shoes aren't there just to provide throwback thrills. Their Torsion System stability is great at providing all-day midfoot stability that'll keep you cruising even when your homies are taking off their penny loafers and crying out for a foot massage at the spa.
And, if you think that the black colorway is a little too low-key for you, check out the bright orange version, for when you even want your shoes to say "I'm on fire!"
Adidas Originals Falcon Athletic Shoe
These are true 90s originals, but with a progressive 2020s take. Not just a dad shoe, but also a mum shoe thanks to the fame-making auspices of the one and only Kylie Jenner. Who thought it would just take a pair of cool shoes to have you looking like a billionaire?
The simple, comfort-centric design of this shoe is not just a joy to behold, but to wear as well. The flashes of color (12 retro-styled colorways are available) perfectly complement the white, classic design, with thick soles and cushioned support that can be rocked with any wardrobe. Jeans, dresses, skirts, kilts — whatever rocks your boat, the Adidas Original Falcon is there making you look good all the way.
And, you bet that these won't leave you hangin' if you need to take them into the sports court too. You'll be dunking like you're a part of the dream-team-era Chicago Bulls.
Louis Vuitton Run Away Pulse Sneaker
Nothing says "go big or go home" like a pair of Louis Vuittons. Regardless of where you stand on the dad shoe debate, there's no denying that these sneakers are a fine piece of eye candy. With their fluorescent color accents and their flashy design, these beauties almost tip the scales towards the futuristic side of things, rather than retro.
The only thing that may come between looking like you just stepped off a pimped-out time machine and rocking these might be the hefty price tag. You know that these shoes are worth their weight in gold just by the Louis Vuitton tag associated with them, but them's the breaks. Why they gotta do us like that, though?
Still, if you've got the cash, or are on wealthy benefactor's Christmas list, then these fine high-soled honeys are absolutely B-O-M-B. High-laced, chunky-soled, stylish perfection.
Globe Men's Fusion Dad Shoe
Value also has a spot on this list. And if you want to go from big to 'yuge' then the Globe Men's Fusion is definitely more like a chunk off the old block. And we mean chunky, as these black grungy shoes pop (and pop shuvit) with a wide variety of wardrobes.

These sneakers are a legit nod to the skater styles of the mid-90s and early-2000s. While they won't have you kickflipping like The Muska, they'll definitely add to your style arsenal when you dust off the old boards and kiss the pavement once more.
Even if your thing ain't quite so extreme, they'll definitely make you look great. And the fact that they're around $80 makes them rate even higher in the style stakes; we're talking leather, with extra-thick walling, heel stabilization, and a triple-layer toe cap. That shouldn't come cheap but does. Grab 'em while they're hot. 
Sketchers DLT-A Oxford
If the value's what you're after, then you can't go wrong with the Sketchers DLT-A Oxfords. In addition to the classic Sketchers features (modern design, lightweight), fans of big, chunky sneakers can get their hands on these for pretty, pretty low prices. We've seen them for as low as 60 bucks. 
Like with the Globe Men's, this style of dad shoes jives pretty well with a low-slung style that emulates the skaters from the 90s and early 2000s. A great addition to this is the air-cooled insole with memory foam that adapts to your foot the more you use your shoe. Cool, lightweight comfort is a staple of the dad shoe. Not only do these shoes not disappoint, but they bring that comfort at what's an absolute steal.

The DLT-A Oxfords are great sports shoes for when you want to bring out your repressed track star, or they dress up like nobody's business if you pair them with a cool wardrobe.
Champion Men's 93 Big C Sneaker
Is this a "son" shoe'? Is it a dad shoe? We'll leave the great philosophical questions to others. Whoever is lucky enough to slip on a pair will be a happy camper, that's something you can bet on. If you're one of those people that pines for the old track days, then these sneakers will have you running like Tom Cruise before you know it.
These sneakers are available in ten colorways and have all the must-have dad shoe standards; durable leather for all kinds of outdoor activities, a cushioned rubber sole that ensures maximum "Aaah!" instead of "Ow!" and a breathable sock lining, for those prolonged exercise sessions.
Top of the line? No. Dependable, lightweight, comfortable, durable, and a great value? Affirmative.
Nike MK2 Tekno Men's Dad Shoes
You didn't think we'd forget about Nike on this countdown, did you? They're pretty much dad shoe stylists at this point. Nothing says retro, sporty, high-jumpin' like the Nike MK2 Tekno shoes. If Marty McFly took a DeLorean to 2020, he'd be rubbing his eyes when gazing upon the retro-futuristic cool of these shoes.
Support and stability are what you want in a dad shoe, right? These have that, plus a heel clip for a little something extra, with an old-school lacing style and a leather and mesh upper that is exactly what comes to mind when you think about Nike. But, if you ask us, the off-white MK2 with the neon plastic heel is the true stunner here. Regardless, you have plenty of colorways to choose from.
Sports? Check. Poker-night with friends? Check. All night-dancing at the end-of-the-year office party? Yes. Retro cool for any occasion, and endlessly pairable with your absolute hottest fits? We think you already know the answers. Nike knows what's up.
Adidas Yeezy Boost 700 Inchwave Runner
We did say his name rhymes with steeze, right? And if there's anyone that embodies an effortless, evergreen style, it's none other than Kanye. While this whole line of sneakers is pretty notable, near the very top you can find the unmistakable, peak dad of the Yeezy Boost 700 Inchwave Runer.
Adidas clearly likes poring over every minute detail of sneaker production. And Yeezy is undoubtedly doing his part for the dad shoe revival trend. This shoe is the unmistakable result of trying to get a perfect amalgamation of the best sports shoes that came before it, as well as a healthy dose of forward-thinking cool. This mix of "If it ain't broke don't fix it" and "Let's crank it to 11" yields some pretty amazing results.
What immediately draws the eye to these sneakers is the bulky mega-chunk of the rubber outsole. Couple that with proprietary Adidas Boost technology keeping your foot with midsole stabilization, you know this dad shoe is the pinnacle of comfort and functionality.
While the Adidas Yeezy Boost 700 Inchwave Runner clearly will put a dent in your bank account, they' are also our top pick for maximum cool with instant street-creed. There are bigger and badder dad shoes out there, but none that we'd call a smarter investment.
Summing Up
We hope we've offered you a comprehensive list of the best the dad shoe market has to offer in 2020. If you're trying to elevate your style to the pantheon of trendy dad cool, then any of the picks on this list should do the trick.
Comfort, versatility, and a timeless cool. That's what a dad shoe offers. Regardless of whether you think dad shoes should be consigned to the waste-basket of history or you think they're the best thing to happen since Kurt Cobain learned to strum a guitar, you can't deny their appeal.

At its best, fashion is about combining the best of what's come before and futuristic, out-there ideas to give birth to new, creative styles.
Dad shoes have that awesome best-of-both-worlds quality about them; what used to be kitschy is now glitzy, and what was once limited to the gym is now ripe for combination with both civvies and suits. You may not be taking them to the Met Gala, but you bet Jared Leto will at some point. And he'll make them look fantastic.
And that's the dad shoe. Love 'em or hate 'em, they're at the forefront of cool, street-savvy, comfort-centric clothing. They can be an accessory or the centerpiece of any outfit.

So don't knock 'em until you've tried 'em. You may find yourself falling in love with your very own brand of dad cool.