Cashmere. The name itself evokes a sense of luxury and comfort unmatched by other fabrics and materials. A cashmere sweater is a durable heirloom item that, with appropriate care, can give the wearer a lifetime of comfortable use.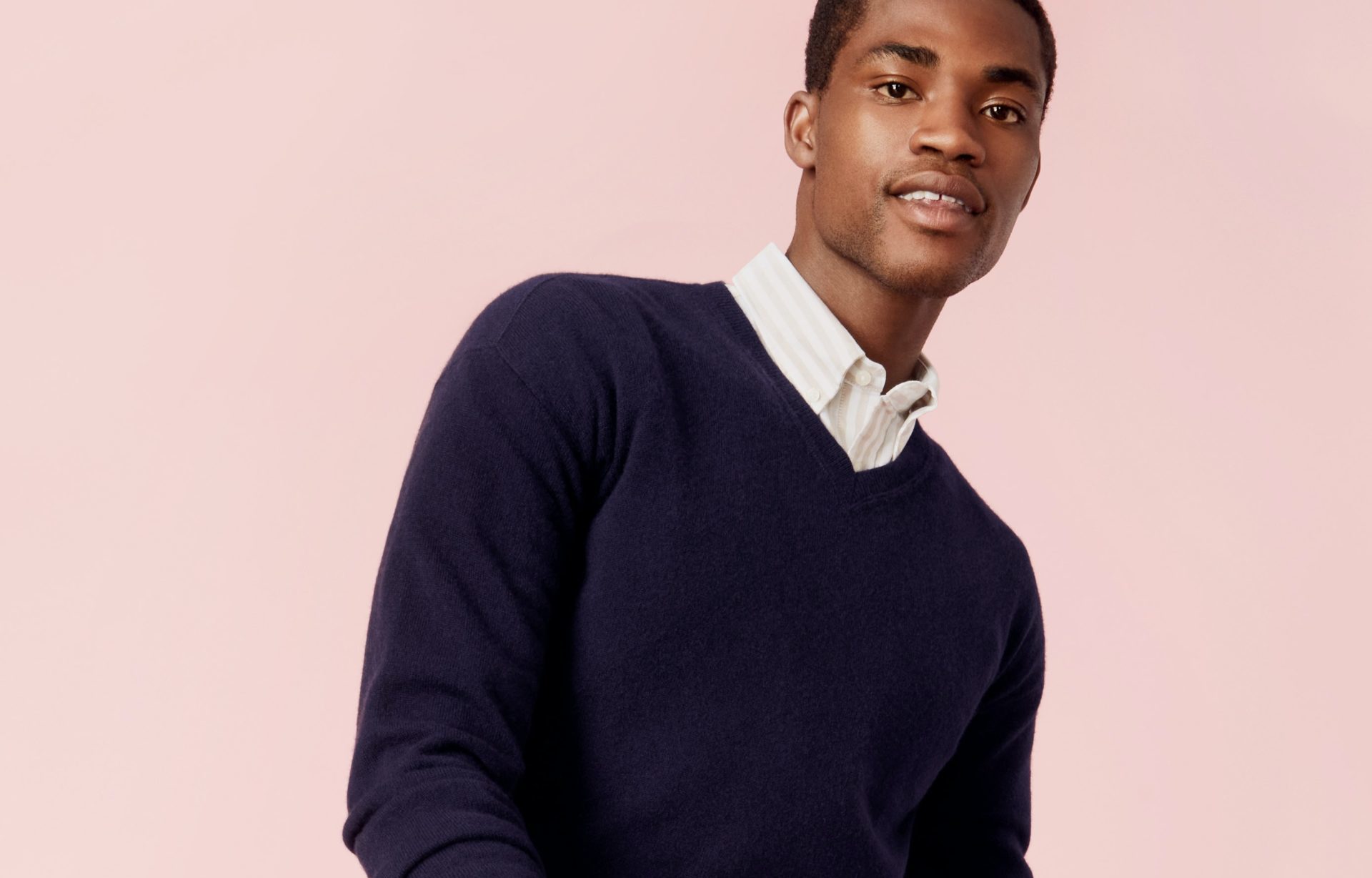 A Unique Material
Cashmere wool comes not from sheep but from a breed of goat that boasts a distinctive thick coat. The opulent, soft wool is harvested naturally as the goat goes through its normal shedding cycle every spring. The luxurious undercoat wool most often used in clothing is combed from the animal's coat with a special comb that removes the velvety fibers, separating them from the rest of the fur.
Once the soft wool is removed, the thicker topcoat is then shorn using traditional livestock clippers, leaving each goat with a short haircut so the animals stay cool during the warm summer months. The thicker coarse topcoat fibers are also used as bristles for high-quality clothing brushes.
A Fascinating History
Cashmere is a material with a long and interesting history. It has been harvested and used for thousands of years and is native to central Asia. From its earliest beginnings, the wool has been prized for its softness, warmth, and strength. In many ways, cashmere material is superior to other materials commonly used for making clothes. Cashmere garments are usually both warmer and more durable than clothes made from sheep's wool, and cashmere fibers are softer and finer than plant fibers such as cotton.
Today, most cashmere is produced in China, followed by Mongolia. These countries share vast areas of grassland that are ideal for grazing herds of cashmere goats. After harvesting, raw cashmere fibers are often spun into yarn for knitting, or woven into sheets of fabric to be cut and assembled into garments.
An Outstanding Product
Cashmere comes in a variety of grades that can determine the price and quality of the finished garment. The grade of the wool is determined by its color as well as by the diameter of individual strands. Darker cashmere fibers are considered lower quality as they require extra bleaching in preparation for dying fabric. This bleaching process somewhat reduces the overall quality of the garment, but still results in a very comfortable piece of clothing.
The grading scale of cashmere allows buyers to find 100% cashmere garments in a variety of price ranges. Also, cashmere is occasionally blended with other materials to reduce the cost of the fabric or yarn. The following list contains a variety of cashmere garments, including some blends, sweaters made from recycled cashmere, and some made with 100% cashmere.
1. Banana Republic Recycled Cashmere Crewneck Sweater
The crewneck sweater is an icon of garment design with its simple, bold lines and straightforward styling. Banana Republic's cashmere crewneck sweater is part of the company's Heritage Collection which emphasizes craftsmanship and authenticity in every garment.
The crewneck sweater is made from 97% recycled cashmere and 3% recycled wool. The use of recycled materials ensures that cashmere garments that have been worn and loved for years are not simply discarded. Old garments are sorted and the spun cashmere is shredded before being re-spun and woven for a comfortable, great looking sweater that is both luxuriously soft and great for the environment.
Banana Republic's Heritage Collection includes recycled cashmere sweaters in a variety of colors and other styles including v-neck, full zip, and turtleneck. This collection is an ideal fusion of style and sustainability with garments that look great and are built to last.
In addition to the Heritage Collection and exceptional sweaters, Banana Republic offers a full clothing line with products ranging from casual to business attire. With a style that trends toward earthy neutral tones, Banana Republic is sure to have clothing items to complement any man's taste and wardrobe.
2. State Men's Turtleneck Cashmere Sweater
State is a company known for its cashmere products, and an iconic staple of their sweater design lineup is the turtleneck. Turtleneck garments were designed over 500 years ago and were originally worn by knights to protect their necks from chainmail armor. Since then, the instantly recognizable style has been associated with a variety of professions and fashion movements over the years.
State works directly with cashmere goat shepherds raising their livestock on the rich pasturelands of Inner Mongolia. The rich and natural environment the goats are raised in and the extra care that the shepherds take ensures the high quality of every garment made from the goat's wool. Also, working directly with shepherds ensures that they receive good wages and payment for the wool that they raise. There is no middle man to cut into the profits for the farmers.
The turtleneck cashmere sweater from State is made of 100% cashmere and is an understated yet sophisticated garment that can be worn for a variety of occasions. Whether it's worn with jeans for a Saturday afternoon around town or dressed up with a blazer for work, this turtleneck looks and feels great.
State also offers 100% cashmere sweaters in v-neck, half-zip, and mock-neck polo style with a button-up collar. Check out State for a variety of everyday cashmere items for men.
3. J. Crew Everyday Cashmere Crewneck Sweater
The Everyday Crewneck sweater from J. Crew pairs the luxuriant softness of 100% cashmere with some bold color and styling choices. The sweater is available in solid colors with a traditional cable knit pattern, as well as in several other patterns of bold stripes and solids. Each sweater is exceptionally soft and warm, yet still lightweight. The Everyday Crewneck pairs well with casual outfits or can be dressed up for the office.
Like other J. Crew garments, the cashmere crewneck sweater is cut to an excellent fit that is neither too loose nor too tight. The weight of this sweater is ideal for transitioning from summer to autumn, or for pairing with a jacket during the colder months.
J. Crew has partnered with the Aid by Trade Foundation to ensure that the cashmere they use in each sweater is sustainably produced in a way that is good for goats, good for the farmers, and good for the planet.
J. Crew is a well-known brand, widely recognized for the quality and elegant simplicity of its clothing. With a full lineup of clothing available, they're sure to have several ideal pieces for any wardrobe.
4. Todd Snyder Cashmere Crewneck Sweater
The cashmere crewneck sweater from Todd Snyder features the notable design of the crewneck sweater, in a 100% cashmere 12 gauge knit. The classic sweater is available in a variety of colors ranging from a bold evergreen to understated refined charcoal. A crewneck sweater is an ultimate accessory for any cool-weather outfit, and the detailing of this sweater makes it stand out from the rest. It's a worthy addition to Todd Snyder's tradition of garments that are stylish, yet a little unexpected and creative.
The armholes where the sleeves join the sweater's torso are finished in an eye-catching ribbed stitch that makes an impression. It's a subtle detail that is echoed in the ribbed cuffs and waist that ensure this sweater maintains a comfortable perfect fit.
Whether chosen to make a bold color statement or as a quiet accessory, Todd Snyder's entry into the lineup of cashmere sweaters looks great with any outfit for a variety of occasions.
The line of garments offered by Todd Snyder is undeniably fashion-forward. The man looking for cutting edge items to complement a contemporary sense of style is certain to find many items that will make great additions to his palette.
5. Nordstrom Men's Cashmere Quarter-Zip Pullover
Nordstrom has been providing customers with exceptional shopping experiences and the most current fashions since its opening in 1901. This tradition of quality is carried on in the quarter-zip cashmere pullover from Nordstrom Men's Shop.
The quarter-zip pullover is a staple piece in any man's wardrobe and is versatile enough to be layered up with a dress shirt and tie, or dressed down with a t-shirt and jeans. The sweater is cut with a little extra room in the chest for a comfortable fit that will not disappoint.
The cashmere material of this pullover elevates the garment with an exceptional softness that is perfect for layering during cooler months. Available in a variety of understated colors, it's a sweater that offers timeless style and exceptional comfort in a great fit.
Nordstrom offers a comprehensive line of men's clothes. They're sure to have the ideal garment for any occasion, style, or stage of life.
6. Vince Cashmere Full-Zip Hoodie
The full-zip hoodie is a sweater style that is widely recognized, iconic, and unapologetically comfortable. Hoodies are beloved for their informal fit and relaxed attitude. The full-zip hoodie from Vince takes that up a notch with 100% cashmere that is thick and cozy, yet suitable for any season like a good hoodie should be. It's a look that is casual, yet sophisticated; spontaneous, yet mature.
Vince is a company whose goal is to create excellent quality clothes that evoke a sense of warmth and comfort while still offering refined style to the wearer. Based in California, they seek to channel the culture and ethos of the west coast into their design style. The cashmere full-zip hoodie is no exception to that tradition.
Vince also offers luxurious, high-quality cashmere sweaters in a variety of other styles, including crew neck, quarter-zip, and cardigan.
The clothes sold by Vince are casual, approachable, and warm, ideal for the man looking to build out a wardrobe full of comfortable staples that he'll want to wear over and over again.
7. Ralph Lauren Cable-Knit Cashmere Sweater
The timeless cable-knit design so popular in sweaters was originally created to resemble fishermen's ropes. The crewneck design and knitted pattern of this sweater have remained virtually unchanged and have remained a popular item in Ralph Lauren's Polo sweater line for over 50 years.
The sweater is knitted from high quality 100% cashmere that is woven in Italy. The quality of the material makes the pronounced texture of the sweater feel amazingly soft to the touch. The sweater is available in a variety of colors that pair well with almost any outfit. As with any sweater of this pedigree, this cable-knit cashmere garment will pair well with casual, semi-formal, and even formal attire. The brand also offers cashmere garments in a variety of other cuts including cardigans, turtlenecks, quarter-zip, and hoodie styles.
Polo by Ralph Lauren is a brand that is recognized worldwide for its dedication to timeless style and relentless pursuit of quality. Any man will find a great deal of satisfaction in owning and wearing this soft, luxurious sweater.
Check out Ralph Lauren's entire product line for clothes that are sophisticated, fashionable, and dashing enough for any man.
8. Uniqlo Cashmere V-Neck Long-Sleeved Sweater
Uniqlo is a brand that is known for its high-quality yet affordable products that are on the cutting edge of fashion. In the area of cashmere sweaters, they have a proven track record of well-made, exceptionally comfortable garments at a fraction of the price of some other brands.
Every cashmere sweater from Uniqlo is made from unblended cashmere. Considering the affordable pricing, buyers will still appreciate wearing the luxuriant plushness of 100% cashmere wool. Not only is the material exceptional, but the garment also features an excellent fit and durability that buyers would expect to find in garments that cost much more.
In addition to the v-neck sweater, Uniqlo also offers cashmere sweaters in crew neck and turtleneck cuts. The company emphasizes creating products that enhance the lives of customers. If you're looking for men's clothing that is at the cutting edge of style but is still affordable, check out Uniqlo's product line for men.
9. Brooks Brothers Cashmere Cardigan
Brooks Brothers is a company with over 200 years of service to consumers seeking exceptional, timeless, American clothing. As the oldest clothing company in the United States, Brooks Brothers has had the distinction of providing clothing for almost every President of the United States since 1818.
Brooks Brothers has also had the honor of producing uniforms for the US military since the company's founding. They've certainly built a respected foundation of excellent products with timeless, respected style and sophistication.
The cashmere cardigan builds on this history of excellence. The cardigan is a sophisticated, mature garment that radiates refinement. Each sweater is hand-crafted in Italy from pure cashmere wool. The sweater also boasts exceptional detailing with real horn buttons and grosgrain trim on the interior.
In addition to high-quality cardigans in cashmere, Brooks Brothers also offers cashmere sport coats, topcoats, and even ties, all crafted from high-quality cashmere. Check out their full lineup for wardrobe staples that will inspire.
10. Everlane The Grade-A Cashmere Crew
The Grade-A cashmere crewneck sweater from Everlane lives up to its name. It uses the finest grade cashmere available, sourced from Inner Mongolia. The cashmere fibers of the sweater are designed and knit in a way that traps heat, keeping the wearer warm and cozy. The fibers also are exceptionally long and fine, leaving the sweater durable and deliciously soft.
Also, while most cashmere sweaters require handwashing to prevent wear and pilling, the durable Grade-A is machine washable. There's no need for dry cleaning or cumbersome hand-washing. The high quality of cashmere fibers selected by Everlane makes this possible.
The sweater is available in a variety of muted hues that bring warmth and style to any outfit. The cut of this garment is decidedly casual for a sweater that is equally suited to a day of running errands or for extra warmth and comfort while working from home.
Everlane is a company that believes in ethical practice in every area of business, from the treatment of farmers who raise the goats for cashmere wool to the workers who create these outstanding garments. Each piece of clothing is built to last, not for the whims of a season. The company also believes in radical transparency, disclosing to customers the true cost of each garment. The company is founded on core principles of honesty and transparency at every level of production.
Everlane also sells their exceptional quality cashmere sweaters in v-neck, as well as other high-quality garments of all kinds.
Try Cashmere Today
Cashmere is undoubtedly a luxury material, and wearing a cashmere sweater is an experience not to be missed. Whether it's chosen for its exceptional warmth, or for its uniquely soft texture, it's sure to be a garment that you'll want to wear over and over again.
While there are certainly hundreds if not thousands of cashmere sweaters to choose from, we've attempted to identify a few standout options. We've selected companies with established brands and reputable product lines, some of which have been producing outstanding clothes for hundreds of years.
If you have never considered purchasing cashmere for your wardrobe, we hope that this list has inspired you to explore this amazing material. We know that any man who chooses to wear clothing made from cashmere wool will certainly never be disappointed.