A summer favorite, men's boat shoes have gained in popularity over the years. Once frequented by boat owners, sailors, and others who spent their time in wet and rugged environments (like a boat), these shoes have recently become a must-have fashion statement. Virtually every shoe company has incorporated the style into their lineup, making the buying decision process a little more complicated.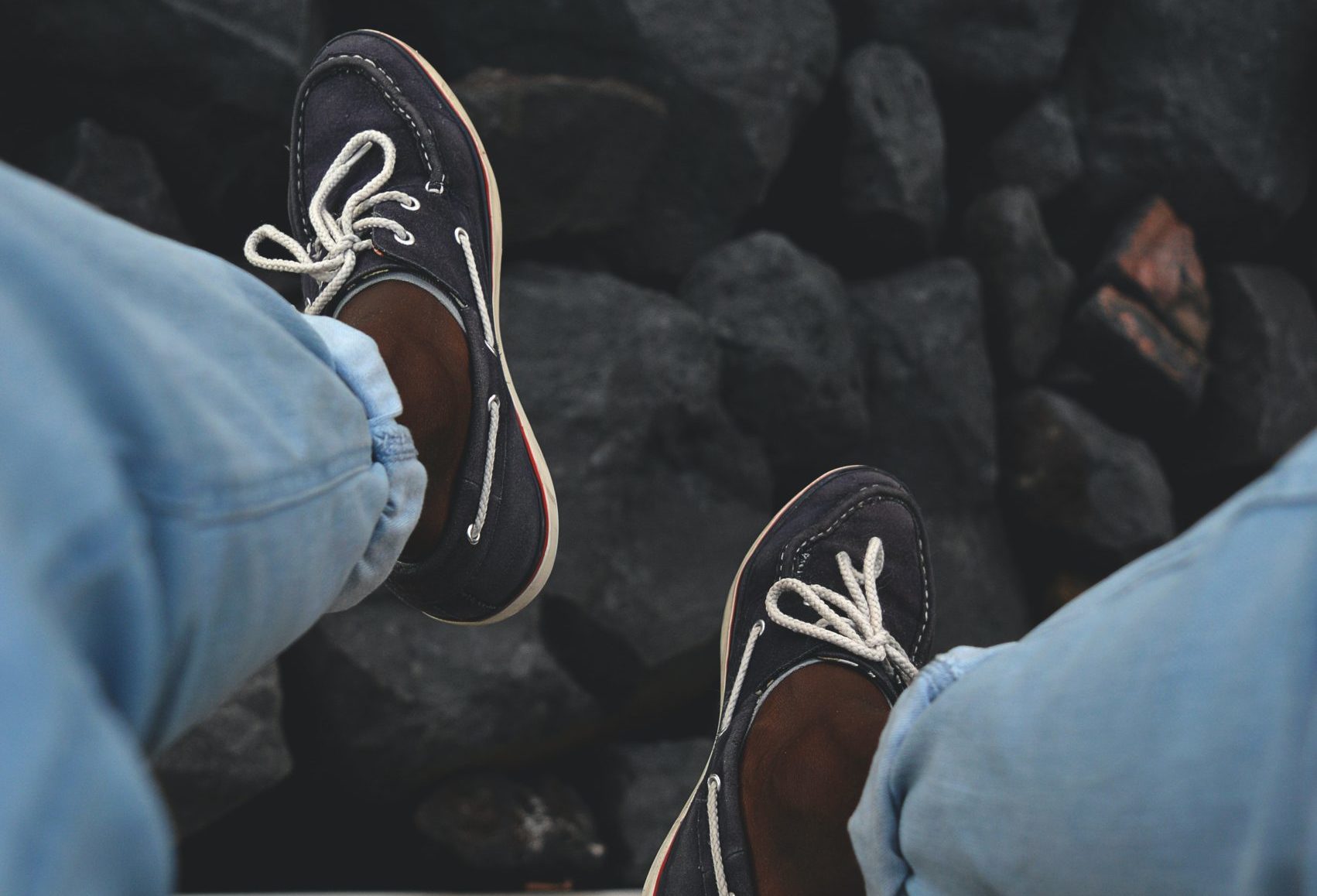 There's good reason, too. In today's environment, where styles not only change from year to year but season to season, boat shoes have become synonymous with summer trends. They are a must-have in any wardrobe!
Here, we've aggregated our authoritative list of the 15 best boat shoes for men, followed by a shortlist of environments where each shoe excels. Since their introduction to the market 85 years ago, boat shoes have evolved to the point where everyone can find the style and comfort features he's seeking. From breathable with good looks, to functional with high-durability construction, these are arguably the best boat shoes for men on the market today.
Swims – The company that brands itself as having reinvented the classics carry several variations of its modern-looking and comfortable boat shoe for men. The brand has reimagined a traditional classic and modernized it in a way that appeals to the eye as well as the foot. Visually, the Swims boat shoe for men is unmistakably a Swims product: modern and stylish. From a practical standpoint, it is also unmistakably Swims; the brand's EVA insole ensures comfort. Its ventilation system makes it breathable and washable. This boat shoe ensures your feet can and will stay healthy. If neither of these features is appealing enough on its own, the Swims boat shoe for men has a highly functional non-marking outsole that keeps men grounded. For the discriminating man who appreciates a modern twist on an old classic while enjoying all of the modern-day comforts that come in a shoe, the Swims boat shoes for men are a top seller.
Saks – The Saks Fifth Avenue Collection by Magnanni boat shoe oozes the high-end qualities of traditional fashion. With its square toe, the Saks boat shoe has a lot of character. From its braided loop cross-strap to its available two-tone vintage leather, this shoe will bring a smile to any man's face. What's more, the Spanish-built boat shoe delivers more than just style; it ensures a quality that will last.
Sebago – The Portland, Maine company that created Dockside boat shoes in the seventies, has evolved tremendously from its roots as a trend-setting, top-quality shoemaker. Today, the company lists several boat shoes, from its original Docksiders to the more-modern Clovehitch models, and all come in a wide array of colors and combinations. Although traditionalists might argue that Docksiders are the way to go, we recommend the brand's updated and more-modern Sebago Portland Spinnaker boat shoe. This model can be customized in a more traditional grey and black, or (our preference) the catchier red, white, and blue. Manufactured in full-grain leather, the Sebago Portland Spinnaker boat shoe is more than just a fine-quality, comfortable boat shoe. It reflects the old-school style combined with the modern-day comfort and safety requirements that men have come to expect and appreciate from a company like Sebago.
Sperry – A lot of men recognize Sperry Top-Siders as the original boat shoe (don't believe them? A quick Wikipedia search reveals that Paul Sperry invented the style in 1935). For men caught up with sporting only authentic or original products, the lineup of Sperry boat shoes is the best option. Affordable and rich in its history, Sperry also understands the importance of safety and comfort. In fact, way back in 1935, founder Paul Sperry designed and developed the market-leading "siping" for his boat shows. Siping is a lot like treads on a vehicle's tires. Here, the Sperry boat shoes' siping incorporate water-wicking qualities into the soles to minimize slippage on wet surfaces. For the traditionalist, go for the Sperry Authentic Original boat shoe, which comes in a variety of color combinations, including the original edit. For those seeking a more modern twist, try the brand's hugely successful BIONIC variation.
Kenneth Cole – As the company that bills itself as "engineered for city living," Kenneth Cole has adapted the boat shoe in many ways, both from a fashion and a functionality standpoint. That means shoe aficionados will find exactly what they need from the Kenneth Cole boat shoe lineup. Whether slip-on, lace, modern, or traditional variants (or any combination thereof!) appeal to a man, Kenneth Cole offers it. And in a multitude of colors and combinations at that. But we recommend the Ankir boat shoe model. It will appeal to those seeking the traditional design cues with the benefits of modern-day comfort and construction quality. Available in four colors, this slip-on boat shoe for men is among the most comfortable on the market.
Brooks Brothers – It makes sense that the oldest men's clothier in America would carry its own boat shoes. The leather boat shoes by Brooks Brother's beam with an air of tradition, all while highlighting the brand's impeccable heritage design cues. The Brooks Brothers Boat Shoes come in a navy and white, as well as contrasting brown and black variations. For someone who likes looking good while paying tribute to a brand like Brook Brothers, either style will do. However, we recommend the timeless navy and white boat shoes. It's equally suitable for an evening out or on the deck of a sailboat.
Florsheim – A shoe company that started on the shores of Lake Michigan (Chicago), Florsheim boat shoes are an updated version of a timeless classic, with the brand's reputation for comfort and quality as a standard feature. Florsheim lists several models of boat shoes like the traditional Nevis, as well as more modern variants like the Great Lakes and Lakeside models. We prefer the laced Edge mode which can be purchased in navy and khaki as the outsole ensures sturdiness and confidence, and the insoles are unmistakably Floresheim in their comfort characteristics.  
Clarks – As a brand with a heavy presence in the dress shoe arena, Clarks has come to be known for its enduring comfort, which certainly remains the case with its boat shoes. As with many other brands, Clarks offers a handful of different models, each with a slightly different but modernized twist on the traditional design. Since any Clarks boat shoes will deliver on comfort, choosing a top model isn't easy. However, the Clarks Abode Free boat shoe for men would be the smart choice here. With nubuck uppers and leather accents, this slip-on shoe can be worn without socks, making for a useful ally on those summer days. Combine that with the Clarks Cushion Max technology, and even on the longest of summer days, your feet will thank you. 
Toms – This popular brand offers a boat shoe in its Dorado model. Buyers can get these Toms boat shoes in leather or canvas, but we recommend the canvas version, which is both lightweight and breathable. The laces make for an eye-catching style, but with Toms being a leader in the slip-on segment, don't think that tying those laces will slow you down in getting the most out of these comfortable boat shoes.
Timberland – Built on a reputation of heavy-duty durability and design, Timberland boat shoes deliver. With a handful of models in its lineup, the Timberland Piper Cove Boat Shoe is a laced, 100% model that incorporates some of the brand's quality design and trademarked comfort cues. Although other variations are available in the Timberland lineup like the hugely popular Two-Eye, the Piper Cove Boat Shoe for men is designed to deliver the longevity that men have come to expect from the brand, whether they are lounging on a boat deck or hiking along the rugged terrain of some virgin shore.
Dockers – several options and models, but we recommend the Vargas and Castaway models. With leather construction, they make for all-day comfort (just don't get them wet). The flexible rubber soles allow for excellent comfort and grip. 
Old Navy – Although Old Navy has become a popular shopping spot for kids and teens, it doesn't mean that men can't indulge in low-cost and high-comfort offerings. That's certainly the case with the Old Navy Boat Shoes for Men. Available in a trio of traditional colors – navy, tan, and gray, these faux-leather boat shoes deliver a traditional design – both the upper and outsoles are recognizable as the components of a stylish boat shoe – as well as the solid comfort that one expects from Old Navy. For under $50, the Old Navy Boat Shoe makes for an inexpensive addition and update to any man's summer wardrobe.
Rockport – For a shoe company that has established itself among the elite in men's dress shoes, the Rockport Perth Boat Shoe for Men delivers comfort and functionality for those seeking a premium shoe. The full-grain polished leather construction and carefully designed, comfortable insole are unmistakably Rockport. In contrast, the design, leather laces, and overall contour are unmistakably boat shoes. For the discriminating man, the Rockport Perth boat shoe will not disappoint.
Skechers – A list of shoes based on comfort and design would be incomplete without mentioning Skechers. With a long list of models, the iconic brand known for its use of premium materials and modern designs has adopted the boat shoe to meet the demands and expectations of its discriminating client base. With Skechers, there are several variants available, many of which are loafers with added design cues. However, its Moreway models are very clearly unique and unmistakable boat shoes. With several colors and material combinations available, we recommend the Skechers Moreway – Walken Boat Shoe for men. As with all of Skechers' shoes, the Walken incorporates the brand's signature comfort traits like air-cooled memory foam and Goga Mat Arch insoles and its rugged and durable outsoles. The Skechers Moreway – Walken Boat Shoe for Men ranks among a top pick in the comfort department.
Tommy Hilfiger – From the iconic American designer comes a variety of different boat shoes for men. Although several versions are available, here we recommend the Tommy Hilfiger Bowman Boat Shoe for Men. This model incorporates the same comfort features used in its other shoes. Still, it delivers that technology in a traditional design. With leather construction and rubber soles, the Bowman is available in four pleasing color combinations. With Tommy Hilfiger, design always catches the eye, and the Bowman Boat Shoe for Men is no exception, regardless of the colors or combinations chosen. 
Whether you're looking at buying boat shoes for yourself or someone you love, consider more than just the comfort qualities and design appeal. While all of the shoes we've highlighted on this list will make anyone happy in those two areas, the environment where the owner and his shoes intend to spend most of their time is equally important. For example, given the popularity of boat shoes, many executives might opt for a pair to wear around the office. In this environment, the purpose of the boat shoe is considerably different from the shoe someone might choose to wear while lounging on a sailboat over the weekend or tricking through uncharted trails in the wild.
To help make any purchase decisions easier, we've provided three of the more obvious environments where boat shoes spend their time, and included a shortlist of which shoes strive best in those places:
Business Casual, Office, Workplace – Dry Environment – In a relaxed or formal work setting, consider the Rockport, Clarks, Saks, Florsheim, and Brooks Brothers. These shoes carry unique visual appeal and are typically worn with socks. Most of these shoes will not see much terrain work, and they fare best in dry spaces.
Light-duty Outdoors – Mostly Dry Environment – Whether on the deck of a boat or the deck at the back of one's house or cottage, consider the Tommy Hilfiger, Old Navy, Toms, Kenneth Cole, Dockers, and Skechers. These shoes are built for light-duty outdoor wear, worn with or without socks, and won't leave the person wearing them feeling guilty if they get a little dirty.
Heavy-duty Outdoors – Wet or Dry Environment – If boat shoes are going to see some action, consider these high-durability shoes that combine style and wet or dry ruggedness. Swims, Timberland, Sebago, and Sperry. All of these shoes are built and designed to withstand heavy-duty wear in a variety of environments.
Regardless of the environment, boat shoes for men have become a summer fashion essential in a man's wardrobe.