A blazer is a gentleman's wardrobe essential. If you don't own one (or two), you're missing out on a versatile attire that can come with you on business meetings, on an evening out for drinks, and on fancy dates.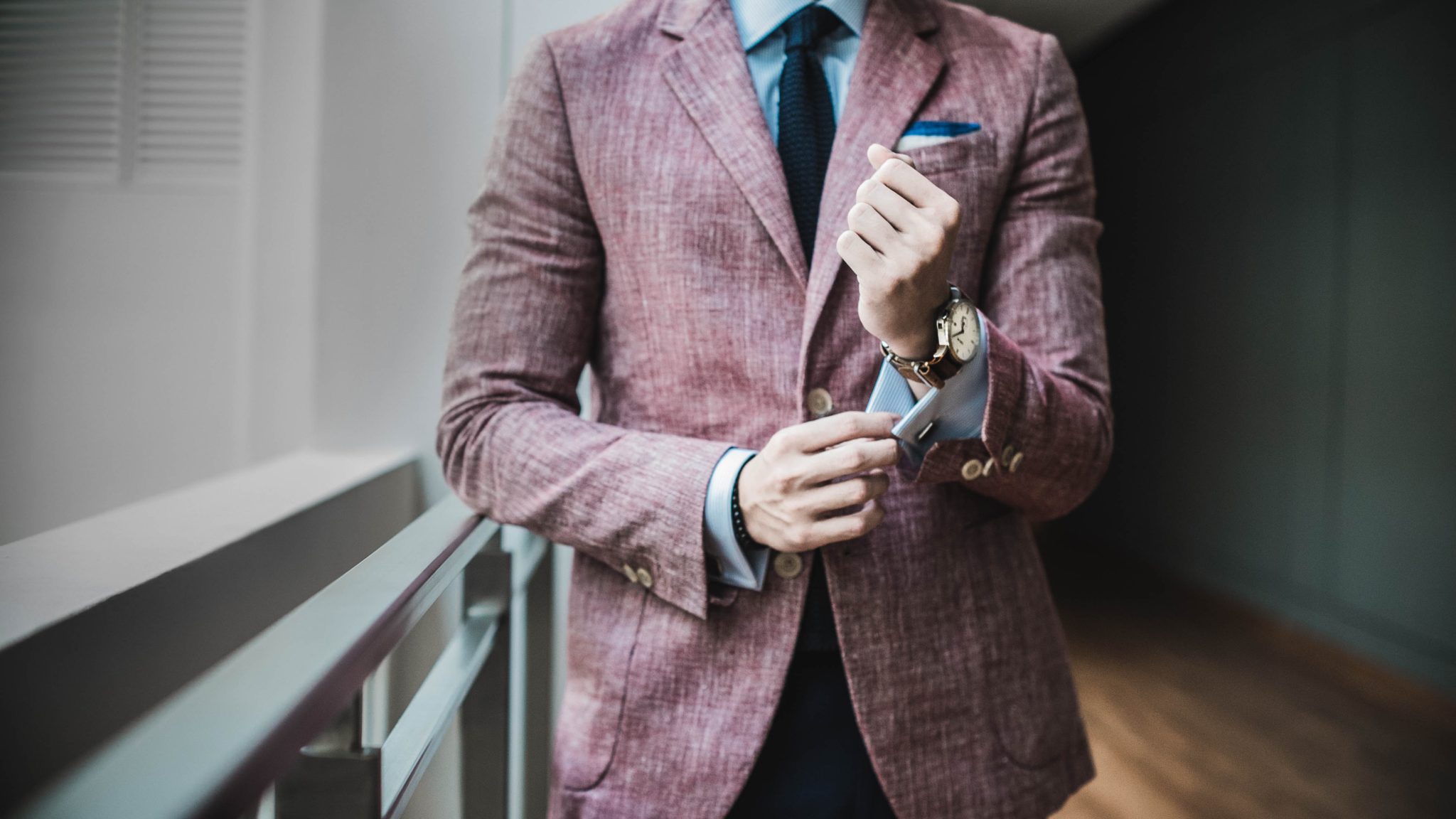 You can easily elevate your outfit by simply adding this outerwear that is both classy and comfortable. Whether you want to dress it up with a crisp white shirt and dress pants or dress it down with a polo shirt and khaki chino, blazers can help your look come off as effortlessly polished. So, when in doubt, just add a blazer.
What is a blazer?
A blazer resembles a suit jacket but is tailored to look more casual. They typically have unstructured shoulders and are not meant to be worn with similar dress pants.
Blazers are often made with fabrics such as cotton, linen, wool, or tweed. They come in either a structured or an unstructured design. Structured blazers are often sharper with shoulder pads and are meant to be layered over formal apparel. On the other hand, unstructured blazers are flexible with very little or no shoulder pads and look best when paired with jeans or chinos.
Can you wear your suit jacket as a blazer?
Suit jackets are typically made with delicate fabrics that pair well with other apparel of the same material. While there are no hard and fast rules to fashion, it's best to wear your suit jacket the way it was intended: with an identical dress pant.
Your whole outfit can look more put-together if you invest in a blazer or a sport coat to take your casual-comfy style to another level.
Are blazers and sport coats the same?
There are a few subtle differences between a blazer and a sport coat, which might not be as apparent. Technically, in a jacket hierarchy, the suit jacket comes first; blazers come second, followed by sport coats.
While suits are generally worn in a highly formal gathering, blazers can take a notch down to keep the formality going but with an added comfort and style. A sports coat, with its rugged look and a looser fit, is recommended for less dressy, casual occasions where you want to look put-together.
Now that we've covered the basics, here are the ten best blazers and sport coats for men.
1. Banana Republic Slim Italian Knit Blazer
The Banana Republic Knit Blazer is perfect for donning on a chilly spring evening or an autumn afternoon. The ultra-soft blazer is made from specially knit recycled wool-blend fabric, sourced from Italy's oldest mill, Mario Belucci. Pair your navy Banana Republic Italian Knit Blazer with a grey turtleneck, dark jeans, and suede boots for a style statement that is both warm and fashionable.
Product Details:
The blazer sports a notched lapel with a two-button closure design. It comes with three perfectly sized exterior pockets and three interior pockets, two of which have flaps to keep from catching on the shirt. It has a butterfly lining at the back with fully lined sleeves for natural on and off and a single vent. This blazer runs small, so we recommend you size up when getting it.
Fabric and Care
Color: Navy
Fabric: 80% recycled wool, 20% nylon.
Wash: Dry clean Only
Buy it here: https://bananarepublic.gap.com/browse/product.do?pid=512829002
2. U.S. Polo Assn. Men's Wool Blend Sport Coat
This wool-blend sport coat by U.S. Polo Assn. is loved for its vintage patch-elbow style that adds some fun maturity to the classic apparel. The Blue Check design looks great over a white shirt without a tie, grey dress pants, and quarter brown brogues. You also get a selection of seven other classic colors to choose from to better match your style. These blazers are perfect for work or a lunch meeting with your business colleagues.
Product Details:
The sport coat features a modern fit, two-button closure design and four nonfunctional cuff detail. It has a chest welt pocket and two flap welt pockets on the front. In the interior are four more pockets. Two vents on each side and the notched lapel adds to the blazer's classic style.
Fabric and Care
Colors Available: Brown, Blue Donegal, Brown Herringbone, Gray Donegal, Grey, Plaid, Blue Check
Material: 55% Wool/45% Polyester
Wash: Dry clean only
Buy it here: https://www.amazon.com/U-S-Polo-Assn-Herringbone-Regular/dp/B014PGOU5K
3. Polo Ralph Lauren Doeskin Blazer
It isn't surprising for a Ralph Lauren blazer to make it to the list as they are reputed for their traditional and classic jackets. This blazer is made of doeskin wool, developed with Italian weavers, to create a soft fiber that reduces shine. The sharp-looking, structured coat will set you back a few hundred dollars, but it may last you for years. You can dress it down with jeans, but the blazer looks best when paired with a light-colored striped dress shirt, khaki chinos, and loafers.
Product Details:
The blazer features notched lapels with a two-button gold-tone silhouette. The cuff has four decorative buttons. It has a chest welt pocket, two front waist welted pockets, and two interior chest pockets. The blazer is fully lined and has a double vent.
Fabric and Care
Color: Navy
Fabric: Wool
Wash: Dry clean only
Buy it here: https://www.ralphlauren.com/men-clothing-sportcoats/polo-doeskin-blazer/264003.html
4. Gap Casual Classic Blazer in Stretch
This Gap blazer is just what it says it is: casual and classic. This twill blazer has a natural, lived-in look, so making people assume you have had it for years, which you probably will. Pair it up with white tees, dark jeans, and white sneakers for a look that cannot go wrong. You can also add some sunglasses, to perfectly nail an eternal dapper style that can easily take you from a night out with your boys to a lunch with your date. The best part, though, has to be the machine-washable fabric.
Product Details:
The sport coat features a double-button design, notched lapel collar with long sleeves that have button cuffs. It comes with a welt pocket in the chest, two flap welt pockets at the lower front, a rear vent, and one interior pocket.
Fabric and Care
Colors Available: Iconic Khaki, Bracken Olive, Moonless Night
Material: 98% Cotton, 2% Lycra
Wash: Machine Wash
Buy it here: https://www.gap.com/browse/product.do?pid=356216022
5. Peter Millar The Excursionist Flex Blazer
If you wish to own a blazer that speaks volumes and makes an impression on anyone who lays an eye on it, you can't go wrong with the Peter Millar Excursionist Flex Blazer. Consider this merino wool-silk-elastane blend jacket an investment that will pay off in style and durability. The blazer is on the expensive side, but the brand offers an end-of-season sale, which can be quite a steal. No matter where life takes you, this blazer can make you look great and give off an aura of sophistication. Layer it with a crisp white shirt, dress pants, and oxfords or over a thin sweater for added warmth in the cold season.
Product Details:
The Excursionist Flex Blazer is made from a wool-silk blend cloth sourced from a prestigious mill in Italy. The 1% elastane helps add a little stretch for a well-tailored fit. The blazer features a lapeled notch, barchetta chest pocket, and smoked mother-of-pearl buttons. It has two vents on each side and multi-pocket storage, including interior besom pockets, pen pocket, and phone pocket.
Fabric and Care
Color: Barchetta
Material: 93% Loro Piana Merino wool / 6% silk / 1% elastane
Wash: Dry clean only
Buy it here: https://www.petermillar.com/p/the-excursionist-flex-blazer-me0rj00.html
6. Bonobos Jetsetter Slim Fit Knit Cotton Sport Coat
Bonobos makes some of the best blazers for men, with no exception to this one. The Bonobos Jetsetter Knit Cotton Sport coat is designed to fit you perfectly and hug your body in all the right places to enhance your silhouette. The medium grey jacket is perfect for work or a formal event paired with a textured or plaid dress shirt, dark-colored dress pants, and a pair of black derbys.
Product Details:
The blazer is made of knit-cotton fabric with an eye-catching texture and classic notched lapels. There are four-button cuffs, one chest pocket, two patch pockets, and two interior pockets. The sport coat is fully lined with two vents on each side.
Fabric and Care
Color: Medium Grey
Fabric: 100% cotton
Wash: Dry clean only
Buy it here: https://shop.nordstrom.com/s/bonobos-jetsetter-slim-fit-knit-cotton-sport-coat/4405653?
7. Ludlow Slim-fit unstructured suit jacket in cotton-linen
The Ludlow slim-fit unstructured suit jacket is perfect for a warm spring day or a summer evening. The unpadded coat doesn't wrinkle like most linen jackets do, thanks to the cotton blend. Even though the blazer is technically meant to be paired with a suit pant in a similar color, there are unlimited ways to don it on, making it a versatile addition to your wardrobe. Pair it with a light-colored polo shirt, a pair of chinos and oxfords for a spruced-up style or dress it way down with a crisp white tee-shirt, shorts, and sneakers.
Product Details:
The suit jacket has a two-button closure design, a notched lapel with a chest pocket and two welted pockets at the lower front. Two vents on each side and nonfunctional buttons at cuffs add to its sharp look.
Fabric and Care
Colors Available: Light Grey, Deep Water, Navy
Material: Cotton/Linen
Wash: Dry clean only
Buy it here: https://www.jcrew.com/us/p/mens_category/suits_tuxedos/ludlowunsuit/ludlow-slimfit-unstructured-suit-jacket-in-cottonlinen/F0127?
8. Suitsupply Blue Check Havana Jacket
This blue check Havana jacket by Suitsupply is perfect for men who are bold and classy. Despite its eye-catching style, it does not come off as too flashy. It is meant to be worn by a fashion-forward guy who likes to make bold, fashion choices. The wool blend is warm enough to wear as a transition outfit between seasons, especially in winter, when you can use some color on your cold-weather wardrobe. Style it with a black polo shirt, light-colored linen pants, and semi brogue oxfords to make the best impression.
Product Details:
The blazer sports a strong check pattern with a two-button, single-breasted design. Lapels are notched, the shoulder is natural, and the breast pocket is boat-shaped.
Fabric and Care
Colors Available: Blue Check, Burgundy Check
Material: 75% Wool, 10% Silk, 10% Polyamide, 5% Linen
Wash: Dry clean only
Buy it here: https://suitsupply.com/en-np/men/jackets/blue-check-havana-jacket/C1334I.html?
9. Grayers Newport Stretch 3 Button Blazer
If your style is more casual, you'll love this sport coat by Newport. This versatile blazer is enzyme-washed, so the fabric is soft from the very first wear. Because of its relaxed style, you may not be able to wear it to work unless it's a casual Friday, although, you can dress it up with an untucked shirt, dark jeans, and oxfords. This blazer looks best when paired with faded jeans, a dark t-shirt, and a pair of Plimsoll sneakers.
Product Details:
The blazer has a classic three-button closure design with a notched lapel. The back is half-lined, and the sleeves have a full-line that can slide easily over other layers, especially in winter. The blazer comes with added features of two drop-in pockets in front, one chest pocket, one internal chest pocket along with button-through cuffs.
Fabric and Care
Colors Available: Dusty Olive, Grisaille Blue
Material: 98% cotton, 2% spandex
Wash: Machine Washable
Buy it here: https://huckberry.com/store/grayers/category/p/61617-newport-stretch-3-button-blazer
10. Old Navy Built-in Flex Blazer
This Old Navy blazer is both stylish and budget-friendly. The jacket has been made with 3% spandex, which wraps around your silhouette to create a slim fitted look that is comfortable to wear all day. It is available in three colors, all of which are perfect to wear to a business luncheon or for drinks with your buddies at your favorite bar. The brand also offers regular, big and tall sizes for those struggling to find a well-fitted jacket. Pair one of these blazers with a light-colored tee, faded jeans, and suede boots to hit a ten on all style quotients.
Product Details:
The blazer has a two-button design with a spread collar and a notched lapel. Sleeves have three nonfunctional buttons on the cuff along with a welt pocket at chest and two patch pockets in front.
Fabric and Care
Colors Available: Lost at Sea Navy, Light Gray, Gray Plaid
Material: 97% cotton, 3% spandex
Wash: Dry clean only
Buy it here: https://oldnavy.gap.com/browse/product.do?pid=289158002