Remember back in elementary school how cool it was to go pick out a new backpack? Maybe one with some ninja turtles or Spider-Man, something you loved and showcased your personality. Some kids leaned toward the messenger bag and though it could be cool like Indiana Jones's, everyone knew those kids just weren't as comfortable with a messenger bag compared to those with backpacks. Backpacks were awesome back then whether a new one was purchased every year or those ninja turtles got used year after year. And maybe it hasn't changed that much. Sure, most men have traded in ninja turtles for cool neutrals or sleek black, but a backpack is still the go to bag for guys.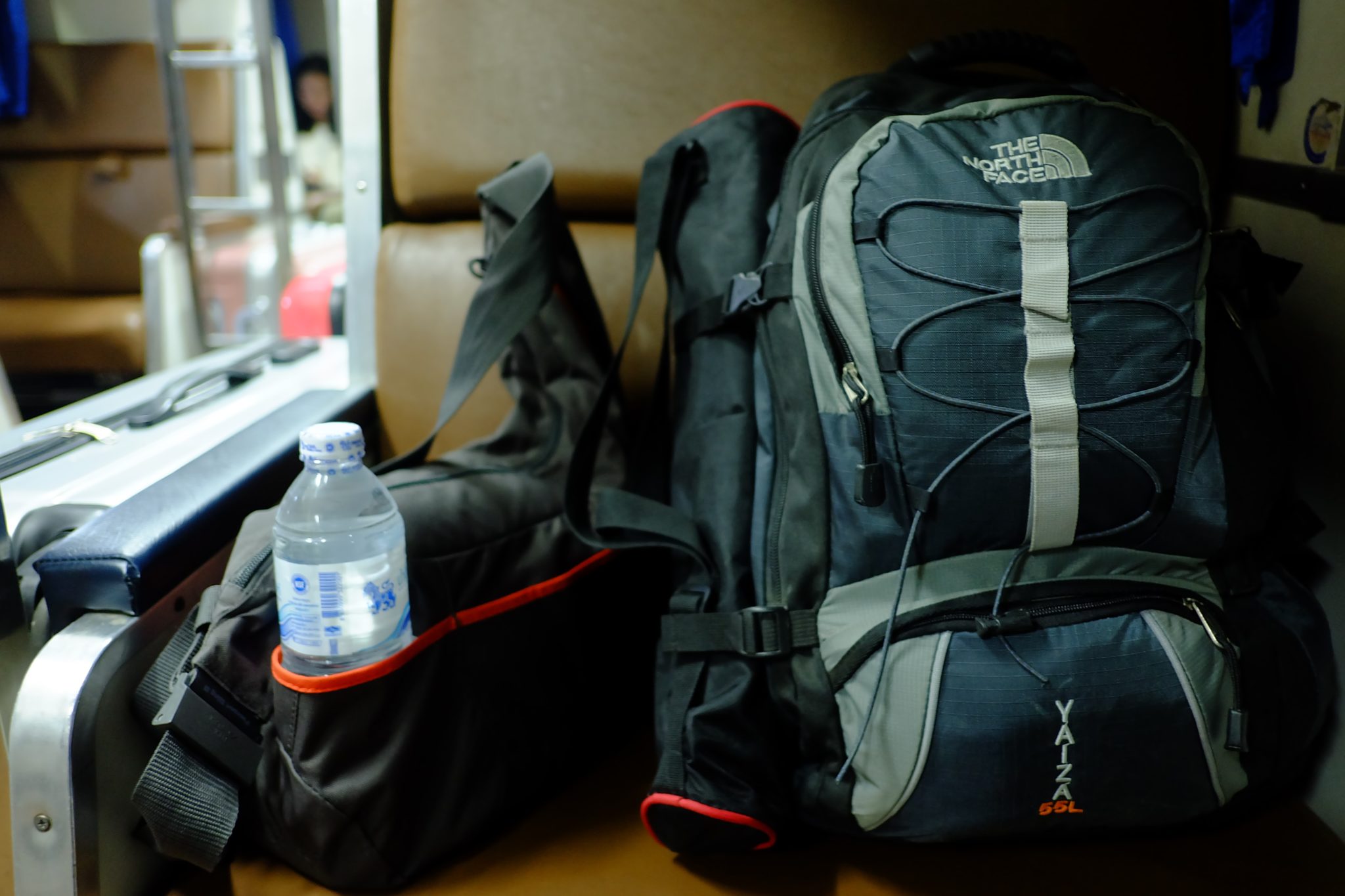 As NPR says, All backpacks seem to represent their owner. Almost like an extension of their personality.
Backpacks aren't just for students or hikers anymore, though these groups still remain a big market. But the backpack has taken on an everyday urban use for the modern guy. That formal briefcase is a bit archaic these days, and it's not unusual to see even the most well-dressed guy toting a backpack on top of his suit. Everything has gotten more casual from suits to shoes, and backpacks vibe with that look. Backpacks show up in airports, doctor's offices, cafes, and gyms. Not just the students have them in school anymore; backpacks are the go to for teachers, too.
Wherever people are, there are going to be backpacks. So, honestly, every guy needs a good one, just like in elementary school. Don't be like that kid stuck with the uncomfortable messenger bag. Finally, the benefits of backpacks for guys have been recognized. And here are some reasons why:
The Benefits of a Great Backpack
They provide organization: Think pockets, compartments, dividers, sections. Backpacks have all the nooks and crannies that guys need if they want them. Whatever goes with you will have a spot. A backpack can help even the most scatter-brained guy stay organized, so when he needs his cash or card, he's going to know just where it is. This makes daily life a bit easier and more convenient.
They provide safety: Backpacks not only keep the wearer safer than carrying something in their hands, but they keep what's in them safe, too. Rather than holding a brief case, backpacks allow free hands. That's safer in and of itself because things are easier to grab or tackle if need be. Also, the stuff in the backpack remains safe. It's hard to grab a backpack off of a guy's back or dig into zippered pockets unknown, but stealing something out of his hands is not so tough.
And a backpack provides protection to its contents, too. All those pockets and compartments lend safekeeping to passports, documents, laptops, whatever is in there. And if the backpack is waterproof or padded, it adds that extra layer of safety.
They are comfortable: Not many people would rather carry a heavy bag in their hand than use a backpack on their back. Backpacks keep the weight of the pack evenly distributed and with comfortable straps, the backpack can be worn all day without tired shoulders and sore backs. They are way better for muscle and spine health than a one-sided bag.
They are cool: No longer just for the nerdy guys or nature lovers, backpacks look cool on everyone. With so many different styles, sizes, and fabrics, backpacks have become a cool, essential accessory. Whether you use them for work, for fun, for hobbies like working out or photography, or just like to keep snacks and extra water on hand, backpacks are the choice bag for most guys these days.
For the guy looking for the perfect backpack, think about some of these options and considerations, and then let's do a little shopping!
Things to think about when choosing a backpack
What's the main purpose of it? Is this backpack for work, play, weekends, travel, hiking? Does it need to hold work documents, medical equipment, a change of clothes, a laptop, hobby equipment? Consider how it will be used and the purpose before making a choice.
What about pockets? Do lots of small pockets work or is that just asking for trouble. How about a few divided compartments? And inside or outside compartments and pockets? If clever storage is your game, find a backpack with cool pockets and nooks and crannies. If this stounds stressful, go for the wide, open spaces.
Consider color. Is this going to be a professional backpack or one for weekend getaways? Black or gray is always acceptable, lighter colors though neutral, may show more dirt. Consider again how this pack will be used, where it's going to go, and its daily life. Then think about color.
How electronic friendly does it need to be? Does it need a padded compartment for a laptop, a charging space to run a cord through, and some safe areas with easy access for a phone?
What's the budget? Backpacks run the gamut of price. From low cost to high end, there is a backpack for every guy's budget. The question is, what is that budget, and it's smart to decide on it upfront.
This is a big one. The more ergonomic the pack is, the better. Not only for day to day, but also for long term health. Consider how long the backpack will be worn and, again, where is it going every day? Do you walk to work or ride a bike? Take a train or drive? Think padded packs and comfort straps if comfort is an essential factor.
Shopping Tips
We are almost to our essential 10 Best Backpacks for Men, but before getting to specific packs, here are some tips on shopping for them.
Try the backpack on and walk around with it. If it's going to be ordered, spend a little time with it on at home when it arrives. If it's not comfortable in these settings, don't do it.
Put some stuff in it. Bring those items to the store and fill her up. Or when it arrives in the mail, don't just put it on, put it on filled up. Give it a trial run to see how well it holds all the essentials. Then see how comfortable it is.
Think about size. Big guys can wear bigger backpacks. Smaller stature guys should go a little smaller so they don't look overwhelmed by the backpack. Trying it on lets everyone see how it looks in addition to how it feels.
10 Best Backpacks by Category
Best Roll-Top-Style Backpack
Bellroy Shift Backpack $169.00
For the guy who likes something a little different, this cool roll top style backpack is the one. The elegant exterior holds a ton of stuff, and the minimalist design is super stylish. With features like padded laptop storage, quick access, water-resistant side zip pockets, multiple closure levels for expandable storage, water resistant material, and a unique slide hook that makes for easy and secure closure, this pack has it all. With a removable sternum strap it's also super comfortable for all day wear. This pack is a great choice for around town, a daily commute, or a weekend getaway, and its 22L capacity will fit much more than anyone might think. The hardest decision will be which cool, but gently understated, color to get.
Best Bang for the Buck Backpack
The North Face Jester Backpack $69.00 – This guy makes the list with its great price, great look, and great durability. Perfect for the student or weekend traveler, it's also awesome to store camera equipment or lug to work. Interior zipper pockets, quick access organization, and a double handle make it easy to get into and skip the rummaging. The slim profile also stands up on its own. Plus, this pack is one that has an endorsement from the American Chiropractic Association. Whether the choice is gray, black, navy or another great color, this backpack is a great pick for the price.
Best Rainy Day Backpack
Hunter Original Top Clip Backpack – Rubberized Leather $295.00
We know Hunter for exceptional rainboots, this backpack has the same great water-resistant benefit. This highly water-resistant rubberized leather is the same protective innovation from Hunter. A sleek look and a spacious design allow for easy and safe storage of a laptop and other items, keeping everything dry and safe. The back straps are padded and adjustable for added comfort, and the lining is made from 100% recycled polyester. Use it for work or play and watch the compliments roll in.
Best Sturdy, No Frills Backpack
Peak Designs Everyday Backpack $259.95
This beloved design is built around access, organization, expansion, and protection. The 20L size is great for day to day activity, work, or hobbies. Three interior dividers and multiple pockets keep everything organized without frills. It holds up to a 15" laptop so it's perfect for work or heading to the coffee shop. Externally, this pack has expandable side pockets for water bottles or camera gear, and no extraneous hanging straps to get caught anywhere. The fact that its exterior weatherproof shell is made of 100% recycled material makes it all the better. And if the 20L is not quite big enough for everything, jump on up to the 30L and always have plenty of space. Neutral colors of black, midnight, charcoal, and ash all look amazing on this sleek pack.
Best Versatile Backpack
Oakley Kitchen Sink $130.00
This backpack is ready for anything. Oakley thought of everything here, and whether it's going on an adventure or daily commute, its roomy and cool. Hooks and pockets adorn the outside so there's a spot for everything inside or outside. The cool organizational pocket has room for every essential from pens to phones to flashlights. No more searching for lip balm. The fabric is an abrasion resistant material so its rugged enough to go anywhere, and the padded side access panel is perfect for a laptop. Mesh lined shoulder straps keep the wearer cool and comfortable. And, it looks super cool.
Best Minimalist Backpack
AER Fit Pack $135
This great backpack made of durable tech nylon fabric has plenty of room to stuff everything in, keeping it organized and dry. It has a simple exterior zip pocket and a two-carry handle with adjustable shoulder straps. Commuters love it with the external shoe compartment. This compact, durable, minimalist backpack is a great choice for the guy who likes to keep it simple and doesn't need the bells and whistle.
Best Business Travel Backpack
Nomatic Backpack $249.99
This innovative backpack includes over 20 features and expands from 20L to 24L. The strap system allows the wearer to go from backpack to briefcase in case a more professional look is needed. Some of those 20+ features include magnetic water bottle pockets, RFID safe storage, sunglasses case, and full perimeter zipper. The material is durable and water resistant; it's going to hold up to whatever it goes through.
Best Canvas Backpack
Filson Ranger Canvas Backpack $245.00
We've included a lot of sleek black and gray backpacks, but this neutral canvas backpack deserves a spot on the list. This twill with leather trim bag calls up some vintage nostalgia in a modern way. It's functional, sleek, and charming all at once and is perfect for every day use or as a travel piece. A drawstring helps keeps items tightly stowed no matter how full (or not full) it is. The dark leather straps on the top-loading storm flap look awesome and keep everything snugly inside. Clearly, we aren't the only ones who love this canvas backpack; it's a bit hard to find, so snag one if you can find it.
Best High-End Leather Bag
Lotuff Leather Backpack $1,300
You know we had to, right? This is not the bag for the budget conscious, instead, it's perfect for the guy who loves the finer things and isn't afraid to show it. This sleek leather backpack is as close to a briefcase as we dare go. It's handmade in America and features solid brass hardware and buckles. If the profession calls for tailored suits and limos, this is the bag to go with it. Ummm, we mean backpack. Yet, it works for bike rides or weekend hikes, too. And like any good leather, it's going to age in a lovingly, one of a kind, gorgeous way. This is the bag that will never be out of style.
Best Designer Backpack
Gucci GG Black Backpack $1,980
Another great high end find, the Gucci backpack, makes the list, too. This luxury brand features this delicious, slim backpack with the classic red and black striping on top of super soft GG Supreme material made from microfiber fabric. For the guy who wants to channel some Harry Styles and wear this with some great fitting jeans, a creamy sweater and some driving loafers, perhaps driving a convertible along the Amalfi coast, this is it. It's also perfect for the daily commute or romp across town.
Honorable Mention
Not to leave out these two great bags, check out the honorable mentions that came so close to making this best 10 list.
Fjallraven Kanken Backpack $130.00
Sure, plenty of kids and teens sport a smaller version of this bag, but it's popular for a reason. This backpack appeals to the minimalists, the ones who can get by without a fully stuffed big bag. Yet, this cool backpack with the iconic emblem can hold a laptop in a separate padded compartment and has plenty of room for other essentials. In fact, this bag got its start because the Swedish Guide and Scout Association was trying to relieve back pain in children as they usually wore their packs on one shoulder. So, if it's comfortable enough for school kids, it's going to work on guys, too. It also comes in so many cool colors that you can step away from classic black. Or stick to it if that's your calling. Ox Red or Autumn Leaf sure makes a statement, though.
MIS Backpack $145
This cool military inspired backpack sticks to the mission of Make It Simple, but it doesn't skimp on high quality or cool looks. This 18L backpack can hold a laptop and all the gear and looks awesome traversing the city, tossing groceries in, or hiking in the mountains. The Olive Drab and Coyote Tan stand out to us, and the flawless yet minimal detail make it an exceptional to own and it will last quite a while.
Summing Up the Best Backpacks
Yes, everyone has what they like in a backpack. Some go for that luxury high end bag while others want the minimalist piece that will hold up under daily use. Whether the goal is a daily work bag, a weekend or travel bag, or an all in, toss your groceries and the dog leash in and go backpack, there's one for everyone.
Check out materials, price range, comfort, look, and what it can hold. We hope this list helps and that your perfect bag is on it.