There's more to a kitchen than just a place to prepare meals. It harbors a melting pot of emotions. From greed to lust, guilt, passion, pleasure, and pain, it's the heart of the home. It can help strengthen bonds, support independence, and even build lasting legacies. As such, it can be quite a dicey affair to stock up on kitchen essentials. The sheer myriad of kitchen product choices can be exasperating for a beginner chef.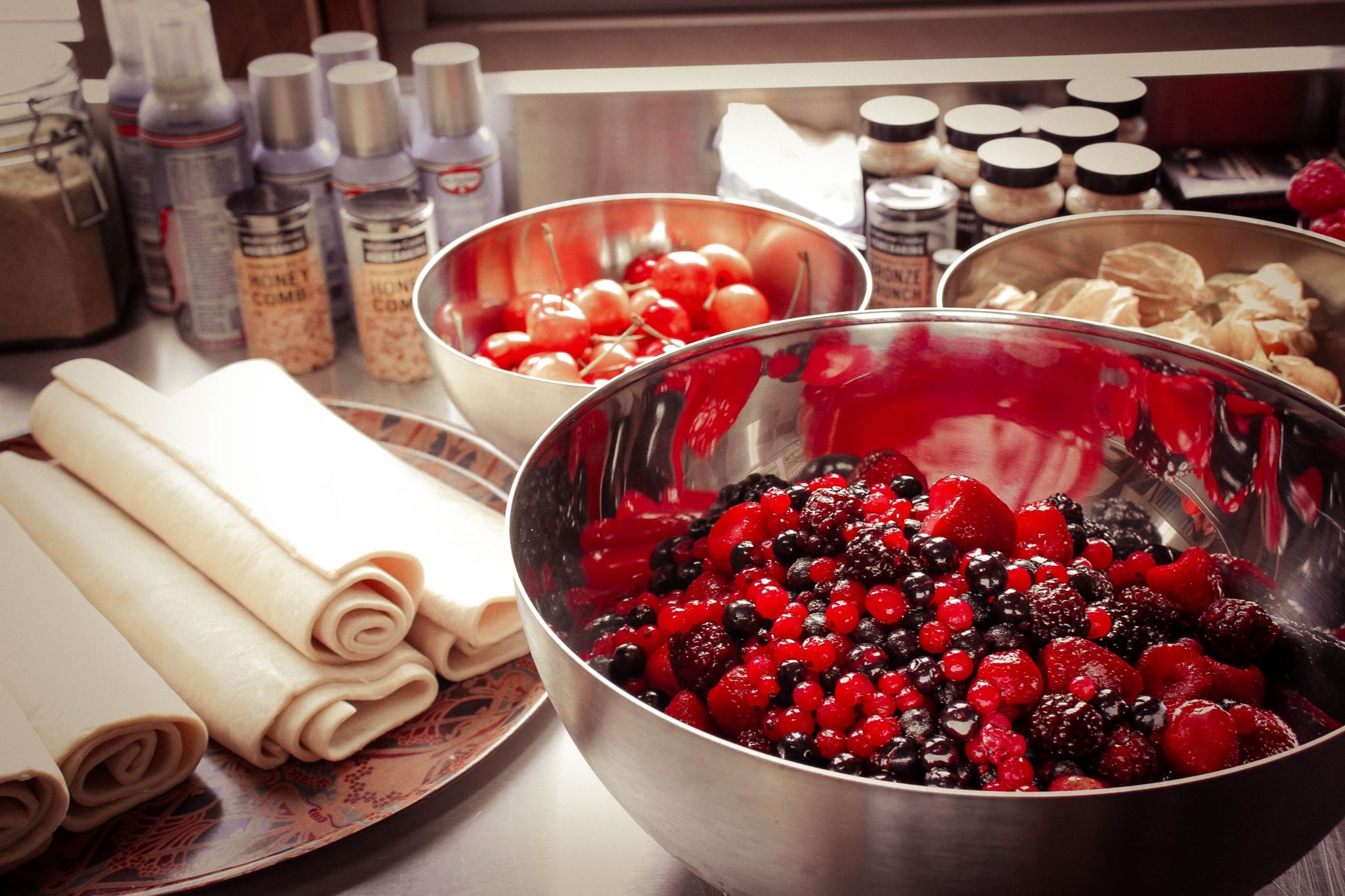 With the right kitchen essentials in place, an aspiring chef can choose to prepare a wide range of tongue-wagging meals in a timely fashion. And without them, it can be quite the battle to break away from basic college-dorm meals like ramen and mac and cheese. The right kitchen essentials equip a chef for any event involving meals, from family reunions to birthdays and anniversaries, dinner dates, corporate dinners, group meals.
This dossier presents the top 20 essential tools that every man, from passionate foodies to seasoned chefs, food critics, and everyone in-between, must have in their kitchen. These tools aren't ones to sit and collect dust on shelves, but those that always come in handy in almost any meal preparation. They help chefs prepare healthier and tastier meals.
Preparation Tools & Essentials
Bowls
There's hardly any meal that can be prepared without bowls. From doughs to salads, dressings, sauces, marinades, etc., bowls serve to hold a wide array of ingredients. Their versatility also owes more to the vast range of their sizes and materials. The most commonly used bowl size is one with a 10-inch diameter, which is suitable for preparing multiple servings of salads, chips, toppings, etc. This size can serve as the mid-size to help determine what biggest and smallest size to have in a set.
When it comes to materials, the choices of bowls are usually between plastic, stainless steel, glass, or ceramic. Plastic bowls are generally the cheapest, followed by stainless steel. Glass and ceramic bowls are often costlier, given their more luxurious feel and look, and the fact that they don't absorb stains and odors. Ceramic bowls are even more valuable because of their thermal capacities, which allow them to be usedYe in a freezer, microwave, and an oven.
Large Spoon
When choosing a large spoon, it's imperative to go for a heavy-duty, durable spoon that can last long because it's one of the most frequently used kitchen utensils. Large spoons can be used for scooping, stirring, scraping, serving just about any meal. They're designed with a bowl surface that allows for liquid retention, as well as an extended body (usually 10-15 inches long) to enable users to stir ingredients on fire from a safer distance.
A solid, high-grade large spoon doesn't cost any more than $10. It can come in plastic or wood, but the superior ones are made of stainless steel. The high-grade ones also come with ergonomic handles (8-10 inches in size) to help users hold them firmly to avoid slip-ups that might cause spillages.
Measuring Spoons
A set of measuring spoons helps cooks mix the precise quantity of ingredients needed for a dish to come out as envisioned. They help chefs measure out portions of various components, including spices, liquids, powders, etc., speedily and accurately.
The choice of the right range of measuring spoons depends on personal preferences. But the most useful ones are those that are long enough to scoop ingredients from the bottom of jars and containers without any spillages, no matter the length or width of the containers. Those with well-rounded half-sphere bowl ends can also double as shape makers for dough balls, meatballs, and other circular ingredients.
Measuring spoons made of stainless steel are usually quite durable. They can last a lifetime and are also sturdy enough to resist bends and warps.
Measuring Cups
Like measuring spoons, measuring cups also come in handy for measuring solid, powdery, and liquid ingredients. They come with clearly visible calibrations that allow chefs to quickly eliminate margins of error when measuring out ingredients.
It's crucial to choose cup sets that can stand up to heavy use without bending, warping, or peeling. These types are usually made from high-grade stainless steel. Another essential feature to look out for in a measuring cup set is the design of its handle, which ideally should be anti-slip and ergonomic to prevent slips that lead to spillages. And since they can also serve as a container for storing ingredients, it's important to go for the measuring cup sets suited to microwave and freezer.
Some measuring cup sets come with a ring that holds the entire cup handles together or with magnetic handles that make it easy to store all the cups together after use. Many measuring cup sets are also dishwasher safe.
Peeler
When it comes to peeling tubers and root veggies like carrots, sweet potatoes, turnips, yam, etc., peelers are no match for kitchen knives. They come in two forms Y-peelers and swivel peelers. But the former usually gets the job done faster, especially given how easier it is to handle.
Y-peelers are also cheaper, so much so that a blunt one can easily be replaced with a new one rather than get sharpened. That's not to say that they're flimsy. High-grade Y-peelers like the Kuhn Rikon product can stand up to frequent use for a long time. This particular product also comes with a unique ergonomic design that makes peeling loads of veggies a breeze, plus, it's also dishwasher safe.
Tongs
Tongs come in handy during the thick of things to help chefs control the amount of heat that solid ingredients of different shapes and sizes receive on fire. They're held directly over the fire and fastened on to meats and veggies on the fire to flip and stir them liberally. They're an extension of the human hands used to grab ingredients directly from pots, pans, grills, etc., from a safe distance (9 -15 inches away).
Since they come directly in contact with the fire, it's important to choose tongs that have excellent resistance against heat and scratches. Stainless steel tongs with silicone coating are all the more ideal, with their coated edges that prevent scratches on non-stick pots and pans during use. High-grade stainless steel tongs are the sturdiest and most durable. They can stand up to 400 degrees Fahrenheit without deforming.
It's also crucial to check for the tong's handle's design to make sure it allows for a firm, comfortable grip. As per cleaning and maintaining, some tongs are dishwasher-friendly and easier to maintain.
Stuff-a-Burger Press
This little gizmo allows chefs to whip up burgers speedily and neatly. It shortens the steps of burger preparation into just four stages:
– Placing ½ lb. of ground meat into the bottom compartment.
– Compressing the burger with the small end of the lid to create a crater for toppings. – Sprinkling the chosen topping – cheddar, cheese, bacon, etc. – over the crater. – Then, mounting ¼ lb. of ground meat on top and pressing down the lid to lock everything into a compact mass.
The tool can help produce delicious ¾-1/4 pound burgers with a massive range of mouthwatering flavors within minutes.
Fine Mesh Sieve
Draining excess liquid from both hot and cold ingredients is a common preparation step for many recipes. A fine-mesh sieve can help drain liquids neatly without spilling the ingredients. They come in handy when rinsing grains like beans, rice, corn, as well as fruits, nuts, veggies, and pasta.
It's more advisable to go for wider sieves with finer meshes, as they can serve in scooping out veggies during blanching and also as a pasta strainer. For more frequent use, it's advisable to opt for stainless steel sieves, which are sturdier and more durable than plastic ones. Some also come with wide, thick rims that make it easier to mount them over a pot or a bowl, and also with anti-slip handle design for good grips. For more natural cleaning and storage, it's ideal to go for sieves that are dishwasher safe and also have a hanging loop on their rim.
Blenders
Without blenders, cooking is a more strenuous process involving more grunt work. They take out a lot of manual labor in making smoothies, cocktails, sauces, hot soup, and lots more. They may cost quite a lot more compared to other kitchen utensils, but they can pay off in spades in the long run. However, that's not necessarily guaranteed, because certain factors determine the quality and value of a blender.
For starters, the shape of the blender and its measurement can make or mar the user experience. If the blender's container is a bit too long and narrow, it makes it difficult to scrape out the remains of ingredients. Short and wide designs are better also because they fit in easily into countertop storage. The warranty on the blender also determines its value. Industry-best warranties for blenders can extend for as many years.
The Veggie Brush
Dirt and soils fall off easily from root veggies and tubers with a few strokes of the veggie brush. Made of special fibers etched on ergonomically designed handles, a veggie brush is a multipurpose kitchen utensil that can also lend itself to the cleaning of many other items in the kitchen, from cookware to other utensils, and even appliances.
They come in a wide array of shapes, sizes, materials, and designs. Most have some form of circular shapes, and others are rectangular or even triangular shapes. The bristles of veggie brushes are commonly made from natural fibers, nylon, or coir fiber – a coconut shells byproduct used in various kitchen cleaning materials.
Although just about any veggie brush can do the job at any given time, not all are constructs are durable enough for heavy use.
The Carving Board
A carving board is a kitchen tool that every man needs in his kitchen, whether they're an amateur chef, occasional cook, or seasoned cook. Carving boards are an inexpensive, multipurpose kitchen essential that comes into use in any recipe prep step that requires cutting up and chopping ingredients. The durability of a cutting board is, therefore, a considerable determinant of its value.
Some high-grade cutting boards come with odor-resistant coatings, so the odor of ingredients from the last use doesn't stick up on new ingredients. Otherwise, a chopping board might require meticulous cleaning and maintenance. It's also easier to clean and maintain a chopping board if it's dishwasher friendly.
Some cutting boards also come in either plastic materials or wood – usually the costlier of the two. Some wooden cutting boards are made of superior woods that last longer than others.
The Chef's Knife Set
There's hardly any meal preparation that doesn't involve cutting, shaping, peeling, slicing, trimming ingredients. While a cheapskate chef's knife can help chefs execute these tasks, a high-quality chef's knife, or better yet, a collection of high-quality chef's knives can significantly speed up the tasks. A selection of high-quality chef's knives contains blades with varying weightiness and sizes suitable for a particular cutting task like chopping, peeling, or trimming.
A high-grade chef's knife set can turn out a lifetime investment – some come with an explicit lifetime warranty! In the collection, all the knives are made of high-grade materials that stand up to heavy use. Plus, the set allows chefs to divide the workload between different blades, in comparison to just one cheapskate chef's knife. The knives also come with anti-slip and crack-resistant handles to prevent hand fatigue and cracks on the handle during elongated use. The best chef's knives are steel allowing for a lifetime of sharpening up with knife sharpeners.
Cookware & Bakeware
10" Skillet
First on the list of cookware & bakeware is the versatile 10" skillet, which can come in useful for just about any cooking, searing, sautéing, or baking step. More important than its size is its makeup, which is usually either stainless steel, cast iron, or non-stick, each with its own set of advantages and disadvantages.
When it comes to stain and scratch resistance and ease of maintenance, stainless steel skillets are the best alternative. But their lifespan pales in comparison to iron-clad skillets, which can last a lifetime. Nonetheless, high-grade stainless steel skillets can last for up to 20 years. Some stainless steel skillets also come with aluminum or copper sandwiched between stainless steel to enhance heat conduction and durability.
One cleaning and maintenance tip for iron-clad skillets is to clean it with the salt scrub method instead of washing with soap.
Stainless Steel Sauté Pan
Except for French skillets, which combine the best of skillets and sauté pans, skillets generally don't provide an extensive surface area for frying as frying pans do. But with its relatively straightened sides, a sauté pan offers a much wider surface area to reduce sloshing on the sides of ingredients, compared to frying pans and skillets.
Most sauté pans come in sets of multiple sizes to provide the right size of cooking surface needed on any particular occasion. And as with many other kitchen equipments, all sauté pans are not created equal, and some come with a higher-quality construct. Sauté pans with much higher vertical sides are more versatile and allow for cooking, searing, and braising.
IRONATE Pizza Dish
With this apparatus, pizza can be whipped up within just a few minutes. The incredible heat conduction capacity of the carbon-steel construct allows it to attain commercial-pizza-oven temperatures in less than 10 minutes, whether it's placed on a stovetop, a glass flattop, electric, or induction cookers.
It saves time by eliminating the need to preheat an oven for 30 minutes to bake pizzas. From start to finish, a crunchy, crisp, salacious pizza can be prepared within just 3 minutes with the IRONATE pizza dish. By getting to temperatures of over 800 degrees Fahrenheit within minutes, the device can churn out perfectly baked pizzas within a few minutes.
It also comes with a shape and design that's suitable for just about any type of pizza, from Neapolitan pies to artisan and even frozen supermarket pizzas. What's more, it's can also serve as a sauté pan for searing steak, making omelets, frying eggs, etc. It can also stand up to heavy use, thanks to its sturdy steel construction that can last a lifetime.
Non-Stick Segmented Grill/Fry/Oven Skillet
It can be arduous to switch out different skillets to cook different elements of full-course meals. But with a divided skillet, all the various components can be put on fire simultaneously. For instance, with as many as five different compartments in the skillet, mixed veggies can be cooked in one segment, together with zucchini in another, and bacon cheeseburger, sausages, or caviars in others, all over a single burner.
The skillet is a construct of 100% die-cast aluminum, designed with a heavy-gauge metallic bottom that spreads heat evenly across its entire surface. There's also a Bakelite handle on it that's oven-friendly for up to 350 degrees Fahrenheit. The non-stick and stain-resistant surface makes it easy to lift food off the skillet and clean the skillet after use. The skillet is also dishwater friendly to allow for easy use and maintenance.
8 – Quart Large, Heavy Pot
The main ingredients of a recipe usually go into a large, heavy pot. Given the large number of ingredients cooked per time in it, one chief virtue of a heavy pot is its heat distribution capacity. High-grade large pots come with tri-sheet constructs, an aluminum layer – for excellent conductivity – enmeshed between two layers of stainless steel, which give the pot a highly durable, aesthetically-pleasing finish inside out.
The aluminum layer comes with an innate capacity to prevent hot spots and even out heat distribution across every inch of the pot's surface. That makes the pot suitable for use on all types of cookers, from gas to electric and induction. Other characteristic features of a high-quality large pot include anti-drip pouring rims for mess-free pouring, ergonomically designed, heat-dissipating handles, a lid with a loop handle, and, in some instances, a lifetime warranty.
The Rimmed Baking Sheet
The most common bakeware that goes into an oven, a baking sheet is a must-have in any man's kitchen. The flat, rectangular metal sheet comes with folded edges that secure the food when moved around and also prevents the sheet from warping in the oven's high temperatures. Baking sheets are quite versatile and can come in handy during breakfast, lunch, or dinner. Baking pans designed especially for commercial use are even more durable and can last a lifetime in the home. Some baking sheets also offer an outright lifetime warranty.
Baking sheets are typically made of aluminum, which has superior heat distribution properties, allowing the dough to bake, rise, and brown uniformly. And compared to most other metals used for kitchen wares, aluminum is also more resistant to rust and scratches. Aluminum baking sheets are, therefore, easier to clean and maintain.
Pro-Grid Iron Reversible Grill & Griddle
This kitchenware turns your cooker into a grill in an instance. It comes with a sturdy iron mesh that's tough enough to sit over a stovetop, an oven, a grill, or even campfires repeatedly without melting or warping. It can withstand the fires throughout several decades of use. With its excellent versatility, it's ideal for making pancakes, searing meat, frying eggs, and cooking veggies.
The reversible grill & griddle also boasts top-draw heat retention and distribution properties. But the high-rate thermal capacities do not extend into the two handles, which are designed for comfortable grip and allows it to be hanged easily for storage. The grill also comes seasoned from the factory with 100% vegetable oil, non-synthetic coatings that infuse irresistible natural notes into foods.
Cleaning/Maintenance Tools
Chainmail Cast Iron Pan Scrubber
The only product featured in this cleaning category is a highly versatile one. Except for glasses, this cast-iron scrubber ideal for cleaning just about every kitchenware, from stainless steel pots, pans, and spoons to iron-cast pots and skillets, aluminum cookware, etc. It's firm enough to dislodge food particles from surfaces, yet mild enough to prevent scratches and preserve seasoning and sheen on cookware and utensils.
It does a great job in warm soapy water or a dishwasher and eliminates the need for harsh detergents.
Wrapping Up
These are the kitchen essentials that can help beginner chefs take their cooking to another level. They can help negate the need for grunt work, margins of error, and even food wastages. With these tools and utensils in place, there are lesser chances of ruined meals and debilitating cooking experience.
They're also pocket-friendly, and the ones with a nail-biting price tag are worthwhile investments that can serve up value for a lifetime.